What separates a princess from all other brides is not her dress but her headress. The tiara is the centerpiece accessory for any princess on her wedding day. So when Kate Middleton weds Prince William in less than two months, which of the many crowns in the royal collection will we see her wear?
Traditionally, Queen Elizabeth II has given a royal bride a tiara as a wedding gift. The queen could choose the "Fringe" tiara, which she wore on her wedding day to Prince Phillip, the Duke of Edinburgh. Or maybe the grand "Girls of Great Britain and Ireland" tiara, given to the queen by her grandmother, Queen Mary.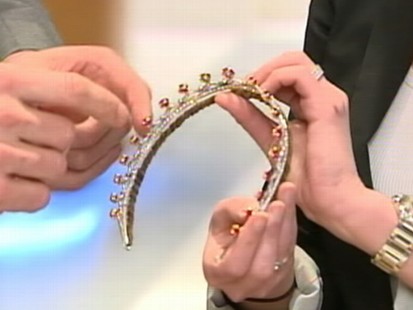 Kate already has Princess Diana's engagement ring, so perhaps she would consider wearing Diana's tiara. On her wedding day in 1981, Diana looked to her own family vault and wore the Spencer family tiara.
Or could Kate, the commoner, take a page from the playbook of William's Aunt Fergie? On her wedding day, Sarah Ferguson wore a garland of flowers into Westminster Abbey, symbolizing her position as a commoner. After the vows, the flowers came off to reveal a brand new tiara.
Click HERE or on the video above to see Kate's tiara contenders.