Iran is accusing the U.S. of involvement in the disappearance of an Iranian nuclear scientist who vanished while in Saudi Arabia this summer.
Iran's Foreign Minister Manouchehr Mottaki said the scientist, Shahram Amiri, had been arrested and that the Iranian government is holding the U.S. responsible.
"We've obtained documents about U.S. involvement over Shahram Amiri's disappearance," said Mottaki, according to the semiofficial Fars news agency.
State Department spokesman Robert Wood refused to comment today.
According to Iranian officials quoted in the state media, Amiri vanished during a pilgrimage, or hajj, to Saudi Arabia this summer.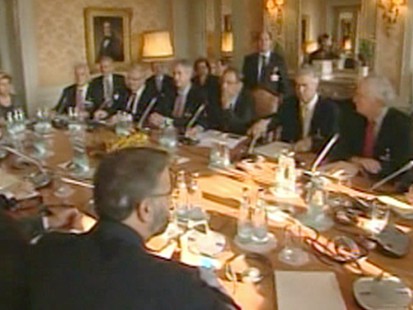 His disappearance just months before the revelation of a
secret uranium enrichment facility
near the Iranian city of Qom has fueled speculation that the two events are connected, and that Amiri could have given the U.S. information on the facility or other
aspects of the nuclear program
.
The London-based Arabic newspaper Asharq Al-Awsat has reported that Amiri worked at the Qom facility. Iranian state media says he works on medical uses of nuclear technology at a university in Tehran.
The Iranian Foreign Ministry has also accused the U.S. of involvement in the disappearance of a second Iranian while visiting the nation of Georgia.
"As the negotiations between the two sides continue, we could see an increase in the number of such reports," said Meir Javedanfar, a Middle East analyst and author of "The Nuclear Sphinx of Tehran." "They could serve as a powerful tool to pressure Iran, and to make its leaders second guess their decisions and the loyalty of their nuclear scientists."
Iranian officials at first held the Saudi government responsible for locating Amiri. Today is the first time Iranian officials have pointed the finger directly at the U.S.
Iran to Allow Inspection of Secret Qom Facility
In February 2007, Iran's former deputy defense minister and senior member of the Islamic Revolutionary Guard, Brigadier General Ali Reza Asgari, disappeared in Turkey, leading to reports he was kidnapped by Western intelligence or defected to the West.
The U.S. accuses Iran of trying to develop nuclear weapons, although Iran insists it is only developing nuclear energy for civilian purposes. The U.S. is insisting that Iran comply with international regulations on nuclear energy or face the threat of severe economic sanctions.
After the existence of the Qom facility was revealed, Iran said it would allow United Nations inspectors into the country to inspect it later this month.