At the top, said Perrottet, was a chamber "bursting with color" with "succulent frescoes spread across the 30-foot-high walls that depicted the shipwreck of St. Paul in Malta (an act of divine meteorological manipulation), and the ceiling was painted with glittering stars. Etched into the floor were circles with the names of the winds: Tramontane, Sirocco, Ostro.
Perrottet's eye was drawn to a coin-size hole in the wall that revealed a tiny circle of actual sky. Every March 21, a ray of sunlight points to noon on an eight-pointed rosette in the floor to mark the spring equinox. The tower's balcony offers breathtaking views across Rome -- only St. Peter's Basilica stands higher than the tower.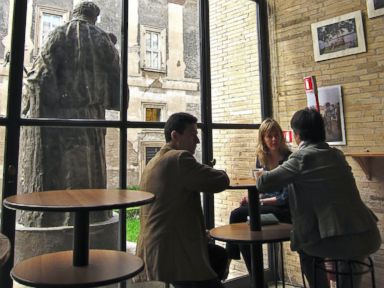 If one is lucky enough to visit any of these secret rooms, the best way to end the trip is with a cappuccino and perhaps a pastry at the Vatican cafe, a haunt of academics from the Secret Archives. The cafe, thankfully, requires no special permission.