As the crisis in Congo deepens, children are among the worst affected. Fighting in the central African nation intensified in August and has since displaced at least 250,000 people, despite the presence of the largest U.N. peacekeeping force in the world.
Aid agencies are struggling to help the thousands of displaced people. ABC News spoke to George Graham, who works for the aid agency Save the Children's Emergency Response Team in Goma, Eastern Congo. Here are his comments.
I was in Kibati camp Sunday; it's about 12 miles outside Goma. It's a squalid place; the conditions for living there are very tough. The number of people living there has shot up by fourfold in the last few weeks. ...[At the] Save the Children center for unaccompanied children there are dozens and dozens of kids hanging there ... being registered by our staff and waiting to see if there is any chance of seeing their parents again ...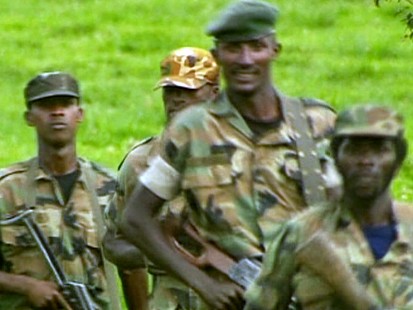 [There are] many, many children who ... don't know who their parents are, who fled from their villages in terror, often in the middle of the night, who somehow got separated from their parents and they are now living in a camp. [They are] very, very vulnerable without the support they need from their parents.
There was one little boy [9 years old] who really very vividly explained to me what had happened to him. He'd been asleep in his village with his family in his hut in a village that was attacked. ... It was 4 in the morning, we think, and his whole family just got up and they ran. And he heard his parents shouting at him, "Come follow us, follow us, follow us," and he tried but couldn't find them. There was shooting all around and he found himself on his own. Now his parents, I'm sure, looked for him there in the village but they couldn't find him. He was there on his own and, in the end, he had to walk on his own for a whole day so he found the camp where he was at least given some shelter and some food but he still hasn't found his parents.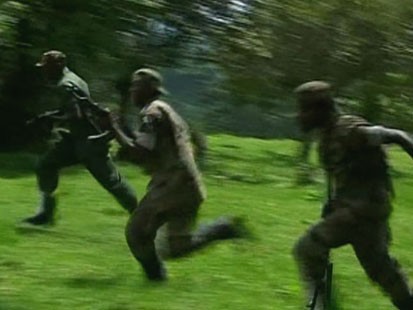 We have managed to reunite people and that's what makes this job worth doing. By advertising our centers, by making people know we were there; families have come, children have come and they've reunited with each other. What we've [found] is that you need to act quickly, so it's best to get there on the roads as they are moving and to provide an opportunity for separated, unaccompanied children to unite around a central point and then the parents are able to come and find them. The problems come if we are not able to react that quickly and then children move to the camps and their parents may be in a completely different locality; they may be in a different camp, they [may] be living somewhere miles and miles apart and in those circumstances it's certainly becomes very, very hard to reunite these children with their parents.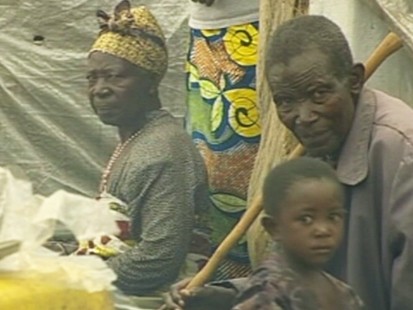 Fighting Continues
Well, the fighting is continuing. [A] cease-fire was declared about 10 days ago now but it hasn't held and we're hearing reports of more fighting, of the front line moving this way and that and, of course, every time there is fighting there are hundreds, sometimes thousands, even tens of thousands of people on the move endlessly seeking somewhere they can be safe.
So what we are seeing is people who've [been] displaced and then been displaced again and sometimes again, again and again. And the conditions of these displaced are often very bad indeed. We are seeing high levels of malnutrition -- we are seeing outbreaks of cholera. It's very, very difficult for these people to stay healthy when they are endlessly on the move and when food is in short supply and sometimes when they are crammed into "congestion camps" where sanitary conditions are much harder to maintain.
The most poignant things I have witnessed was a meeting I had with a small boy who had been separated from his parents and been found on the road by a kindly woman -- someone else who was fleeing from her village and found this boy and took care of him and took him with her and took him where she ended up being based in a camp outside Goma. So this boy has been separated but he is being looked after and it is that kindness people show in the midst of really horrible circumstances that does touch you.
We tend to think of these people living in camps, and certainly many of them do. But, actually, a majority of people are living with close [or host] families, they are living with ordinary people in their villages, who suddenly find themselves housing maybe one family, maybe families who have fled to them. The needs are enormous -- it is very, very difficult for these people to feed themselves, to find enough clean water and so on.
The aid agencies are doing what we can, there have been lots of distributions of food, blanket and shelter and water, of really urgently needed things but you have to be aware that the insecurity here is incredible. ... It is a conflict. ... It is a war zone. That makes it very difficult to access all the people in need. What we are finding often is when people flee, they flee in different directions. So we don't even know where people are, it is a sad truth. ... It is not as if everyone is congregated in one place, they are scattered ... so that does make it difficult to reach everybody.
Daily Challenges
We face challenges on a daily basis -- we have to negotiate access to many areas and we work in many areas occupied or held by rebel groups. We face problems getting aid supplies that we need, often it is just not possible to track the urgent food or medical equipment that we need to support these people.
The numbers of people fleeing from this conflict is growing and growing. We know this because we have staff on the roads in places that were originally a long, long way from the fighting who are suddenly seeing hundreds of families coming their way. The numbers continue to grow, it isn't a problem that is going to go away until there is a political solution and some way to stop the fighting.