Both Israel and Hamas rejected a U.N. resolution calling for an immediate cease-fire in Gaza and the Israeli Cabinet meets today to determine whether to expand its 2-week-old offensive.
In response to the U.N. resolution, Israeli Foreign Minister Tzipi Livni in a statement said, "Israel has acted, is acting and will continue to act only according to its calculations, in the interest of the security of its citizens and its right to self-defense."
"The state of Israel has never agreed that any outside body would determine its right to defend the security of its citizens," Israeli Prime Minister Ehud Olmert said in reaction to the U.N. resolution. "The IDF [Israel Defense Forces] will continue operations in order to defend Israeli citizens and will carry out the missions with which it has been assigned in the operation."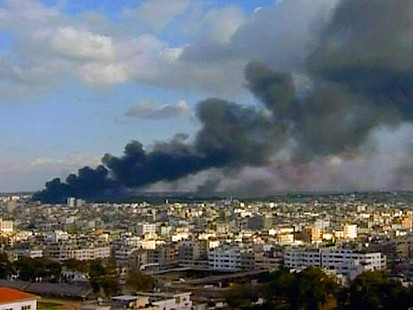 Olmert cited fresh rocket launchings today by Hamas as proof that a cease-fire "is not practical and will not be honored" by Hamas.
The Web site Ynet quoted Osama Hamdan, a Hamas representative in Lebanon, as saying that the group is not bound by the resolution "…we stress that no one has consulted with us. This resolution does not take the Palestinian interest into consideration and does not address lifting the siege or opening the crossings."
The top leadership of the Israeli Cabinet is meeting today to consider whether to accept the U.N. resolution or expand its activities in Gaza. Thousands of Israeli reservists have been rushed through retraining programs during the last two weeks. They are now considered ready for action in Gaza if the go-ahead to expand the operation is given.
At the same time it appears that the efforts of Egyptian officials to negotiate a deal have ended without resolution.
Amos Gilad, Israel's representative from the Defense Ministry, left for Cairo Thursday morning to discuss ways to strengthen the Gaza-Egypt border defenses against weapons smuggling.
He was back in Israel by Thursday night with no deal in hand. It is expected he will brief the Israeli political leaders today on his talks with Egyptian officials.
As diplomacy lurches forward, the violence continues on both sides.
Palestinian sources in Gaza say one woman was killed and four people were injured by an Israeli airstrike in the northern city of Jabaliya. The Palestinian Ministry of Health also says 10 bodies were discovered in An-Nuseirat refugee camp in the center of Gaza this morning. In the northern Gaza town of Beit Lahiyah two women and a child were reported killed by an Israeli attack.
Nearly 800 Palestinians have been killed and more than 3,000 have been injured. The United Nations says among the dead are 257 children. Ten Israeli soldiers have been killed in the fighting.
Gaza on Verge of Collapse
The United Nations says Gaza is on the verge of collapse after the 14-day Israeli onslaught. In a statement the International Committee of the Red Cross said the Israeli military has "failed to meet its obligation under international humanitarian law to care for and evacuate the wounded."
The group says that on Wednesday one of its teams was finally granted permission by the Israel Defense Forces to enter Gaza City's Zaytoun neighborhood.
Once there, they found "four small children next to their dead mothers in one of the houses. They were too weak to stand up on their own. One man was also found alive, too weak to stand up. In all there were at least 12 corpses lying on mattresses."
Israel Defense Forces spokesman Avital Leibovich says that Israel has not received a formal complaint from the Red Cross group and that the military does not respond to press releases.
She stressed that Hamas uses civilians and civilian neighborhoods to hide and that the responsibility of its soldiers in the field is to protect themselves.
As the death toll has mounted, demonstrators have been holding protests around the world. Today hundreds of people marched through the Southern Israeli town of Hebron, carrying Hamas flags and chanting "Palestine is all Hamas."
An ABC News team covering the Hamas-organized protest reported clashes after an Israeli patrol started firing tear gas toward the crowd. The crowd threw rocks and initially drove vehicles back before defense forces responded with more gas and drove the crowd back.
For a third day Israel allowed for a three-hour cease-fire to allow food and medical aid into Gaza to help its blockaded residents. Eighty percent of Gazans rely on outside aid to survive. The U.N. Relief and Works Agency, the largest aid organization in Gaza, says it is suspending its Gaza operations after another one of its truck drivers was killed in an Israeli attack.
Christopher Gunness, a spokesman for the relief agency, said all movement for its workers in Gaza would cease until the Israel Defense Forces could agree to a "guaranteed mechanism not to fire at U.N. vehicles." Gunness said the agency's food distribution centers and health centers had supplies to last for a few days without resupply.
During the three-hour cease-fire Thursday, Hamas fired several rockets into Israeli cities. Israel's military did not fire back. Israel allowed 89 trucks of emergency aid to flow into Gaza Thursday; 80 are scheduled for today. The United Nations says it needs a monthlong cease-fire to bring real relief to Gaza.
Sami Zyara contributed to the reporting of this story from Gaza; Bruno Roeber from Hebron; and Matthew McGarry, Bruno Nota and Dana Savir from Jerusalem.