Israel's relentless assault on the Gaza Strip has entered a third week of pounding by warplanes, artillery and ground forces, as Hamas fighters hidden in strongholds deep inside densely populated urban areas have defied attempts to root them out.
Israeli Prime Minister Ehud Olmert, speaking in Ashkelon today, showed no signs of putting an end to the war in Gaza until Hamas concedes to Israeli conditions for a cease-fire.
"Anything else will be met with the Israeli people's iron fist," Olmert said. "We will continue to strike with full strength, with full force until there is quiet and rearmament stops."
Israel Defense Forces attacked dozens of new Hamas targets across the territory overnight. Another humanitarian cease-fire was observed by Israeli troops between 10 a.m. and 1 p.m. today to allow embattled Palestinians to leave their homes and stock up on food and seek medical treatment. But even during the cease-fire the Israelis say Hamas militants continued firing rockets into southern Israel. At least 20 Palestinians died today -- according to Gaza health officials -- some from earlier wounds.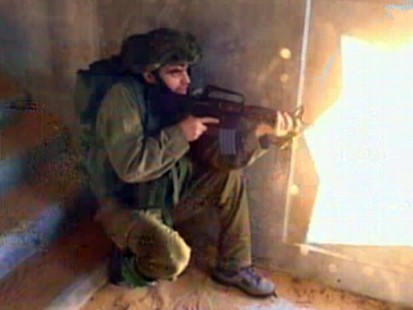 According to Israeli police, at least 15 rockets have been fired from the Gaza Strip, one of which directly hit a home in the city of Ashkelon, 10 miles from the border. There were no casualties.
Hamas leader Ismail Haniyeh today told militants that their bloodshed "will not go to waste," speaking on Hamas Al Aqsa television, according to The Associated Press.
"As we are in the middle of this crisis, we tell our people we, God willing, are closer to victory. All the blood that is being shed will not go to waste," Haniyeh said. However, he said Hamas was also pursuing diplomatic efforts to end the conflict.
Haniyeh said that Israel must withdraw from Gaza and open border crossings before Hamas would agree to any cease-fire.
Tony Blair, the international Mideast envoy and former British prime minister, is working with Egypt to negotiate a truce. He said "the elements of an agreement" for a cease-fire in Gaza are in place, but both sides have so far failed to agree on terms.
Despite Olmert's strong rhetoric in Ashkelon, he appeared open to securing a truce with Hamas through Egypt.
"I really hope that the efforts we are making with the Egyptians these days will ripen to a result that will enable us to end the fighting," Olmert said, according to the AP.
Israeli officials claim that there is growing discord within Hamas on the direction of the conflict. GOC Intelligence Major General Amos Yedlin says the Hamas leadership in Damascus, Syria, has lost control of the situation in Gaza.
Yuval Diskin, the director of the Israeli security service, Shin Bet, who briefed ministers at Sunday's cabinet meeting claims Hamas in Gaza is eager for a cease-fire, and that he believed Hamas' popularity there was lessening.
"The leadership in Gaza understands that compromise is inevitable," said Yedlin during the cabinet meeting.
In an e-mail message today, Hamas leader Ismail Radwan said his group would not consider a cease-fire before Israel stops its attacks and pulls back from Gaza, and he demanded opening of all border crossings, according to The Associated Press, which also reported that British Foreign Secretary David Miliband said today that Egyptian negotiators have indicated Hamas is showing some urgency in its desire for a cease-fire deal to end the fighting in Gaza.
Hamas leaders in the Gaza Strip, however, declared victory to be "closer than ever," according to Reuters.
Sources inside the Israeli government tell ABC News there is a split is widening between the country's top leaders, with Defense Minster Ehud Barak and Foreign Minister Tzipi Livni opting for a unilateral withdrawal, while Olmert prefers increasing the intensity of fighting.
Olmert would still need approval from the Cabinet before the offensive could be pushed into a third phase -- in which the army takes over larger areas of Gaza.
Today thick, black smoke could be seen rising over the eastern Gaza suburbs, where opposing forces skirmished throughout the night. At least 20 Palestinians were killed in new air strikes or died from their wounds today, including two women and two children, Gaza health officials said.
Seeking to step up the campaign, Israel plugged thousands of Israel Defense Forces reservists into the battle zone, as other troops pushed even further into the suburbs of Gaza City after more than a week of holding back in areas outside the crowded urban centers.
In specially built mock Palestinian towns, Israel has been training thousands of reservists to combat Hamas in house-to-house fighting.
Drawing the Israel Defense Forces into close combat is precisely what Hamas is hoping for, Israeli officials say. Gaza's narrow streets and buildings packed with civilians will significantly diminish Israel's superior firepower and air cover; they are also where Hamas street fighters will put up stiff resistance.
"IDF [Israel Defense Forces] soldiers will encounter face-to-face combat with Hamas, including booby traps in houses, anti-tank rockets and roadside bombs," army spokesman Benjamin Silberman told ABC News. "Everything that Hamas has they will use against us."
Aided by allies in Iran and Lebanon, Israel says, Hamas militants have turned Gaza's urban areas into a deadly killing ground of tunnels and booby traps. According to the Israel Defense Forces, militants have been firing from mosques, schoolyards and civilian homes.
"Everybody knows these things can be messy and complicated," said Silberman.
On Sunday, Prime Minister Ehud Olmert said Israel is very close to achieving three key goals: the destruction of Hamas' military capabilities, an end to the rocket fire and preventing Hamas from rearming.
Conditions inside Gaza continue to deteriorate, with food and water becoming scarce, and electricity all but nonexistent. The Israeli offensive has killed more than 900 Palestinians in 17 days, according to the Hamas-run Health Ministry in Gaza.
Five people living in the house avoided injury by fleeing to a bomb shelter just before the strike.
Schools in Ashkelon remain partially open during the hostilities, but only to teenagers studying for final exams. Students are taught in basement classrooms and sheltered areas of the school that are reinforced against missile attack.
School officials told Israeli television they are determined to hold exams despite the missile attacks.
With contribution from Sammi Zyara in Gaza City and Dana Savir, Michal Mentch in Jerusalem, and Lauren Sher.