Today the Israeli government announced the complete pullout of all its forces from Gaza. The recent conflict, which Israel said was meant to disable the Palestinian group Hamas' ability to fire rockets into Israel, ended with a cease-fire Monday, just before President Barack Obama was inaugurated.
Many in the Middle East are now looking to the new president to restart a peace process between Israelis and Palestinians. The recent conflict, which began with air strikes on Gaza Dec. 27 followed by the invasion by Israeli ground forces, led to 13 Israeli deaths, while over 1,300 Palestinians, many of them children, were killed.
ABC News' producer in Gaza, Sammi Zyara, helped save one such life while reporting on the story.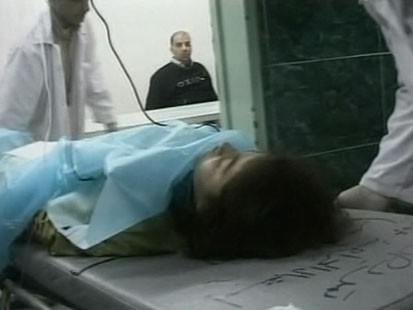 This is the story of a 14-year-old girl named Amira El Kerem, an innocent victim of
the war in Gaza
.
My friend, reporter Aymad Aid, asked me one day last week to go with him to see what happened to his house in Tel El Hawwa, south of Gaza City, only recently the scene of fierce fighting. Israeli tanks had just pulled out.
We arrived at his place and were relieved to see no real damage -- just a few windows broken. It could have been so much worse.
We entered the building and looked around. I went into one of the rooms on the ground floor. There, sitting in a pool of her blood, I saw a young girl, her right leg badly injured by shrapnel. It was a shocking sight.
I asked her who she was, what had happened, where she had come from? To all my questions she said, "I don't know." She was weak and clearly terrified. She had a small bottle of water by her side, nothing else.
My friend and I quickly carried her to the ABC armored car and drove as fast as we could to El Shifa Hospital in Gaza City. On the way she asked my friend to forgive her for being in his house without his permission!
She then told me her story. She had been at home with her father, brother and sister when the Israeli troops arrived. A shell hit the family apartment, killing her father instantly and injuring her. Her brother and sister ran to get help -- but never returned.
After an hour of waiting, and amid the constant sound of gunfire, Amira decided to crawl out of the apartment in search of safety. She crawled more than 500 yards in broad daylight to Aymad's house. She stayed there alone, in fear and pain, for two days.
When we arrived at the hospital we rushed Amira into the emergency room, and doctors immediately grabbed her from us. They took a sample of her blood and I took it to the hospital laboratory. She was immediately transfused with two units of blood, and the doctors later told me she had nearly run out of time.
On the local radio stations an appeal went out to search for someone who knew Amira. Her mother, long since divorced from her father, was eventually contacted and on the same day came to the hospital in panic. When she burst into the ward and saw Amira alive, she collapsed.
Gaza's Innocent Victims: Children
Waking up, she shed tears of joy. She already knew that Amira's father was dead. And she knew that on their way to get help for their injured sister, Amira's brother and sister were both killed. Amira was the sole survivor.
In the devastation caused by the shelling of her home, rescuers believed Amira had simply been blown to bits. Human remains, assumed to be hers, had been buried along with her father, brother and sister. As far as her mother was concerned her child had come back from the dead.
Later I went back to see Amira in hospital. She was being interviewed by Al Jazeera, and she seemed much better. She remembered me and our first meeting in Aymad's house and the drive to the hospital. For the first time she smiled at me, and in her eyes I saw her gratitude.
The doctors say Amira will make a full recovery from her physical injuries, but they're not as sure about her mental scars.
By the way, I didn't tell you, Amira means Princess in Arabic. This was her story.