When Liberace proclaimed, "I didn't get dressed like this to go unnoticed," one could be forgiven for thinking he was coining a mantra for the Alternative Miss World Competition.
Running in reverse mode to the bleached teeth and plastic smiles of the official Miss World competition, Andrew Logan's Alternative Miss World extols all things contrary to charm-school etiquette and conventional, pageantry poise. Here, bizarre is aspirational, big is beautiful and less is certainly not more, unless it is applicable to the shedding of clothing.
A first-timer attending the competition will note that even the role of the audience is inverted. Gone are the days of the simple nod-and-clap voyeur. Instead, the excuse to dress up is embraced by many in the crowd; exhibitionism has a place here, as well as on the stage.
Perhaps this silent voice beckoning all to participate is rooted in what "Rocky Horror Picture Show" creator and judge Richard O'Brien calls the "all embracing" nature of the competition: "What I love about the competition is that there's a real generosity of spirit ... anyone can enter," he said.
Indeed, unlike its official counterpart, the Alternative Miss World is open to both men and women, young and old (with a previous contestant competing at 80 years old).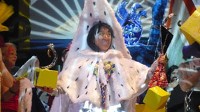 Its eclectic array of contestants are not representatives of countries across the globe but instead a heady mix of flamboyant and creative types all battling it out to be crowned Alternative Miss World 2009 in North London Saturday night.
This year's competition, the 12th since it began in 1972, called on contestants to be inspired by the theme of "The Elements." They revealed that inspiration evidently has no barriers, as each took to the stage donning outfits often three times greater than their own physical being -- attire more reminiscent of an art installation than a costume.
Women were now bearded ladies or giant African Marie-Antoinette figures. Men transformed into quadruple breasted female caricatures or surreal embodiments of raw materials. Wry, sardonic repartee was the tool used to impress the judges, as questions such as "What would you do if you won the Alternative Miss World?" were greeted with responses such as "adopt Madonna".
The Height of Bad Taste
But the instances in which costume and performance were inextricably interwoven were the moments that were the most memorable. The costume entitled "the height of bad taste" is a classic example -- a huge, red phallic symbol swaying about the stage as maypole dancers dressed like the Village People hung onto its dangling ribbons and danced around it.
And who could forget the opulence, grandeur and sheer absurdity of Miss Fancy Chance? Towering high above the stage in an enormous, futuristic Victorian dress like construction, the grand finale was her being magically airlifted out of her costume and floating above the stage -- suspending audience disbelief in the process.
Looking on in wonder, host Ruby Wax, along with competition creator Logan, could only utter, "Well, I don't know what to say."
It was no doubt this awe-striking display of creativity that landed South Korean-born Miss Fancy Chance the title of Alternative Miss World 2009.
Wax, known for her irreverent comic style rather than her quiet demeanor, said, "It's more than a spectacle; I've never seen anything like it."