The United States announced new sanctions against North Korea on Wednesday in a move to punish the communist state for its recent provocative behavior, including the sinking of the South Korean warship Cheonan with a torpedo in March.
Secretary of State Hilary Clinton, joined by Defense Secretary Robert Gates and their South Korean counterparts, Foreign Minister Yu Myung-hwan and Defense Minister Kim Tae-Young, said the sanctions will include sale or procurement of arms and related material, procurement of luxury goods, and other illicit activities.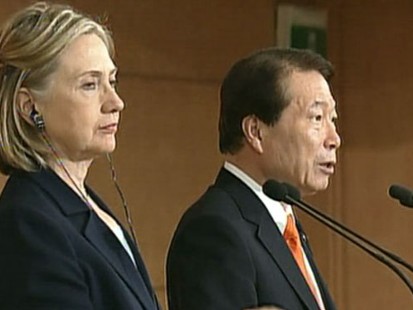 Clinton stressed at a news conference in Seoul that
these measures
are "not directed at the people of North Korea, who have suffered too long due to the
misguided priorities
of their government," but a response to Pyongyang's "destabilizing, illicit, and provocative" policies.
"We are aiming very specifically, after much intensive research built on what was done before but not limited to that, to target the leadership, to target their assets," she said. In a later background briefing, senior officials said there are about five thousand elite citizens in the North accustomed to being pampered with luxury goods.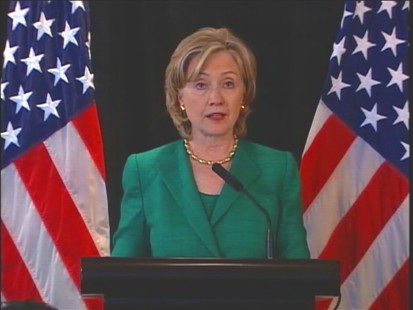 North Korea had offered to come back to the
six-party nuclear disarmament
talks, but Clinton refused the idea, saying they must first take some steps to acknowledge responsibility in sinking the Cheonan in March. Forty-six South Korean crew members died when the ship went down. Both countries warned of "serious consequences" if the North attacks the South again.
Seoul and Washington had pushed the United Nations to penalize Pyongyang for the sinking but the U.N. Security Council's decision earlier this month fell far short of sanctions and instead issued a mild statement condemning the incident without directly blaming North Korea.
"Although they've got China to sign it, that diplomatic project was basically a failure," said Seo Chang-rok, Professor of International Relations at Korea University. "So in order for the two countries to go on pushing the North, they had to lay out the groundwork to impose sanctions on their own by somehow showing off to the world how close and how powerful they are."
Talks and Tributes
The U.S. and South Korea tried to show they were closely allied in a carefully orchestrated set of events in which the four top officials of both countries hopped from one symbolic site to another today. Their morning started with a rare visit to the truce village of Panmumjom in the demilitarized zone (DMZ) dividing the two Koreas. They peeked into North Korean territory with binoculars at a military guard post in Camp Oulette.
To pay tribute to the soldiers killed in the Korean War that ended in 1953 and to the 46 sailors killed in the Cheonan incident, the four later laid a wreath at the Korean War Memorial during a solemn service. In talks afterward, the U.S. confirmed its commitment to South Korea's security and sovereignty.
The unprecedented joint visit by Clinton and Gates comes ahead of a four-day massive scale joint military exercises starting this Sunday. Dubbed "Invincible Spirit," the drills involve 8,000 Army, Air Force, and Navy personnel, 20 ships and 200 aircraft on the Korean peninsula.
"The exercises will surely escalate tensions here," said a South Korean official. "But when the evidence is clear that it was the North sinking the vessel, both countries have no choice but to go for the stick rather than a carrot."