Two small boys, Elias, 5 and Qasem, 6, hold U.S. passports but both have been trapped in the Gaza Strip.
Their father, Kamal Elkafarna 37, is Palestinian and holds a master's degree in engineering from Georgetown University in Washington, D.C. The boys were born in the United States, which automatically makes them citizens.
In 2004, the family returned to their native homeland in Gaza after Elkafarna's U.S. visa had run out.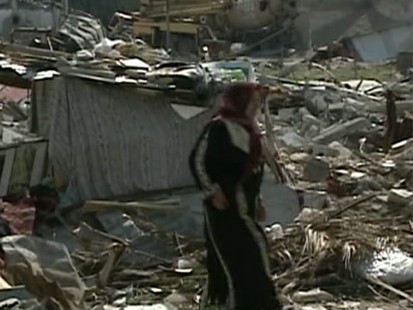 But, now, he has a golden chance to advance his studies at a Russian university and start a better life for his family away from the
chaos and violence of Gaza
.
The problem is that one of the boys' passport has expired and, because the United States no longer runs consular services in Gaza, they can't travel. They needed to get to Jerusalem in person, to the nearest U.S. consulate, but Israel wouldn't let them out of Gaza.
"I cannot renew the passport in Gaza so I cannot leave Gaza," an angry and frustrated Elkafarna told The Associated Press Tuesday. "I cannot leave because I cannot renew it. I need to reach Jerusalem to do that and I have asked permission from the Israelis and they refused."
Ever since Gaza was taken by the militant Islamic group Hamas, Israel has imposed a punishing blockade on the densely populated territory. Only severe medical cases are guaranteed permits to cross the border into Israel.
It is a policy that many people criticize as collective punishment. In recent months, the Obama administration has demanded Israel relax its stranglehold, but to no avail.
Ambitious Gazan Students Struggle to Leave
The lack of freedom of movement has been especially difficult for the 1,000 Gazans who apply to study abroad every year.
In recent months, Israel has introduced another obstacle by insisting that students who do get permits to travel have to be escorted by diplomats from the moment they leave Gaza to the moment they cross into neighboring Jordan.
"Israel is violating the basic human right to education for the students of Gaza," Keren Tamir of Israeli human rights group Gisha told ABC News. "It is also denying these students the chance to help make Gaza a better place, once they return with their new skills. That is bad for Israel and bad [for] the United States."
U.S. consular services were shut down in Gaza after three U.S. security guards were killed in a roadside bomb in 2003. But without a U.S. presence, the estimated several hundred U.S. passport holders in Gaza have no way of renewing them or applying for visas.
But all hope for the Elkafarna family is not lost. As a result of legal pressure from human rights workers, Israel's attorney general recommended today that the two boys be allowed to travel to Jerusalem with their mother.
The permit, when it is granted, will only last one day, which is just enough time to renew their U.S. passports and return to Gaza.
The family will then have to go through exhaustive security checks for permission to fly to Russia but, at least, they will have valid passports.
One family's dream of building a better life still has a chance of coming true.