A British man with cerebral palsy finally landed a job after five years of rejection and he said that the new-found employment has "changed his life."
Tom Stephens, 23, is now a full-time employee at a grocery store in Altrincham, England. At Asda, one of the largest grocery store chains in the U.K., Stephens works directly with customers in checkout lines.
"It's just amazing," Stephens told ABC News of finally being hired. "I mean, it's so fantastic. It was a long hard fight and being rejected so many times affected me. It made me less confident, but I'm finally happy that I've gotten behind it."
Stephens, who is native of Sale in Greater Manchester, said he only received 50 interviews after submitting hundreds of job applications.
When he was frustrated with his job search, Stephens went to an employment agency for help. There, he was referred to Asda, where he underwent an eight-week training program, which included learning how to interact with customers in a classroom and spending four weeks out in the field to help him prepare for his new job.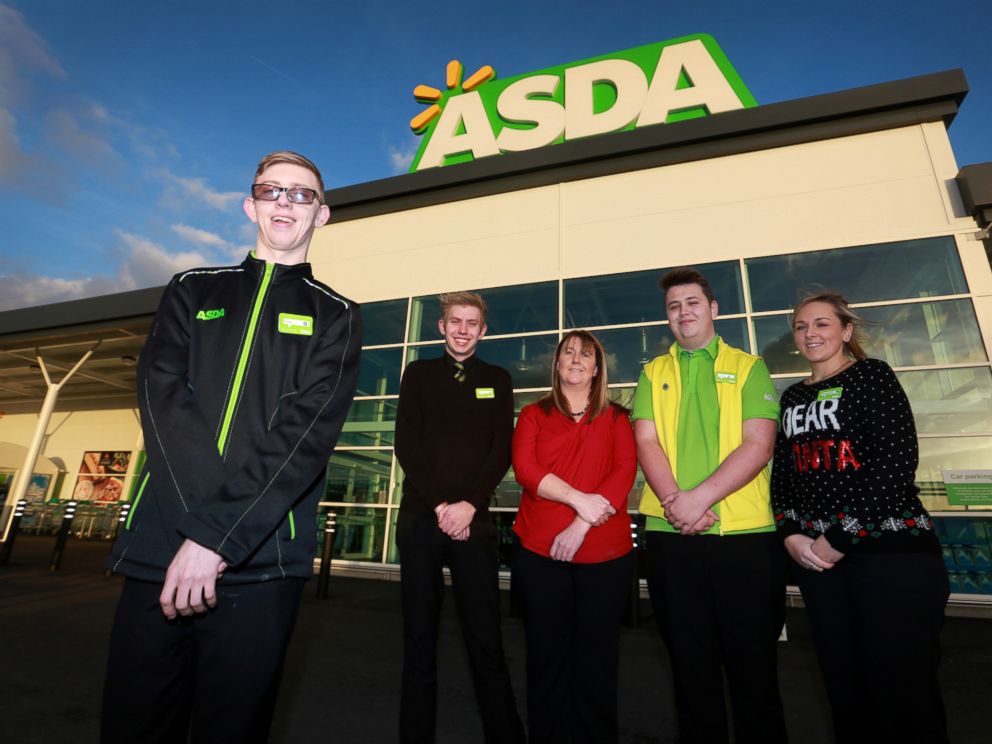 "My job at Asda has changed my life," Stephens said. "I feel confident. I feel a part of it all for the first time. I now have friends and I look forward to waking up every day."
In the U.K. and the U.S. alike, it's often difficult for persons with disabilities to find work. According to statistics released in 2012 by the U.K.'s Annual Population Survey, which is a survey of households in Great Britain, those living with a disability have an employment rate of 47.8 percent compared to non-disabled citizens, who have a rate of 75.9 percent. Meanwhile, in the U.S. the Department of Labor's Office of Disability Employment Policy says only 17.1 percent of those with a disability were employed in 2014, compared to those living without a disability, who have a rate of 64.6 percent.
Advocate Ken Stern, who created CerebralPalsy.org as a resource for affected families, said adults with disabilities often struggle to land jobs because they're perceived as being different.
"In our society, it's always difficult for people who are different to be accepted as normal," Stern, 61, told ABC News. "Employers are concerned about how these employees will assimilate or how they'll be perceived by the public on which they depend for survival."
"Employers should be open to the idea that even though some of these adults are different, they can nevertheless be successful contributors to their business if they remain tolerant," he added. "It's up to us whether or not we choose to make life a better place for everyone."