While they may be called four-year institutions, schools like the University of Texas at Austin have more than a few undergraduates who stick around longer.
UT senior Antonio Del Bosque, 24, has been working on his diploma for six years. Come May 22, the Eagle Pass, Texas, native will finally graduate alongside his peers, many of whom are a couple years younger.
"I always get the 'Are you that dumb that you've been there for so long?' type of look when I tell people how old I am and how long I've been in school," Del Bosque said. "It really is nobody's business."
But University of Texas officials may soon disagree.
Last month, members of the Second Task Force on Enrollment Strategy recommended the school's administration adopt a 10-semester limit on how long students can stay to pursue their degree in Austin. This academic restriction would probably be the first of its kind, said Steven Leslie, UT executive vice president and provost, who appointed the task force.
"The intent is not to get out any student," said Isabella Cunningham, the task force's chairwoman. "[It's] to provide the right kind of environment to have a successful career at the University of Texas."
To receive a bachelor's degree, UT students must finish 120 hours of coursework -- either 12 hours a semester for 10 semesters, or 15 hours a semester over the course of four years. Cunningham said the average student's academic career spans 4.5 years, or nine semesters.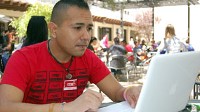 Xorje Olivares/ABC News on Campus
According to the Office of Information Management and Analysis, a little more than half of the school's 38,168 undergraduate students finish in four years or fewer, with an additional 23 percent graduating within five years. While 5 percent more graduate within six years, it's estimated that approximately 19 percent of undergraduate students take more than six years to obtain a bachelor's degree at UT -- if they get one at all.
"There are some students that really don't have any stimulus to finish their degree, and [they] get caught up in the system," Cunningham said.
Interestingly enough, the system has actually seen this sort of proposal before. In 2003, the First Task Force on Enrollment Strategy suggested the same semester cap, though it was never implemented.
However, Leslie said, the introduction of the flat-rate tuition helped improve graduation rates. UT students must pay tuition set at a price, based upon 14 hours of coursework, even if they are taking fewer hours.
Making Room for New Students
Leslie added that one of the goals of the second task force was to identify "opportunities to increase efficiency and the flow of students through the pipeline of degree pursuits."
But with more and more students continuing to overstay their welcome, Cunningham said, there may not be enough spots for potential incoming students.
"We have more of a problem with students who decide they want to have two, three, four majors," Cunningham said. "Let's be reasonable -- finish your major or majors, and if you can make three majors in five years, more power to you. Then, after five years, we're ready to tell you that maybe if you want to add to your instruction, go to graduate school."
Del Bosque is one such student. After arriving at the university in 2004 as an education major, he has since added two additional majors: Mexican-American studies his fourth year, and youth and community studies his last year.