Chapel Hill police have arrested and charged two current and three former University of North Carolina students in connection with a drug raid at an off-campus apartment that resulted in the seizure of 321.6 grams of cocaine.
Former UNC student Jonathan Ray Plymale, 22, of Greensboro, N.C., and current UNC student Eliza McQuail Vaughan, 21, of Nags Head, N.C., were charged with three felony counts: cocaine possession with the intent to sell and distribute, drug trafficking and "maintaining a dwelling," according to police reports.
Chapel Hill police Tuesday found 197.6 grams of cocaine bagged in 1-gram increments after an initial search of Vaughan's apartment, police department spokesman Lt. Kevin Gunter said. Plymale allegedly consented to a secondary search of his apartment, where police said they found an additional 121 grams.
Gunter said the street value of one gram of cocaine is between $100 and $125, or a total of $32,160 to $40,200.
"From a student standpoint, I don't recall in recent past that we've had a charge where an investigation has lead us to this amount of cocaine," said Gunter.
According to police reports, three others, UNC alum Benjamin Thomas Nash, 24, of Elizabeth City, N.C., former UNC student Hugh Graham Jones, 22, of High Point, N.C., and current UNC student Julianne Kornegay Howard, 19, of Greensboro, N.C., had a total of three grams of cocaine between them and were charged with felony possession of cocaine.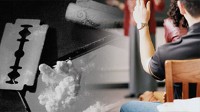 All five were released on bond and none have entered pleas.
"Confidential informants are usually used in cases dealing with narcotics," Chapel Hill Police Chief Brian Curran said. "I can't comment specifically on this case because it is still ongoing."
The first search was conducted in the Chancellor Square apartment complex off Church Street at around 9 p.m. Tuesday night by a special branch of the Chapel Hill Police Department, which deals specifically with narcotics use.
Students who lived in the area said the drug bust was a low-key event.
"It was really quiet," said Brandon Berkis, a UNC junior. "I was in my apartment at the time and didn't hear anything about it until my roommate came home."
His roommate, UNC junior Tom O'Rourke, said that as he came home from work, he noticed two police cars parked on Church Street. As he pulled in, he saw a dark sedan and an SUV with tinted windows parked in the middle of the road.
"I just thought it was sketchy because they weren't parked in a space or anything," O'Rourke said. "When I walked in I saw two regular looking guys taking two kids out in handcuffs. I figured it was drug-related because they made everyone wait outside while they searched the apartment."
University of North Carolina Students Arrested
Students on campus were surprised to hear the news that something of this magnitude allegedly involved former and current UNC students and happened so close to campus.
"You always hear about it happening at other places but not here," Cort Smith, a UNC freshman, said. "It definitely makes me more aware and sheds light on things I should be thinking about."
"You just wouldn't expect something like this because you expect everyone here to adhere to the honor code," UNC sophomore Katie Bedingfield said.
Other students said that although the news is surprising, they don't feel any less safe.