As lawmakers call for hearings and debate brews over forming commissions to examine the Bush administration's policies on harsh interrogation techniques, Attorney General Eric Holder confirmed to a House panel that intelligence officials who relied on legal advice from the Bush-era Justice Department would not be prosecuted.
"Those intelligence community officials who acted reasonably and in good faith and in reliance on Department of Justice opinions are not going to be prosecuted," he told members of a House Appropriations Subcommittee, reaffirming the White House sentiment. "It would not be fair, in my view, to bring such prosecutions."
But Holder left open the door to some legal action, saying that though he "will not permit the criminalization of policy differences," he is responsible as attorney general to enforce the law.
"If I see evidence of wrongdoing, I will pursue it to the full extent of the law, and I will do that in an appropriate way," he added.
As part of the continuing fallout of the Justice Department's release of memos from its Office of Legal Counsel last week, Holder faced questioning from a GOP lawmaker about the circumstances surrounding the documents' release.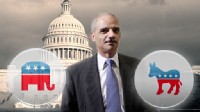 "I just think, in fairness to the American people, once you made a decision, once the administration made a decision to release the existing memos that you put out, then I think you have an obligation to release the rest of the memos," Rep. Frank Wolf, R-Va., told Holder.
Former Vice President Dick Cheney has claimed that the Obama administration released only documents that show the negative aspects of interrogations, and insisted that there are still classified documents -- which he is asking to be released -- that show the information gained from them helped keep the United States safe.
Of the existence of those documents, Holder said, "I've heard that Vice President Cheney indicated that such memos exist. I frankly have not seen them. I do not know if they exist."
Holder indicated a willingness to release more documents to give the public a better understanding of the Justice Department's decision-making process and to inspire debate about future policies that are formed to be "consistent with our values and that can be supported by the American people.
"It is certainly the intention of this administration not to play hide-and-seek, or not to release certain things in a way that is not consistent with other things," Holder said. "It is not our intention to try to advance a political agenda or to hide things from the American people."
Holder also noted that the effectiveness of enhanced interrogation techniques has been questioned by those who employed them.
"I've also seen articles written by people who were involved in the use of these techniques who say those techniques in fact were not particularly effective, that the information could have been gotten by a more traditional means," he said. "So that is something, I guess, we'll have to debate."
However, some officials in the Obama administration have stated the opposite. Director of National Intelligence Dennis C. Blair admitted that he informed President Obama in a private memo that the harsh interrogation tactics conducted by the CIA did indeed yield valuable information from terror suspects.