The Greenbrier Valley Airport, the gateway to the ritzy Greenbrier resort where rooms start at $500 a night, is about to get more than $2 million in federal stimulus funds to spruce up the terminal building.
Only two commercial flights a day come in and out of the Lewisburg, W.Va., airport and, on average, each plane carries six passengers.
But U.S. tax dollars keep the airport in business. In addition to stimulus funds the airport received, the federal government subsidizes the commercial flights to the tune of $562 per passenger through the FAA's Essential Air Service program, which supports rural airports through a $175 million annual appropriation.
Indeed, dozens of small, U.S. airports depend on federal funds for their survival, prompting critics to complain that these "airports to nowhere" fly too few passengers to justify the subsidies.
But Greenbrier residents, for instance, insist that the money is well spent.
"The most important thing we can have is an easier way for the guests to get to the Greenbrier," said Lynn Swann, a spokeswoman for the Greenbrier resort. "That doesn't benefit just the Greenbrier, it benefits the entire region.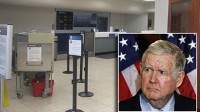 "We have 1,300 employees here," she said, "but numerous businesses in the area, whether they are tourist destinations, restaurants, other hotels or simply gas stations, [also] benefit from increased business at the Greenbrier."
Greenbrier Airport manager Jerry O'Sullivan agreed, saying federal subsidies for small airports like his are essential to local economies.
"In Washington terms, $175 million is really just a rounding error," O'Sullivan said. "And to cancel [the funds] would be too widespread pain for too little gain."
Dozens of Small Airports Snag Millions in Federal Funds
In Alaska, millions of federal dollars are going to tiny airports that make the Greenbrier look as busy as the O'Hare International Airport in Chicago.
ABC News visited Ouzinkie Airport, on a remote island near Kodiak, Alaska, which just hit the jackpot with $15 million from the American Recovery and Reinvestment Act of 2009 -- $100,000 for each of the town's 150 residents, even though there is another airport 30 minutes away.
"That's an awful lot of money for a little village," resident William Delgado said, laughing. "I don't know how it happened but it happened."
The stimulus money was awarded after the state applied to the Federal Aviation Administration for its piece of the stimulus pie. Four other tiny Alaska airports received money as well.
"Our rural citizens have the same needs as our urban citizens and we are not in a position to judge which are more important," said Christine Klein, deputy commissioner of the Alaska Department of Transportation.
But critics call them "airports to nowhere." The most well-known is the John Murtha Airport in western Pennsylvania, a monument to powerful Democratic congressman John Murtha that has received about $200 million in federal money in the past 15 years.
The airport averages 20 passengers a day for its three commercial flights to Washington, D.C.
"It's a breeze to get through security, [there are] no crowds and it's right in your backyard," one passenger at the Murtha Airport told ABC News in April. "Definitely nicer than packing up early in the morning and traveling to Pittsburgh."