The presidential election was called for Donald Trump nearly a month ago, but that has not stopped a potential recount in four states that experts say will likely not change the outcome of the election.
Green Party presidential candidate Jill Stein has paid for a recount in Wisconsin, submitted a statewide recount request in Michigan and has filed a federal suit to have a statewide recount in Pennsylvania. Another third-party candidate has also filed a recount request in Nevada, a state that Clinton won.
Hillary Clinton's team said it will join the recount effort, which President-elect Trump has called "sad."
Stein's campaign has cited the analysis of outside experts who suggest that the vote count could have been tampered with. There has been no evidence of foul play in any state, and no proof has emerged of tampering during the recounts so far.
Here's what you need to know about the various recounts:
What is happening in Wisconsin?
Stein and Roque "Rocky" De La Fuente, who ran as part of the American Delta Party, filed petitions on Nov. 25 in Wisconsin to hold a recount in that state.
Stein sent a wire transfer of $3,499,689 to Wisconsin elections officials for the recount.
The Wisconsin Elections Commission confirmed that it had received that amount from Stein on Nov. 29. Officials said the total cost may be closer to $3,898,340 after discovering an error in their original calculations.
The state's recount started Dec. 1.
Why are they asking for a recount?
According to Stein's statement announcing the recount filing, "the three states were recommended for scrutiny by election integrity experts and advocates because of the vulnerability of their voting systems and various indicators of concern - including unexplained high numbers of undervotes."
Stein's campaign manager David Cobb said in the statement that "the recount was not filed in order to change the election outcome, which is unlikely, nor to favor any one candidate. We are pursuing this recount to verify the integrity of the election result."
Trump's win in Wisconsin was one of a series of surprises on election night; the Badger state had not voted for a Republican president since the 1984 election. According to the Wisconsin Elections Commission, there were a total of 2,975,313 votes cast in the state, and Trump beat Clinton by more than 27,000. Stein had 31,006 votes in the state.
Will the outcome of the election change because of the recount?
It's impossible to say for certain, but no one involved in the recount efforts so far has said that Trump's presidential rival Clinton could emerge victorious.
"I fully expect, given the history of how elections are conducted in Wisconsin ... that the outcome is not going to be different" than the current unofficial results, Mark Thomsen, chair of Wisconsin's elections commission, said at a news conference on Nov. 28.
Stein held a rally in front of Trump Tower in Manhattan on Dec. 5 and made it clear that she isn't expecting the overall outcome to change, saying that it would be "unfair" to "raise expectations that the outcome is going to change," and emphasized she isn't doing this in support of one candidate.
"This is not about challenging one candidate or assisting another candidate. This is about ensuring that all votes are counted and that voters can trust the system," Stein said.
When will we have answers?
The recount started Dec. 1 and needs to be completed by Dec. 13, which officials have already warned may be a tight turnaround.
"It will be a significant challenge to complete a statewide recount of nearly 3 million votes in less than two weeks," the elections commission memo read.
The recount is going to be done by both hand and machines, depending on the county. The commission denied Stein's request for the entire recount to be done by hand because it does not have the authority to give such an order, Reid Magney, the commission's public information officer, told ABC News.
Forty-eight of the state's 72 counties will be completing the recount by hand, while 14 counties plan to use optical scanners and 10 counties plan to use a combination of optical scanners and hand counts, though those numbers may change, Magney said.
County clerks in each of the counties will send a summary email to the commission either at the end of each night or early the next morning during the recount, and the commission will post a spreadsheet with ward-level data on the recount daily, Magney said.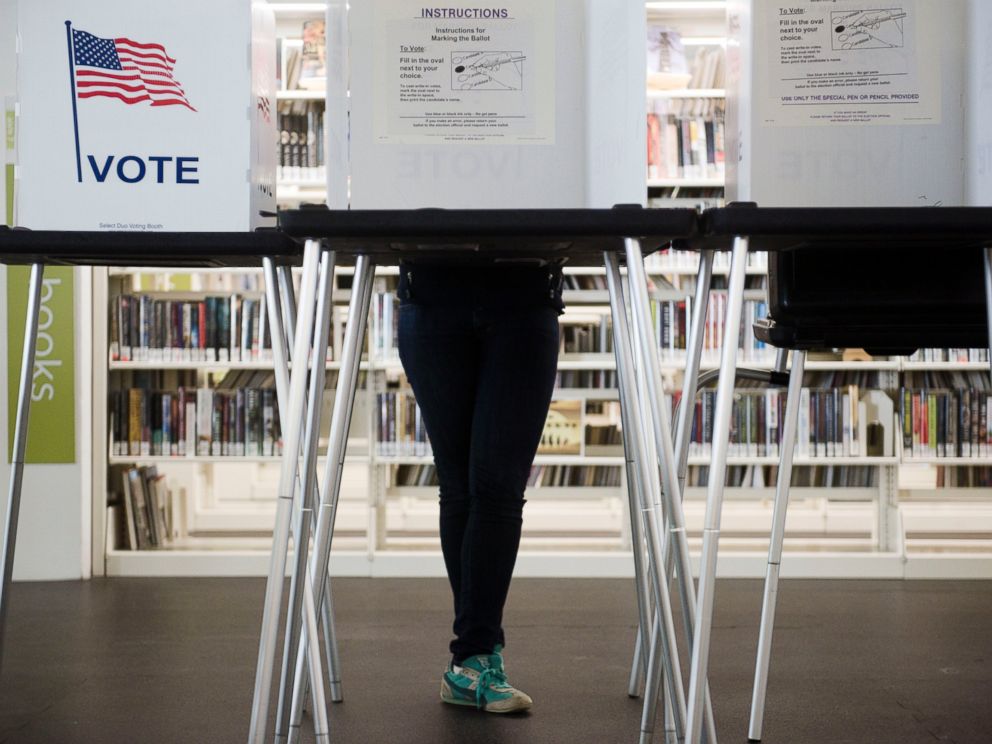 Are other states taking similar action?
Recount requests have now been received in all three states that Stein had listed on her site as goals -- Wisconsin, Pennsylvania and Michigan -- and another state -- Nevada -- received a recount petition from another third party candidate, De La Fuente.
Two of the three states in question -- Wisconsin and Pennsylvania -- have already begun required audits of their elections, which is done by checking the results of a random sample of voting machines to make sure the technology actually works.
Michigan has 16 Electoral College votes, Wisconsin has 10, Pennsylvania has 20 and Nevada has six votes.
The final Electoral College count is Trump with 306 votes, Clinton with 232.
Michigan
Michigan Secretary of State Ruth Johnson confirmed that a recount request from Stein was received. She said in a statement released Nov. 30 that county clerks "have been gearing up to complete this recount under a very challenging deadline."
Johnson expressed bewilderment at Stein's efforts.
"It is unusual that a candidate who received just 1 percent of the vote is seeking a recount, especially when there is no evidence of hacking or fraud, or even a credible allegation of any tampering. The cost of this recount to Michigan taxpayers could easily reach into the millions of dollars. Based on Wisconsin's estimate, Michigan taxpayers could be paying $4 million despite the $1 million the Green Party nominee must pay to have the recount," she said in a statement.
The recount process in Michigan was immediately halted Dec. 1, however, after the state's Bureau of Elections "received an objection from representatives of Donald J. Trump."
In a statement, the bureau -- without explicitly stating where it is in the recount process -- said that "Under Michigan law, the recount is halted when the Board of State Canvassers resolves the objection."
The bureau's board met on Dec. 2 and rejected Trump's objection. The recount was then scheduled to restart on Dec. 7 due to state rules. The board also rejected the Michigan Secretary of State Ruth Johnson's request to use optical scanners in the recount, meaning that the existing policy of having a hand recount would be upheld.
On Dec. 2, Michigan Attorney General Bill Schuette tweeted: "Today I am filing suit to stop @DrJillStein's frivolous, expensive recount request."
The recount is officially back on and two counties in the state started their recounts on Dec. 5 after a federal judge ordered them to do so over the weekend.
The change in Michigan stems from the state law that says that there must be two business days between the ruling on a recount and the start of the recount itself, which in this case would have meant that the recount wouldn't start until Dec. 7. The Associated Press reports that Judge Mark Goldsmith ruled that Stein had "shown the likelihood of irreparable harm" that would have been caused by the delay, prompting him to order the recount to start on Dec. 5.
The Associated Press reported Nov. 28 that Trump was the winner in Michigan and the Michigan State Board of Canvassers certified the election results at 2 p.m. ET.
Pennsylvania
Pennsylvania Secretary of State spokeswoman Wanda Murren told ABC News that the Green Party has filed a lawsuit on behalf of over 100 registered voters contesting the election and asking for a statewide election contest, which she noted is not technically called a recount under their guidelines. Stein submitted an affidavit by a computer scientist, who raised the possibility of a cyberattack.
Similar to what happened in Michigan, the Trump campaign filed court papers in Pennsylvania on that same day opposing Stein's case.
"She has to prove that the election was illegal in some way. A judge will decide if a recount will happen," Murren said of Stein.
Lawrence Tabas, a lawyer for Trump, told ABC News of Stein's case: "This is a baseless, outrageous fantasy claim to disrupt the election process."
On Dec. 5, Stein filed a federal lawsuit against Pedro Cortes, Pennsylvania secretary of the commonwealth, and Jonathan Marks, commissioner of the Bureau of Commissions, Elections and Legislation, asking for a statewide recount.
In the lawsuit, Stein calls the Pennsylvania election system "a national disgrace," saying, "Voters are forced to use vulnerable, hackable, antiquated technology banned in other states, then rely on the kindness of machines. There is no paper trail. Voting machines are electoral black sites: no one permits voters or candidates to examine them."
Separate from Stein's case, Murren said that between 200 and 300 petitions for precinct recounts have been filed, but an unknown number of them were duplicates or submitted after the deadline, so it remains unclear how many of the state's 9,163 precincts could potentially have contests.
Nevada
De La Fuente, who ran as the presidential candidate for the American Delta Party, has requested a recount in Nevada, and that is slated to be completed in select precincts in five counties by Dec. 9, according to Gail Anderson, the spokeswoman for the Nevada secretary of state's office.
Anderson said that the counties had until Dec. 4 to start their sampling of designated precincts, and "all counties have done so." Their results are due by 5 p.m. on Dec. 9.
According to ABC News' analysis of the vote, Clinton won Nevada by 26,434 votes out of the more than 1.1 million votes cast in the state and if the partial recount finds a 1 percent discrepancy for either Clinton or De La Fuente, who came in last in the state, then a recount will be ordered in all 17 Nevada counties.
Who is paying for this?
More than $6 million has been raised for the legal and recount costs, according to Stein's official fundraising recount site. The money will go toward funding recounts in Wisconsin, Pennsylvania and Michigan.
According to a member of Stein's press team on Monday, that money came from more than 137,000 donors and the average donation has been $45.
If there are any excess funds, Stein's press team said the campaign will consult with the Federal Election Commission guidelines on how best to proceed.
According to the fundraising page set up by Stein, she and her team expected the filing fee in Wisconsin to cost $1.1 million -- less than a third of what Wisconsin elections officials estimated -- along with $600,000 in Michigan and $500,000 in Pennsylvania. Attorney fees are expected to cost millions of dollars more. The money raised will also pay for the recruitment of recount observers.
Stein has made it clear that the money will only be used for the recount campaigns.
"We are raising money into a dedicated account for a recount campaign. The money cannot be used for anything else. It cannot be used for my campaign. It cannot be used for the Green Party. It can only be used for the recount," Stein said during an interview on ABC's "The View."
How Trump has responded
Trump tweeted that the recount was a "scam" on behalf of the Green Party and he used a portion of Clinton's concession speech in which she said the election results must be accepted in an effort to diminish the efforts.
According to Elias, Clinton campaign's legal team will follow Stein's lead in participating in the recount process in Wisconsin and will also join her if she moves forward in Pennsylvania and Michigan, as promised.
Elias said that the Clinton team takes concerns over potential hacking or altering of results "extremely seriously" but also made it clear that they were not the ones who started this process.
"We are getting attacked for participating in a recount that we didn't ask for by the man who won election but thinks there was massive fraud," Elias tweeted on Nov. 27.
On. Nov. 27, Trump made what others say is a baseless claim that "millions of people" voted illegally, and "I won the popular vote if you deduct" those allegedly fraudulent votes.
Kay Stimson, spokeswoman for the National Association of Secretaries of State, told ABC News that the organization has "no information that can help to explain what sources or information are behind the basis of the tweets," referring to Trump's comments about the "millions" of illegal votes and alleged fraud in Virginia, California and New Hampshire.
On the state level, California Secretary of State Alex Padilla released a statement slamming Trump.
"It appears that Mr. Trump is troubled by the fact that a growing majority of Americans did not vote for him. His unsubstantiated allegations of voter fraud in California and elsewhere are absurd. His reckless tweets are inappropriate and unbecoming of a President-elect," Padilla said in the statement.
Recount deadlines
Federal law mandates that any recounts need to be completed 35 days after the election, or by Dec. 13.
The electors who make up the votes in the Electoral College are slated to meet in their respective states on Dec. 19 and then send their decisions to Washington. The National Archives states that the electoral votes need to be received by the president of the Senate, which is Vice President Joe Biden, and the archivist by Dec. 28.
ABC News' Lauren Pearle and Josh Haskell contributed to this report.