The former mayor of a small Alabama town boasted about attending Ku Klux Klan meetings and threatened to burn a cross in a councilwoman's front yard, according to a discrimination lawsuit filed in federal court by two African-American city employees.
Plaintiffs Roy Jackson and Devie McLaughlin accuse ex-mayor Julius Dalton Murphy, and the city of Centreville of violating their civil rights, paying them less than white employees holding the same position, and causing emotional distress and humiliation.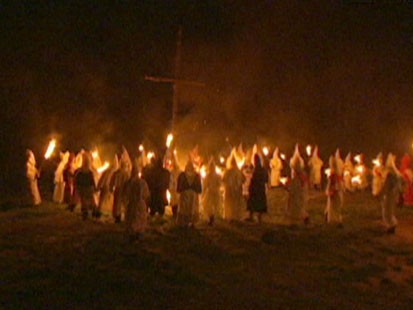 Murphy, who is white, finished his second term as mayor of Centreville in November 2008. He did not return phone calls from ABC News.
The lawsuit was filed Monday in the United States District Court for the Northern District of Alabama in Birmingham.
Centreville City Attorney Mike Hobson said he had not yet seen the lawsuit and could not yet comment.
The lawsuit claims that in July of 2008, Roy Jackson was making $8.25 an hour as a street superintendent when he and his crew were fired because they charge, the mayor said they had failed to water some flowers in the town square.
Only one member of Jackson's crew, a white employee, was allowed to keep his job, according to the lawsuit. Jackson, who had worked for the city since 1989, believed the watering was unnecessary, since it had rained the night before.
According to court documents obtained by ABC News, Jackson claims the day he was fired, Murphy hired a white man to replace him, paying him a higher wage of $10 an hour. Jackson appealed his termination and won, but was demoted to a laborer position.
McLaughlin was also rehired two weeks later, but says he was paid less than white employees with less experience and fewer skills.
Jackson says the mayor retaliated against him for speaking out by taking away his vacation time, banning him from city hall, even accusing him of stealing.
The issue of the firings came up during a heated city council meeting in September 2008.
"One white Councilwoman said she thought the (sic) Mayor Murphy's firing of those employees was racially motivated because mayor Murphy constantly made comments about how he had to get to his Klan meeting, and he used the 'N' word to refer to African Americans," the lawsuit says.
The mayor allegedly responded to the accusation by telling Councilwoman Linda Renn-Pierce, "Well, maybe you need a cross burned in your yard."
Murphy was arrested after the meeting on harassment and disorderly conduct charges.
The attorney for Jackson and McLaughlin says his clients are bringing the lawsuit in part to send a message that racially motivated behavior is not to be tolerated. They are seeking back pay from the city and punitive damages against the mayor. Jackson also wants to be reinstated as a supervisor.
"They want to be treated equally with regard to pay," said attorney Jon Goldfarb. "But they also wanted to let it be known that this public official did this to them."
Goldfarb said Jackson and McLaughlin are not specifying the amount of damages they are seeking, and will leave that decision to a jury should their case prevail.
One Centreville business owner who did not want to be identified for fear that speaking out would harm business said Centerville's reputation should not suffer from the former mayor's alleged behavior.
"This incident does not represent our city. This was one person's viewpoint," she said.
ABC News researcher Nicholas Tucker contributed to this report.