The U.S. Senate today voted overwhelmingly to block funding to shut down the detainee center at Guantanamo Bay, Cuba, dealing another blow to one of President Obama's signature national security issues.
In a 90-6 vote, the Senate followed in the footsteps of the House of Representatives and passed an amendment deleting $80 million in funds from a war funding bill earmarked to close the Guantanamo Bay prison.
Republicans have been raising alarm bells for weeks about the prospect of Obama's planned Guantanamo closure.
Where will the detainees go, they've asked over and over. Will they be tried in the United States? And will former detainees, if cleared of the charges against them, be walking the U.S. streets?
Democrats have answered by rejecting Obama's request for money to start the base closure.
"Democrats under no circumstances will move forward without a comprehensive, responsible plan from the president. We will never allow terrorists to be released into the United States," declared Senate Majority Leader Harry Reid, D-Nev., at a press conference Tuesday after meeting with other Democratic senators.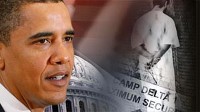 ABC News Photo Illustration
Obama had requested the $80 million from the $91 billion war funding bill as part of his promise to close the Guantanamo base by January 2010.
If he wants to meet his January pledge, the president will now have to ask for the money later this year.
Detainees in Legal Limbo
There are 240 detainees currently housed at Guantanamo Bay. Of those, 80 are awaiting trial, two have been released in Europe in recent months, and 130 are in some sort of legal limbo.
One of those detainees, top al Qaeda suspect Ahmed Ghailani, will be tried in New York City, an administration source told ABC News.
Ghailani, who has been in custody since 2004 and has been at Guantanamo since 2006, was indicted in federal court in New York City for the bombings of U.S. embassies in Africa in 1998. Those attacks killed 224 people, including 12 Americans.
In passing the amendment to remove the $80 million from the war funding bill needed to close the base, the Senate communicated that Obama must first present a plan for how he plans to close the detainee center and what he plans to do with the detainees housed there.
"The U.S. Senate, Democrats and Republicans don't want terrorists released in the United States," said Reid, although he maintains, as does Obama, that closing Guantanamo Bay is the right thing to do.
Reid became exasperated with reporters when pressed to connect the dots between closing the prison at Guantanamo Bay and not bringing detainees to U.S. shores.
"If terrorists are released in the United States, part of what we don't want is for them be put in prisons in the United States. We don't want them around the United States," Reid said.
Republican Furor Over Gitmo Closure
Reid's words echo the talking points of Republicans, particularly Minority Leader Mitch McConnell, R-Ky., who has pressured Democrats for weeks on Guantanamo Bay.
But while Reid ultimately wants to see the base closed, Republicans like McConnell see it as the perfect place to keep suspected terror detainees, many of whom have now been housed in Cuba for seven years.
"In my view, these men are exactly where they belong: locked up in a safe and secure prison, and isolated many miles away from the American people," McConnell said on the Senate floor today.