Air Force: Chad Hennings, DT, 1987
24 sacks, 31 tackles for loss
Hennings won the 1987 Outland Trophy after leading the nation in sacks. He was a unanimous first-team All-American selection, and he received the Stan Bates Award as the WAC's top scholar-athlete.
Honorable mention: Ernie Jennings 1970, Scott Thomas 1985, Dee Dowis 1989
---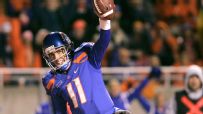 Boise State: Kellen Moore, QB, 2010
3,845 yards passing; 35 touchdowns
The most iconic player in Boise State history, Moore became the first player from the school to be invited to the Heisman Trophy ceremony. He led the Broncos to their highest national ranking in school history (No. 2).
Honorable mention: Brock Forsey 2002, Ian Johnson 2006, Kellen Moore 2009
---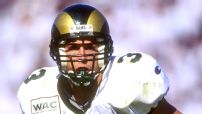 Colorado State: Greg Myers, S, 1995
Three TDs on punt returns; four INTs
Myers won the Jim Thorpe Award as the nation's top defensive back and was an academic All-American. He was also a consensus All-American -- only the third in Colorado State history.
Honorable mention: Gary Glick 1954, Brady Smith 1995, Kapri Bibbs 2013
---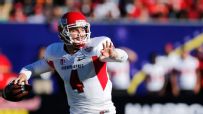 Fresno State: Derek Carr, QB, 2013
5,083 yards; 50 TD passes
Derek gets the nod over his brother, David, after becoming the fourth QB in FBS history to throw for more than 5,000 yards and 50 touchdown passes in one season. He led the nation in eight statistical categories.
Honorable mention: Beau Carter 1961, Trent Dilfer 1993, David Carr 2001
---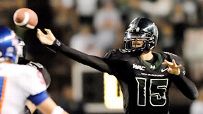 Hawaii: Colt Brennan, QB, 2006
5,549 yards passing; 58 TDs
Playing for offensive guru June Jones, Brennan broke 20 NCAA records, 17 WAC records and 41 school records while tossing 58 touchdowns, completing 73 percent of his passes and winning the Sammy Baugh Award.
Honorable mention: Al Noga 1986, Jason Elam 1992, Chad Owens 2004
---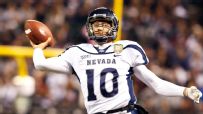 Nevada: Colin Kaepernick, QB, 2010
4,228 total yards; 21 TDs passing; 20 TDs rushing
His incredible individual accomplishments led Nevada to its best season as an FBS member (13 wins, No. 11 ranking) along with the biggest win in school history. He made his name in the heart-stopping win vs. unbeaten Boise State.
Honorable mention: Frank Hawkins 1980, Chris Vargas 1993, Trevor Insley 1999
---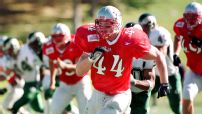 New Mexico: Brian Urlacher, S/FB/TE, 1999
154 tackles, 5 fumbles forced; 6 receiving TDs
Before moving to linebacker in the NFL, Urlacher was a first-team All-American safety for the Lobos. Urlacher also played offense -- leading the team with six TD receptions -- and returned some punts and kickoffs.
Honorable mention: Pascal Volz 1997, DonTrell Moore 2003, Hank Baskett 2005
---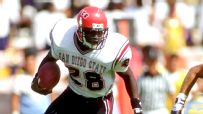 San Diego State: Marshall Faulk, RB, 1992
1,630 yards; 15 TDs; 6.2 YPC
As a sophomore, Faulk led the nation in rushing and finished second in the Heisman voting to Miami's Gino Torretta. He was a consensus All-American and the WAC Offensive Player of the Year.
Honorable mention: Dennis Shaw 1969, Willie Buchanon 1971, Marshall Faulk 1993
---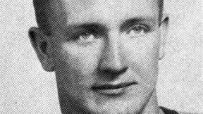 San Jose State: Roy Zimmerman, FB, 1939
Leading passer and rusher; had eight INTs