James, who was a consensus All-American, won the Doak Walker Award and was third in Heisman Trophy voting. He ranked first in the nation in touchdowns and rushing yards (1,731), and he averaged 5.9 yards per carry.
Honorable mention: Mel Renfro 1962, Joey Harrington 2001, Dennis Dixon 2007
---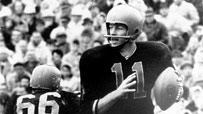 Oregon State: Terry Baker, QB, 1962
2,261 yards of total offense, 24 total TDs
Baker won the Heisman Trophy and Maxwell Award in 1962 while earning consensus All-American honors. He passed for 1,738 yards and 15 touchdowns and led the nation in total TDs.
Honorable mention: Ken Simonton 2000, Steven Jackson 2003, Brandin Cooks 2013
---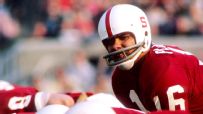 Stanford: Jim Plunkett, QB, 1970
3,189 yards of total offense; responsible for 22 TDs
Plunkett is Stanford's only Heisman Trophy winner, and in 1970 he won the Maxwell and Walter Camp awards too. He guided Stanford to a Pac-8 title and upset of then-No. 2 Ohio State in the Rose Bowl.
Honorable mention: Ernie Nevers 1924, John Elway 1982, Andrew Luck 2011
---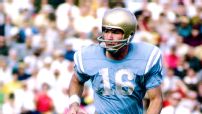 UCLA: Gary Beban, QB, 1967
1,586 yards of total offense; responsible for 19 TDs
Beban's season earned him what remains UCLA's only Heisman Trophy. He was a consensus All-American and the winner of the Maxwell Award, but the season took a sour turn when the No. 1-ranked Bruins lost to USC.
Honorable mention: Gary Beban 1965, Troy Aikman 1988, Cade McNown 1998
---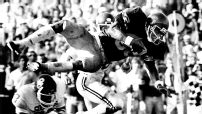 USC: Marcus Allen, RB, 1981
2,683 yards of total offense; 23 TDs
Allen was the first player in NCAA history to rush for more than 2,000 yards when he piled up 2,342 in 1981. He won the Heisman Trophy, Maxwell Award and Walter Camp Player of the Year Award.
Honorable mention: Charles White 1979, Matt Leinart 2004, Reggie Bush 2005
---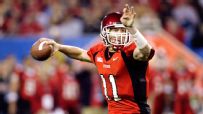 Utah: Alex Smith, QB, 2004
3,583 yards of total offense; responsible for 42 TDs
Smith finished fourth in the 2004 Heisman Trophy voting after leading the Utes to an unbeaten season, one that was capped with a Fiesta Bowl victory and No. 4 ranking. He was the Mountain West Conference Player of the Year.
Honorable mention: Scott Mitchell 1988, Eric Weddle 2006, Brian Johnson 2008
---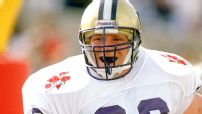 Washington: Steve Emtman, DT, 1991
60 tackles, 19.5 tackles, 6.5 sacks
Emtman won the Lombardi Award and Outland Trophy and was the Pac-10 defensive POY. The consensus All-American finished fourth in the voting for the Heisman as he led the Huskies to a share of the national title.
Honorable mention: Al Worley 1968, Corey Dillon 1996, Reggie Williams 2002
---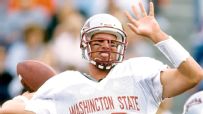 Washington State: Ryan Leaf, QB, 1997
3,968 passing yards; responsible for 40 TDs
Leaf, who finished third in the Heisman Trophy voting, led the Cougars to their first Rose Bowl appearance in 67 years. He was named the Pac-10 Offensive Player of the Year and received the Sammy Baugh Trophy.
Honorable mention: Rueben Mayes 1984, Rien Long 2002, Jerome Harrison 2005
---
SEC
---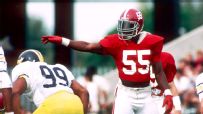 Alabama: Derrick Thomas, LB, 1988
School records with 39 tackles for loss and 27 sacks