The only Heisman Trophy winner in school history, Dorsett helped deliver a national title. He also set the NCAA career rushing record (which has since been broken). His 2,150 rushing yards in 1976 still rank No. 7 in NCAA history.
Honorable mention: Hugh Green 1980, Larry Fitzgerald 2003, Aaron Donald 2013
---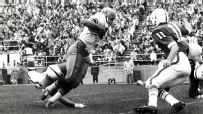 Syracuse: Ernie Davis, RB, 1961
980 yards of total offense; accounted for 14 TDs
The Elmira Express became the first black player to win the Heisman after setting eight school career, season and single-game records in 1961. His No. 44 jersey, previously worn by Jim Brown, has since been retired.
Honorable mention: Jim Brown 1956, Don McPherson 1987, Donovan McNabb 1998
---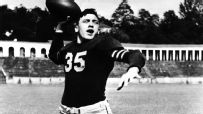 Virginia: Bill Dudley, RB/DB/K/P, 1941
2,467 yards of total offense; accounted for 18 TDs
UVa scored 279 points in 1941 en route to an 8-1 record. Dudley had a hand in 206 of those points -- a whopping 74 percent. He finished second in the nation in rushing and all-purpose yards and won the Maxwell Award.
Honorable mention: Tiki Barber 1995, Heath Miller 2004, Chris Long 2007
---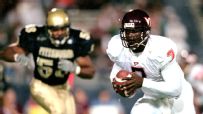 Virginia Tech: Michael Vick, QB, 1999
Led nation in passing efficiency; 2,747 yards of total offense
Few freshmen have made as much of an impact as Vick did. He engineered the nation's most prolific offense, was a Heisman finalist, set a freshman record for pass efficiency and led Virginia Tech to the national title game.
Honorable mention: Don Strock 1972, Bruce Smith 1983, Corey Moore 1999
---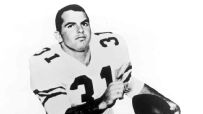 Wake Forest: Brian Piccolo, RB, 1964
1,166 yards of total offense; accounted for 17 TDs
As a senior, Piccolo led the nation in rushing and even took over place-kicking duties. He is best remembered, however, for the movie "Brian's Song," about his friendship with Gale Sayers and untimely death.
Honorable mention: Billy Ray Barnes 1956, Jay Venuto 1979, Alphonso Smith 2007
---
BIG TEN
---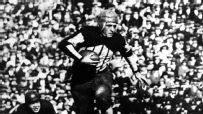 Illinois: Red Grange, RB, 1924
1,176 yards of total offense; 15 total TDs
Grange soared to national prominence against Michigan with four long touchdowns in the first 12 minutes. The All-American halfback became the first winner of the Chicago Tribune's Silver Football as Big Ten MVP.
Honorable mention: Al Brosky 1951, Dick Butkus 1964, David Williams 1984
---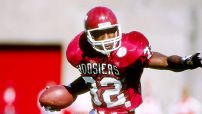 Indiana: Anthony Thompson, RB, 1989
1,793 rushing yards on 358 carries; 24 TDs
Thompson finished second in the Heisman voting and claimed the Walter Camp and Maxwell awards even though his team failed to make a bowl. He broke the NCAA single-game rushing record with 377 yards vs. Wisconsin.
Honorable mention: John Isenbarger 1967, Joe Norman 1978, Antwaan Randle El 2001
---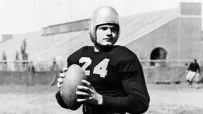 Iowa: Nile Kinnick, RB, 1939
1,012 yards of total offense, 16 TDs; 8 INTs on defense
Kinnick broke 14 school records in 1939 -- six of which still stand -- while accounting for all but three of the Hawkeyes' touchdowns. He became Iowa's only Heisman winner and was named AP Male Athlete of the Year.
Honorable mention: Chuck Long 1985, Brad Banks 2002, Shonn Greene 2008