"I say, 'You sure?' I think a lot of people get caught up in the Saturday [and] Sunday atmosphere. No one ever sees the other side of it."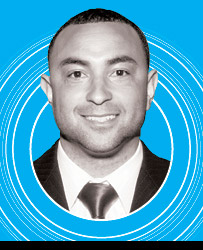 The professional mover
TAYLOR STUBBLEFIELD
Move No. 67: Wake Forest WRs coach to Eastern Michigan WRs coach to Utah WRs coach
When he first entered the coaching business in 2007, Stubblefield knew he'd stick to renting. No way was he buying in that housing market.
He didn't know then that he would hold eight coaching jobs over the subsequent eight years.
An All-American receiver at Purdue who graduated in 2004 with a then-NCAA record 316 career receptions, Stubblefield has coached all over the country. To an outsider, each move looks like a small, strategic step. To Stubblefield, it's never been that simple.
"The crazy part," he said, "is none of the moves are ones I sought out."
Stubblefield has gone from Central Washington to Eastern Michigan to Illinois State, then to Central Michigan, New Mexico and Wake Forest. The latest move was his riskiest -- head coach Jim Grobe was on the hot seat -- but also his first major-conference gig.
Grobe resigned in December. Stubblefield updated his resume, collected film cut-ups of receivers he's coached and started reaching out to coaches he trusted.
He took the first job he could find -- at Eastern Michigan. Then Utah and Pitt called. This time he had to say no, but it was a qualified no.
"I told them I could not interview -- I could not fly out to interview -- because I didn't want to lose my job," he said.
Utah still offered him the position.
A week after accepting the gig at EMU, Stubblefield left for Salt Lake City.
"This has been the move that's probably been the scariest," he said. "There was a lot of uncertainty. Luckily, I landed on my feet and at a great place."
Stubblefield's moves, while logical, haven't been easy. There's no telling how many players he said goodbye to along the way.
"You've gotta move, gotta learn an offense, gotta learn guys' names, gotta learn the culture," he said. "When I took the job at New Mexico, I had no intention of moving. None. When I was at Wake Forest, I wanted to stay there as long as I could."
His grand plan, however, hasn't always been in his hands. Stubblefield said he's fortunate his wife, Georgia, has supported each and every move.
He's still not yet ready to be a homeowner, but is this new job going to last a while?
"I'm at a point in my career where I don't want to leave," he said. "I don't want to bounce around, even if, let's say, the next school comes and offers to double my salary. That's not what it's about. For me, it's about digging deep into a community and a program and trying to truly be a part of it."
---
Reaching the lower rungs of the ladder
Dig deep enough into Texas' program, and it's obvious that to suggest only 100 people were affected by Brown's resignation is flat-out naive.
You don't hear about the people behind the scenes, the ones with meaningful roles and meager pay. Every year, they're at the mercy of the head coach's moves.
When a staff gets fired, the head coach gets a buyout. The folks below him scramble to figure out if they're getting anything. This can be especially rough at the mid-major level, where an employee might only receive one month's pay, followed by no more insurance.