Kemp
"He kind of reminds me of myself. Sometimes he plays too hard, and sometimes you have to tell him: 'Man, calm down. You can't make every play.' But he's done an amazing job in his first month in the big leagues. He's gotten big hits and made big plays on defense. He's doing a lot, and I think we're just feeding off the kid."
-- Dodgers CF Matt Kemp
---
All-Star selection talk is heating up, but not everyone is caught up in Puig-mania.
Papelbon
"The guy's got a month, I don't even think he's got a month in the big leagues. Just comparing him to this and that, and saying he's going to make the All-Star team, that's a joke to me."
-- Phillies closer Jonathan Papelbon to MLB Network Radio
---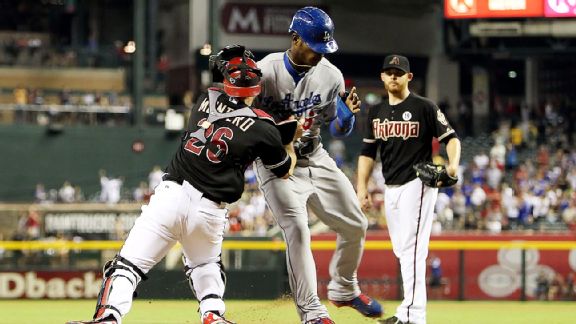 Christian Petersen/Getty Images
After a couple of run-ins with Puig, including once at home plate, Diamondbacks catcher Miguel Montero offers the rookie some friendly advice.
"If he's my teammate, I probably try to teach him how to behave in the big leagues. He's creating a bad reputation around the league, and it's unfortunate because the talent that he has is to be one of the greatest players in the big leagues. Right now, I'm not going to say he's the best because he hasn't proved anything yet. Does he have talent? Of course. Does he have the tools? Of course. He's got so much talent, it'd be really bad if he wasted it doing the stupid things that he's doing."
-- Diamondbacks C Miguel Montero to MLB.com
---
Puig's baserunning, reckless at times, is drawing concern.
"We're trying to corral it a little bit, but without putting too many restrictions on him. As you get into big games, any game can be the game it costs you, so we just want him to understand situations."
-- Mattingly
---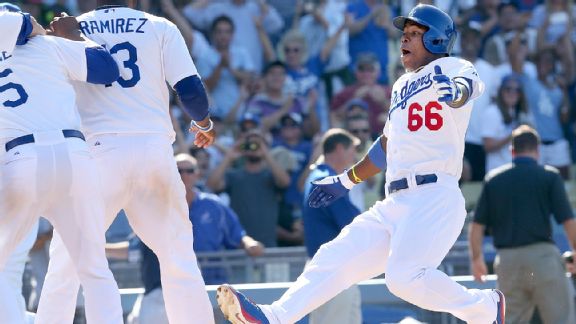 Stephen Dunn/Getty Images
The flamboyant right fielder slides into home plate after his first career walk-off homer.
"Each player does what he can when he gets to the plate. Some people jump, some people slide, some people run. I have a previous teammate in Cuba that jumped and hurt his ankle. So I decided to slide."
-- Puig
---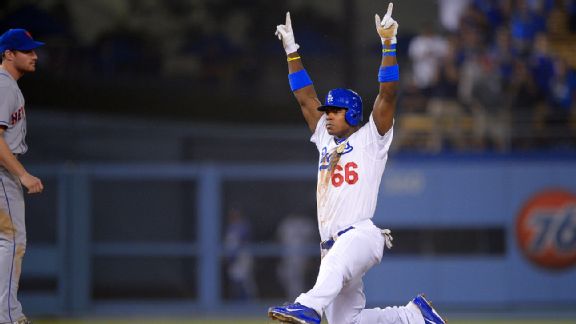 AP Photo/Mark J. Terrill
In the 12th inning, score tied at 4, Puig stuns Mets center fielder Juan Lagares by taking second base on a ground ball up the middle. Puig would come around to score the game-winning run on Adrian Gonzalez's double.
"When he does something like that, that's outstanding. That's something you can't teach. He did that all on his own. Nine out of 10 guys wouldn't try that.
"I really believe. He thinks he can do anything."
-- Dodgers first-base coach Davey Lopes
---
Aug. 14, 2013 | THE ARM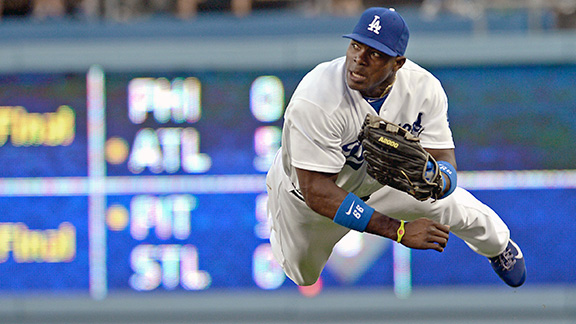 Jayne Kamin-Oncea/USA TODAY Sports
Puig launches a throw (and himself) to nail the Mets' Marlon Byrd at third. Baserunners are quickly learning that they should think twice before trying to take that extra base.