"Any time somebody runs on him, I expect him to throw somebody out."
-- Dodgers utilityman Jerry Hairston Jr. to the Los Angeles Times
---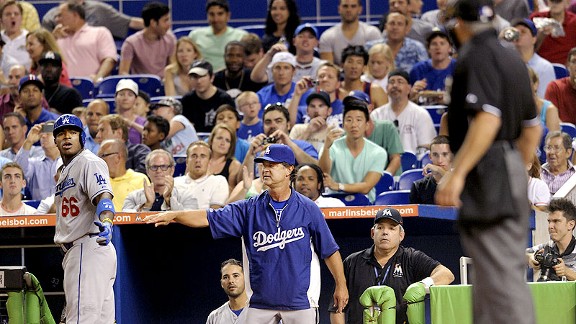 Steve Mitchell/USA TODAY Sports
Puig inexplicably erupts at home-plate umpire John Hirschbeck after a three-pitch strikeout.
"[The umpires are] only going to put up with so much. For me, if he doesn't say anything ... It's just a little delicate. He's emotional and we're not going to get that out of him."
-- Mattingly
---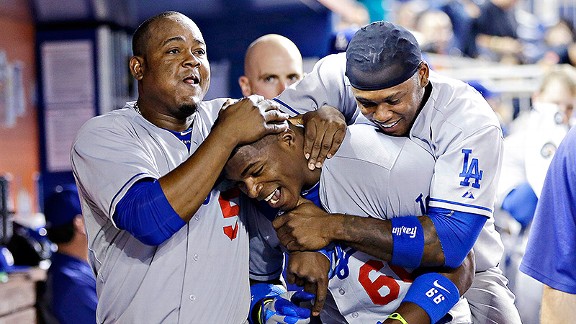 AP Photo/Lynne Sladky
The rookie arrives late to Marlins Park, has a closed-door meeting with Mattingly and gets fined an undisclosed amount.
"I'm satisfied with the answer, but it doesn't make it better. You've just got to leave earlier. You get caught in traffic or whatever, it's easy to say that, but it's kind of like, 'OK, that's fine, but you're still late.' ... We don't have any problems with Yasiel in the clubhouse. He's a good kid. Really, there are no personal problems. His problems come from mistakes that we want to correct."
-- Mattingly
Held out of the starting lineup, Puig belts a tiebreaking solo homer in the eighth inning of the Dodgers' 6-4 victory over the Marlins.
"We're always expecting something great. He's just got so much ability. He got a pitch and drove it, and what a spot to do it in. He doesn't seem like he feels too much pressure out there."
-- Dodgers pitcher Chris Capuano
"I'd like to have a guy like that coming off the bench."
-- Marlins manager Mike Redmond
---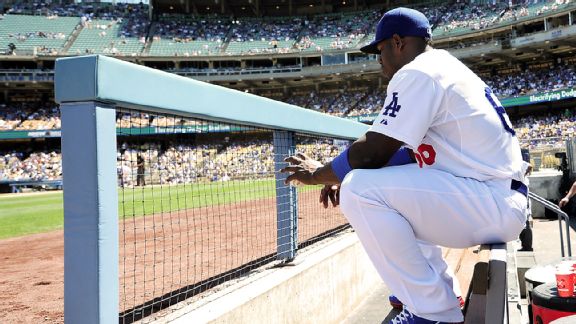 Lisa Blumenfeld/Getty Images
Eight days later, Mattingly pulls Puig mid-game against the Cubs for undisclosed disciplinary reasons. After the game, Puig meets with Mattingly and general manager Ned Colletti in Mattingly's office for about 30 minutes.
"I always give my best but, honestly, today there was some fatigue and I wasn't prepared.
"The meeting was good. [Mattingly] explained what every ballplayer has to do on the field, not only me but every ballplayer. We have to give 100 percent on the field, even if we're tired or if we're playing in games like today. We've got to give 100 percent to help the team. If I'm in the lineup Friday I'll give my best effort and if not I'll wait until I can help."
-- Puig
---
Sept. 29, 2013 | THE REGULAR SEASON ENDS
The Dodgers win 66 games after Puig's call-up and take the NL West title by 11 games over the Diamondbacks. Puig bats .319/.391/.534 with 19 homers, 66 runs and 42 RBIs in 104 games. In the field, he records eight assists but makes five errors.
---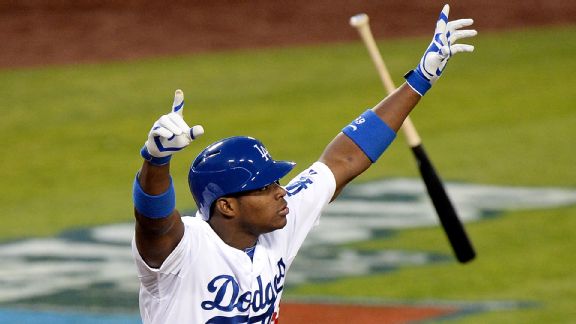 Harry How/Getty Images
Cardinals right fielder Carlos Beltran objects to Puig's celebratory antics (the bat toss, the pause to watch, the raised arms) on a triple during Game 3 of the NLCS, a 3-0 Dodgers win.