Hurricane Bill is no longer a hurricane, but the storm nevertheless brought tragedy this weekend along the U.S. East Coast.
Before being downgraded this morning to a tropical storm as it made landfall on the Canadian Province of Newfoundland, Bill sent impressive waves crashing onto Maine's coast.
On Sunday, one of those waves swept nearly a dozen people into the ocean in Maine's Acadia National Park -- resulting in the death of 7-year-old Clio Axilrod from New York City.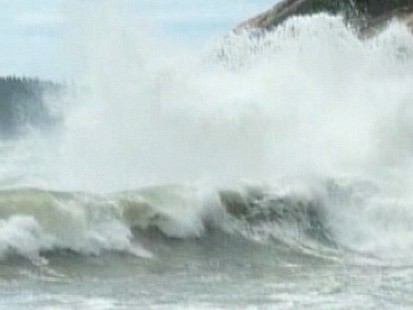 Clio was pulled from the surf by the U.S. Coast Guard along with her father Peter Axilrod, Maine Marine Patrol said in a Monday statement. Both Peter Axilrod and his wife Sandra Kuhach remain hospitalized with injuries today in Maine.
In total, nine people involved in Acadia's emergency about five miles south of Bar Harbor, Maine, were hospitalized. Among them, the Coast Guard also rescued a 12-year-old girl from the ocean after about 45 minutes in the choppy, 55-degree water.
Coast Guard Chief Edward Iversen told "Good Morning America" today about the rescue.
"There was two people in the water right at the Thunder Hole, and then afterwards we were searching for a third person, a 7-year old child," he said.
"It's just amazing how they did survive," Iversen said of Clio's father and a 12-year-old who are now being treated for severe injuries and broken bones.
Park officials estimated that about 10,000 people had gathered Sunday at Acadia to watch the rough surf.
Classified as a Category 1 Hurricane since Saturday, Bill's turbulent conditions also resulted in the death of a 54-year-old swimmer Saturday in Florida, according to the Associated Press.
Visit ABC News' special section on Hurricane Season 2009.
Bill Weakened On Its Way North
This morning Bill was about 190 miles northwest of Cape Race, Newfoundland, sustaining winds of 70 miles per hour, according to a 5 a.m. final update from the National Hurricane Center.
In the end, Bill was not nearly as severe as several monster storms it once resembled.
Though it was named the first hurricane of the Atlantic storm season in mid-August, much like 1992's devastating Hurricane Andrew, it did not pack the same punch and caused far less damage than more recent Gulf Coast hurricanes, Katrina and Rita.
Bill's Journey North
Bill earned its name Aug. 15 when it became a tropical storm. It attained hurricane status Aug. 17 and strengthened to a Category 4 hurricane, with sustained winds up to 135 miles per hour, on Aug. 19.
But it steadily lost strength as it has traveled north -- and stayed out to sea instead of hugging the eastern seaboard.
Bill lashed Bermuda Friday night with high winds and caused some heavy damage. But the island avoided a direct hit, and Bermuda's hurricane watch and subsequent tropical storm warnings were discontinued Saturday.
By Saturday afternoon, Aug. 22, Bill was downgraded to a Category 1 hurricane.
Still, the storm brought wind, rip tides and big waves from Florida to Maine as it made its way north.
"They were pretty incredible," said Cape Cod vacationer George Zawg. "They were over 6-feet tall. We had a couple come over, wash our furniture away a bit."
Several beaches closed Saturday in New Jersey and New York, as did the beaches on the island of Nantucket. Where beaches remained open, people were cautioned to stay out of the water.
A tropical storm warning along the Massachusetts coast was lifted Sunday morning.
"I'm a little surprised it didn't intensify a little more than what it did," said AccuWeather meteorologist Joe Bastardi. "But what's happened is, all that power, instead of being concentrated in a small area at the center, is spread out over a larger area."
ABC News' John Berman, Erin K. Donovan, Stephanie Sy, Marysol Castro, Jeffrey Kofman, Gerard McNiff, Jan Simmonds, Sharyn Alfonsi and The Associated Press contributed to this report.