ABC NEWS, THIS WEEK WITH GEORGE STEPHANOPOULOS INTERVIEW WITH FORMER CHAIRMAN OF THE FEDERAL RESERVE ALAN GREENSPAN AND SENATOR CHARLES SCHUMER AND SENATOR JOHN CORNYN.
SPEAKERS: GEORGE STEPHANOPOULOS, HOST STEPHANOPOULOS (voice-over): Good morning, and welcome to THIS WEEK. Jobs, jobs, jobs. UNIDENTIFIED FEMALE: We're not going to be able to pay our bills
STEPHANOPOULOS: Almost two straight years of cuts.
UNIDENTIFIED MALE: But we are in a tremendous hole that's going to take a number of years to dig our way out of.
UNIDENTIFIED MALE: For most Americans, the way they judge the economy is, what is the unemployment rate?
STEPHANOPOULOS: Fifteen million Americans out of work.
BARACK OBAMA, PRESIDENT OF THE UNITED STATES: We're going to need to grind out this recovery step-by-step. STEPHANOPOULOS: When will the jobs return? Should government do more or get out of the way? Will health care reform help or hurt?
Questions for our exclusive headliners, former Fed Chair Alan Greenspan, plus Finance Committee senators Chuck Schumer and John Cornyn, our THIS WEEK debate.
Then Olympic letdown. Did Obama overreach? That and the rest of the week's politics on our "Roundtable" with George Will, Cokie Roberts, former Bush strategist Matthew Dowd, and Katrina Vanden Heuvel of The Nation.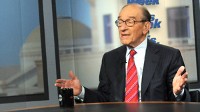 And as always, the "Sunday Funnies."
JAY LENO, HOST, "THE JAY LENO SHOW": The International Olympic Committee voted and Chicago didn't win, which, hey, I can understand that, it's October, Chicago never wins in October.
(LAUGHTER)
ANNOUNCER: From the heart of the nation's capital, THIS WEEK with ABC News chief Washington correspondent, George Stephanopoulos, live from the Newseum on Pennsylvania Avenue.
(END VIDEOTAPE)
STEPHANOPOULOS: Think back to December 2007, George Bush was in the White House. Hillary Clinton was the favorite to replace him. Unemployment was 4.9 percent. Today it's double that. America's economy has lost jobs for 21 straight months, the longest stretch in 70 years, more than 7 million jobs gone. There are six Americans competing for every open job. Yesterday, President Obama promised to make that problem his top priority. (BEGIN VIDEO CLIP)
BARACK OBAMA, PRESIDENT OF THE UNITED STATES: I'm working closing with my economic team to explore additional options to promote job creation. And I won't let up until those who seek jobs can find them, until businesses that seek capital and credit can thrive, and until all responsible homeowners can stay in their homes. (END VIDEO CLIP)
STEPHANOPOULOS: And with that, let me bring in the man who has known more about the American economy for more time than just about anybody in the country, former Fed Chair Alan Greenspan. Welcome back. ALAN GREENSPAN, FORMER CHAIRMAN, FEDERAL RESERVE BOARD: Thank you.
STEPHANOPOULOS: You know, for most Americans, this jobs issues is the one that hits home the hardest. And that report on Friday was a surprise, much worse than people expected. What should Americans expect right now? How much worse is this job situation going to get for how long?