For James Olachea, the experience brought him closer to his roots, he said.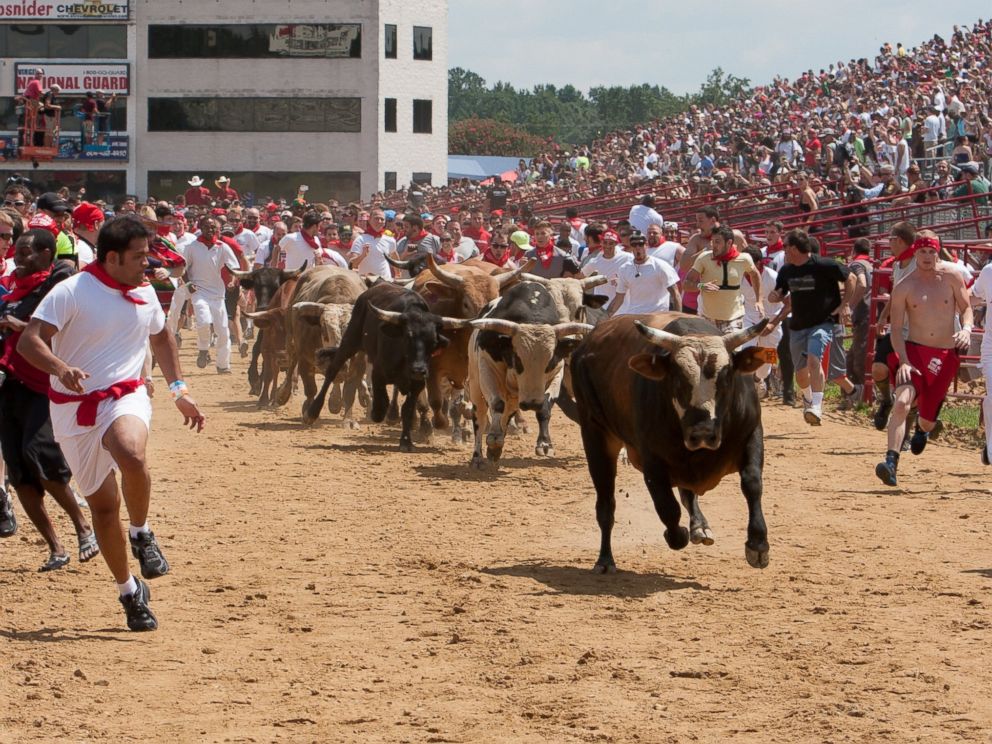 "It's in my genes!" said Olachea, a 56-year-old who ran with the bulls in Dade City, Florida, this March. "My surname is Basque. Pamplona is in a Basque region in Spain and I've always dreamed of running with the bulls. At my age, I need to get this type of adventure sooner rather than later. My wife and three daughters tolerate my random adventures, and the adventures make great stories for my grand kids."
Nathan Arrazate also described the event he attended in Houston, Texas, as a "bucket list" endeavor.
"I wore a crazy getup just to be silly and have fun," said Arrazate, 51. "I had red shoes, red socks, red shorts, red shirt, with a fluorescent yellow/green long-sleeve underneath, a mullet wig and a goofy hat with cool shades."
Despite Arrazate's eccentric ensemble, the bulls passed by him without incident.
"During the first run, the bulls were in the middle of the track as they approached me," he said. "Immediately before they got to my area, they pulled way over to the inside of the track and I jumped up on the fence."
Arrazate's wife preferred the festival's large-scale food fight, Tomato Royale, featuring approximately 90,000 overripe tomatoes for hurling.
"She was an animal and was in the middle of the field just laughing, giggling and blasting people," he said. Both left the event uninjured and are planning to attend again when it returns to town.
For Jho Gonzalez, who ran in Tampa, Florida, "throwing tomatoes to a random stranger" wasn't as thrilling as the element of risk involved on the bull run course.
"It happens so quick but at the same time your senses, likely because of the adrenaline, pick up the little nuances; like the bulls breathing, the dust being stirred because of their stomping hooves and how fast your heart is beating," he said, though he admitted not everyone in the crowd was as attuned as he was.
"No injuries for me thankfully," he said. "[But] there was this other girl in her 20s that got taken down pretty hard because she was taking a selfie."
The Great Bull Run's next event will take place in Chicago on July 12.