Four passengers critically injured when a Continental Airlines plane hit turbulence on its way to Houston from Brazil remain in serious condition in a Miami hospital but are expected to survive, according to Miami-Dade Fire Rescue officials.
Another 22 people who were injured and treated at the scene are in stable condition. By late this morning, most of the passengers had cleared customs in Miami and were set to resume travel to Houston.
Continental Airlines flight 128 was flying from Rio de Janeiro to Houston Intercontinental Airport when it hit a pocket of turbulence and had to make an emergency landing at Miami International Airport.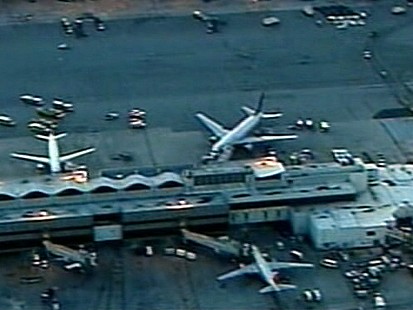 Continental said in a statement that the flight, which was carrying 168 passengers and 11 crew members, landed at 5:35 a.m. ET, and 14 passengers were transported to area hospitals.
The Federal Aviation Administration said the Boeing 767 experienced severe turbulence while climbing to 38,000 feet. The plane was on an overnight flight when the turbulence struck about halfway between Puerto Rico and Grand Turk island, north of the Dominican Republic, the FAA said. An emergency was declared and the plane diverted to Miami, which was about an hour away.
The cause of the turbulence is still under investigation, and FAA spokeswoman Kathleen Berger said it was too soon to tell what exactly happened. The aircraft will remain in Miami to be inspected, Berger told ABC News. She added that one or both of the black boxes as well as the flight data recorder will be examined for clues.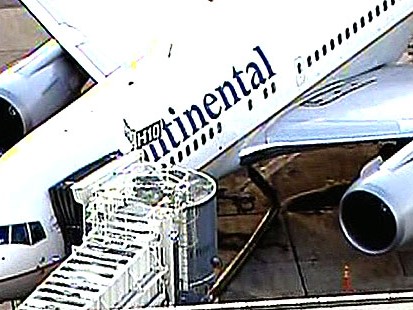 Miami-Dade Fire Rescue officials told ABC News they used food service catering carts to take the injured off the plane.
MDFR Lt. Elkin Sierra said passengers told him that the turbulence lasted about 10 seconds, but "to them it was eternity." The rest of the flight was smooth, passengers told The Associated Press.
One passenger told the AP he felt the flight drop without warning while flight attendants were in the aisles. Some were thrown against the roof.
Continental said that the fasten seat belt sign was illuminated at the time.
Continental Emergency Landing: 'There Was Panic'
"There was panic," Sierra told ABC News of the scene of the plane's emergency landing. "There was also a lot of relief when the plane re-stabilized, which most didn't expect to happen. ... A lot of them were just very thankful that the flight resumed safely."
Sierra said passengers were treated for injuries ranging from back pain to neck pain and bumps and bruises. There were no life-threatening injuries, he said, although the condition of the four people listed as seriously injured remains unknown.
Turbulent flights have been blamed for several grave injuries in the last year. In April, a Texas woman broke her neck and back and was paralyzed after she failed to heed the fasten seat belt sign and got out of her seat during flight turbulence. In November, turbulence on a flight from Japan to California injured seven passengers, and in October passengers on an American Airlines flight from Argentina to Miami complained of bumps and bruises after a rocky flight.
The airline industry is reeling from a number of fatal plane crashes this year. In June, an Air France flight also originating from Rio crashed unexpectedly over the Atlantic Ocean, killing all 228 passengers. and in February, a Continental plane carrying 45 people crashed in Buffalo, New York, killing all on board.
The Associated Press contributed to this story.