He is known as Jack Stones on his Facebook page, and authorities said he used that alias last Friday when he tried to enroll as a 15-year-old freshman at Marion High School in Illinois.
But by the following Monday, suspicious school officials had called the FBI and learned that Jack was born Jennifer May, and was actually 24-year-old Jack Jay Kaiser, a California woman in the midst of switching her gender to a man.
Today, Kaiser is being held in Williamson County jail on $20,000 bail, charged with lying to officials at the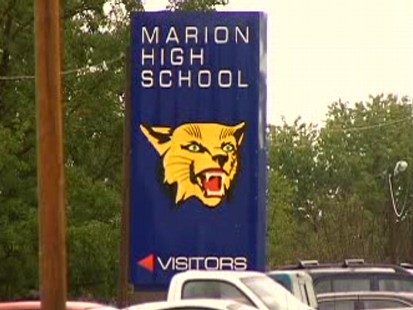 Illinois Department of Children and Family Services
about his age and about having been abandoned or homeless.
"It's really sketchy," said Marshall Stone, supervisor special agent for the FBI's Springfield, Ill., unit. "We were initially involved because we were concerned if he was a trafficking victim and needed to be identified."
Now authorities are looking at a Web site created to research the "identities and pursuits" of pedophiles that may contain information about Kaiser.
"We are still investigating all aspects of this case. If warranted, more charges could be filed," said special federal officer Eric Breeze, who is working with the FBI Cyber Crimes Task Force assigned to this case.
The site, Wikisposure, came to light after local ABC affiliate WSIL-TV reporter Rachel Gartner reported on the story, and was alerted to it by a viewer.
Wikisposure, which is part of Perverted Justice, a nonprofit group that targets alleged sexual predators, described a 24-year-old Jennifer "Jack" Jay Kaiser who was transgender and used the online name "Lyrical Cancer," and who allegedly had associations with pedophile groups.
Gartner passed on the information she found on the site to the FBI, who said some of what was there matched what they were learning about Kaiser.
"A lot of the information on that Web page about that person is the same information we have about Jack Kaiser," said Breeze. "Especially that he was born female and was in the process of transgender and legally changing to Jack Kaiser."
"It's crazy," said Breeze, who said others in the task force, which handles child predator and computer intrusion crimes, likened the case to an episode of "Law & Order: Special Victims Unit."
FBI Calls Transgender Case a Local Matter for Now
But for now, the FBI will not comment further on the case and insists it is being handled as a local matter unless there is a federal violation involving exploitation of children.
The public defender assigned to Kaiser's case received the file Tuesday and was not available to discuss it with ABCNew.com.
Authorities said the incident began Oct. 9 when Kaiser -- calling himself Jack Stones -- and an older man identified as a professor from a local college attempted to enroll the youth as a high school freshman.
But school officials immediately became suspicious and kicked off safety protocols used in cases of noncustodial parents.
"An associate professor from a local university brought in a person who he passed off as a 15-year-old male," said Marion District Superintendent Wade Hudgens. "He had no forms, no birth certificate, Social Security number or anything. Our guidance counselors pay very close attention to these things to make sure people are who they say they are."
The boy had indicated on the school forms that he was a female transitioning to a male, Hudgens said.
The counselor notified Hudgens, who said he decided to stall while they investigated the identity of Jack Stones, scheduling a placement test Monday at their alternative high school.
"While they did the testing, I was running Facebook and MySpace trying to find somebody under that name," he told ABCNews.com. There he found two aliases, both Kaiser and Stones, and more red flags went up, he said.
"When the counselors interviewed him, his responses were not typical of a 15-year-old," Hudgens said. "The person just snapped off answers that were fairly full of detail, almost like the answers were practiced. Usually, you get 'I don't know' or 'just because.'"
When asked, the pair gave school officials telephone numbers from where Kaiser had attended school in Sacramento, Calif., two or three years ago. The number was "no good," according to Hudgens.
Transgender Student Attended Junior High When He Was '21 or 22'
But when they eventually reached the school -- a junior high -- they confirmed that Kaiser had attended eighth grade as a male. Later, police determined he had been "21 or 22" at the time, he said.
"They were shocked," he said of the school district when they learned Kaiser was transgender.
"I was determined this was not right -- either someone in town was playing a cruel joke or the boy was probably an older person," the superintendent said. "He actually looked older than a freshman or even a senior."
Kaiser stood about 5 feet, 10 inches tall, and weighed more than 200 pounds, Hudgens said.
"They were desperately trying to get this person enrolled in school and were told he was behind on credits," Hudgens said. "We told them if he attended he would start out in the extension center, but they adamantly wanted him to be at the main high school by Christmas. We kind of laughed here. If he came in with zero credits, he wouldn't catch up in six months."
School officials stalled again, telling the pair that test results would take some time, and they notified the FBI, the superintendent said.
The FBI notified Marion police, who at first believed Kaiser was homeless. He was put in protective custody, and the local resident who had accompanied the boy to school was appointed as his temporary guardian, according to Marion Detective T.J. Warren.
During background checks, police learned that the person who called himself Jack Stones had been born Jennifer May and legally changed her name to Jack Jay Kaiser in 2002 in Oregon, he said.
"Basically, the way he explained it to me is that he had quit school when he was a freshman and wanted to get an education, but with his history he didn't know what to do," said Warren, who admitted this case was "a first."
Transgender Man Posed as 15-Year-Old Boy, Cops Say
A spokesman for IDCFS declined to comment on the case.
"Nobody died or was criminally charged with child abuse," spokesman Kendall Marlowe said. "So under Illinois law, I am unable to respond to any inquiries."
There have been conflicting reports about the relationship between the professor and Kaiser.
"In a sense, he did pose as a parent," Hudgens said. "He said he had made contact with the Department of Children and Family Service to try to gain guardianship."
Warren said both were "cooperative" during the interview, and the professor indicated he had no knowledge of Kaiser's past.
The professor told ABCNews.com that he was a victim of Kaiser's lies.
He said he met "Jack Stones" at a robotics convention last July and was contacted online by the young man.
"Over a couple of months, there were e-mails back and forth," he said.
In the e-mails, the professor said, Kaiser claimed he had abusive parents who were human traffickers and he had been homeless, beaten with iron pipes in shelters for being transgender. The professor said Kaiser asked him for help.
"I found an incredible kid, who had a vision to go to school and college and he drew me in," he said. "I became really involved and emotional with it. My plan was to work through the courts and get custody."
When police told him Kaiser's identity, he said, "I was floored. All that night and next day I was disoriented. I feel like I was rescuing this kid."
While local police said the professor was not currently under investigation, the FBI said it was looking further into the association between the two men.
Kaiser is scheduled to appear in court for a preliminary hearing Oct. 26.
All involved said the case was unusual.
"I have been in this business 35 years and first time I've seen anything like it," Hudgens said. "What I am so pleased about is the staff never got excited, never got blown away by anything and went step by step through their procedures and the procedures worked."
ABC Information Specialist Brad Martin contributed to this report."