I was not quite ready to buy a ticket to Wyoming, so instead, I called the local police to ask if they knew of anyone around town who had been talking about a sick kid.
As I described the person I wanted to find, the lieutenant on the other end of the line grew silent.
"We did work a similar case," he said eventually. And while he said he could not reveal anything further, he said that I might find what I was looking for if I followed up with the county prosecutor. From that tip, I was able to get a name: Hope Jackson.
A most helpful district court clerk agreed to find Hope Jackson's case file and read its contents to me over the phone.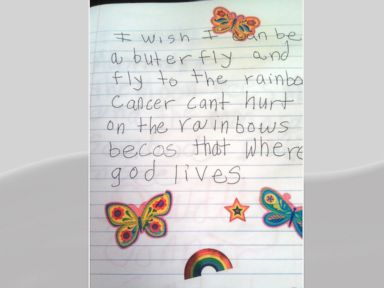 As the clerk read a statement from the arresting officer, Kevin Lovewell, to borrow a phrase later used by one of Jackson's celebrity victims, my jaw dropped.
"I was contacted by Brad Paisley on September 18th, 2012 and [he] advised me that he had been scammed by a female (later identified as Hope Lyn Jackson)," Lovewell's statement began. "Mr. Paisley also stated that the woman he and his wife had been corresponding with had told them that she had a daughter that was dying of cancer. She led them to believe this was true by sending them emails and photographs that she had actually used from other websites of actual children that were in fact sick and/or dying."
Read Kevin Lovewell's Full Statement
It certainly appeared that Brad Paisley, the country music star, and his wife Kimberly Williams-Paisley, an actress who stars on ABC's "Nashville," had fallen for the same act.
"[Paisley] also told me that [Jackson] had asked him if he would call her dying daughter and sing the song 'Amazing Grace' to her over the telephone and he did," Lovewell's statement continued. "While conducting my investigation I spoke with Hope Jackson and she stated to me that she knowingly made up the story about her having a dying daughter and that she used photographs that she had found on various websites on the Internet to commit this and other scams on unsuspecting people. She stated that she had been conducting this type of activity for at least 4 or 5 years. She also stated that there were other victims."
Brad Paisley, Kimberly Williams-Paisley Come Forward as Victims of Dying Daughter Hoax
The arrest had even taken place at the Hotel LaBonte, just as those GPS coordinates had indicated. And it turned out that Hope Jackson was in jail in Douglas on the felony charge of theft of services, which resulted from the fact that Paisley had sung "Amazing Grazing" to her over the phone under false pretenses.
"She used fraud to get him to sing," Kimberly Williams-Paisley later told "Nightline's" David Wright. "That was the crime that was committed."
Once again, she had not directly asked for money.
"I think that's sicker," Brad Paisley said. "I would have welcomed the thought that this was something as simple as a woman scheming."
Instead what emerged over the next 10 months was a picture of a woman who had repeatedly lied to both celebrities and ordinary people with stories of cancer. Sometimes Jackson was supposed to be the sick one, sometimes her children were ailing, and sometimes both. But though she had had multiple run-ins with the law for shoplifting in Montana, her cancer hoaxes never seemed to be about money. She even returned a check that one victim sent to her.
Instead, she appeared to be looking for attention and an emotional connection.