From the Northwest to New England, temperatures are plunging, snow is piling up, and for travelers -- dreams of a holiday getaway have become nightmares.
Messy winter weather across much of the country is not making it easy today for travelers heading home for the holidays, particularly in the Northeast.
As of 6:30 p.m. ET, flight information from the Federal Aviation Administration illustrated that flight delays remained at the New York area's LaGuardia and Newark airports but were not significant at the nation's other airports. At LaGuardia, arriving flights are delayed by an average of nearly two hours. At Newark, arriving flights are delayed by an average of one hour, 25 minutes.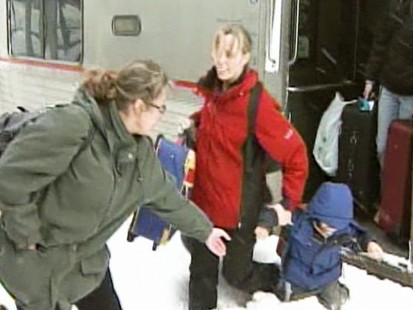 Many of those who encountered travel headaches during the weekend may still be navigating the airports today as they make alternate arrangements after canceled flights.
In the Midwest, for instance, AirTran advised its customers today that they may continue to see flights affected in the next few days. The carrier said travelers booked for flights Tuesday and Wednesday to, from or through Chicago and Milwaukee can make changes to their itineraries without penalties if they alter their plans this week.
Delta also has waived change fees for travelers venturing through Seattle and Portland between today and Friday because of winter storms in the Northwest.
"I was at the airport for 12 hours and they kept telling us we were going to get on and we never got on," one frustrated traveler said at the Seattle-Tacoma International airport.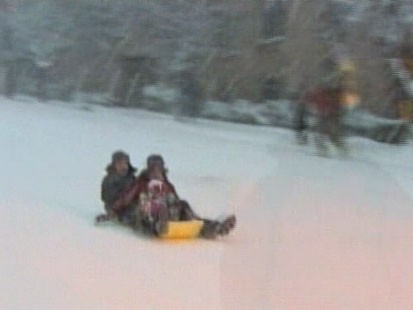 Hundreds of flights were canceled or delayed on both coasts this weekend, stranding thousands of holiday travelers at airports across the country. Entire families were sleeping on floors.
"There was a lot of people sleeping on the floor. It was a hard, cold floor, and the doors kept opening," Rebecca Gray, 30, of South Berwick, Maine, said this morning from Reagan National Airport, where she'd spent the night with about 250 people, including her 3-year-old daughter and 5-year-old son. "There were babies last night sleeping out there. Women and children shouldn't have been left like that while people said, 'it's not our problem' and went home.'"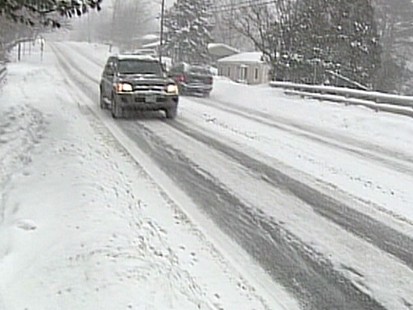 Meantime, arctic air brought with it subzero temperatures today — the first full day of winter.
The record-breaking cold streak combined with the snow in Seattle resulted in several airlines running out of de-icer in Seattle.
"It's been canceled. You're better off going home and trying to rebook from there," an airport employee said to frustrated travelers facing the worst series of cancellations in 30 years.
The Emerald City suffered from a transportation breakdown on roadways too, thanks to ice-coated hilly streets that left cars sliding and spinning their wheels.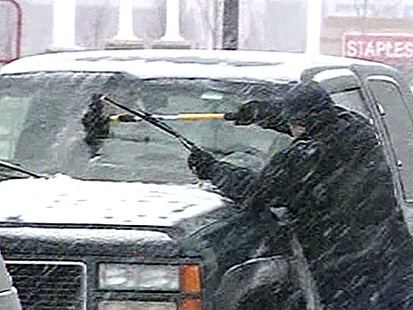 "You can't get moving and then you end up creating a slick and then you're stuck," said one man.
Greyhound bus service was at a standstill, leaving bewildered passengers stranded.
"I mean this is outrageous. Nobody should have to go through this. Nobody should be dumped on the side of the road in a place we didn't know where we are at, or I don't even know where I am at," a Greyhound passenger said.
With only 27 plows, Seattle is ill-prepared to deal with back-to-back snow storms. The roads were frozen solid. Snowed-in, one couple was forced to walk to work.
"It will be four miles by the time we get to our destination," said a man and woman walking on Seattle's roads. "We couldn't get out of our cul-de-sac driving."
The unusually heavy blanket of snow collapsed rooftops, damaging a local manufacturing business and injuring one child at an ice rink.
Some people took advantage of the city's snow-packed streets by skiing and sledding down them.
"It's definitely not an everyday thing but it's something fun. We pay our taxes and pay for the roads so we might as well take advantage of them while they are closed down," said one young woman enjoying some winter fun in Seattle's downtown streets.
To the south, in Portland, Ore., where rain is the normal winter routine, conditions were frustratingly similar. Snow snarled travel and froze the city in its tracks.
Winter Weather Hits the Midwest
Blizzardlike conditions have dumped a foot of snow in the Midwest, and subfreezing temperatures greeted early morning commuters in Dayton, Ohio. The mercury only rose into the single digits in Toledo, Cincinnati and Columbus, Ohio, and in the northwest part of the state about 5,000 homes were without power.
In Chicago, plunging temperatures made it feel like 20-below – brutal for those braving the elements. The extreme cold burst water pipes at Martin University in Detriot today.
Frigid temperatures also made for treacherous road conditions that caused several accidents across the region.
"We are still seeing rollovers, spinouts and people going into ditches," said Kent Barnard of the Minnesota Department of Transportation. "You may not necessarily see the black ice, but you will feel it when you hit it."
According to AAA, more than 80 percent of holiday travelers this season will travel by car. AAA estimated that Christmas Eve would be the most crowded travel day of the season, with 17 percent of holiday travelers venturing out onto the roads.
AAA also projected a 2.1 percent decline in the number of people traveling this year versus last, the first decline in Christmas holiday travel since 2002.
In southwestern Michigan, about 30 vehicles were involved in a series of deadly pileups on a six-mile stretch of Interstate 94 north of Stevensville, about 175 miles west of Detroit.
"It's been pretty slippery. I actually got into an accident this morning," said driver Mike Smith.
An Illinois doctor died when his car slammed into a semi that had stopped on the highway in whiteout conditions.
Police in western Michigan asked motorists to stay off the roads, and many obliged as more than 400 church services and other events were canceled Sunday.
On the west coast in Washington state, heavy snow was believed to have caused the collapse of a large tent over a temporary ice-skating rink in Bellevue, briefly trapping several people inside and injuring one girl.
Nightmarish Weather in the Northeast
Northeast residents were trying to keep up with Mother Nature as they dealt with the third storm to hit in recent weeks.
Blizzard warnings were issued for parts of Maine, where up to 24 inches of snow were expected. Forecasters warned that strong winds could create whiteout conditions and deep drifts.
"This is a classic nor'easter," said meteorologist John Cannon. "It's got all the features."
Temperatures in northern Maine early Sunday included minus 40 on the Big Black River in Aroostook County and minus 5 in Allagash. Gov. John Baldacci announced a noon start for state government offices today. The bitter cold forced cities like Boston to close its schools.
The storm battering Maine also produced sleet and freezing rain in New York and New Jersey, delaying flight arrivals.
Snow is headed east in time for Christmas, but for many, the refrain "home for the holidays" has taken on a new meaning -- they won't be going anywhere.
The Associated Press contributed to this story.