A rape-crisis telephone line has been set up in Cleveland to field calls from any other potential victims of alleged serial killer Anthony Sowell.
The Cleveland Rape Crisis Center, which launched the line at 9 a.m. this morning, said it has answered several phone calls on the confidential hotline.
The crisis center's move comes on the heels of Sowell's not guilty plea Friday to a woman's alleged rape that officials were investigating when they happened upon several dead bodies in his three-story, Cleveland home.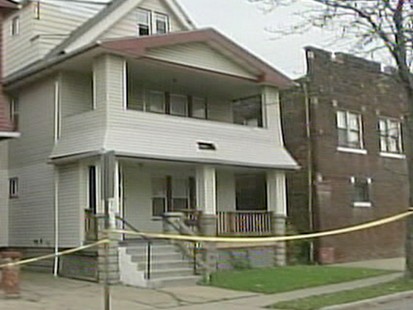 Sowell is facing five counts of
aggravated murder
, stemming from the bodies later found in his home. He has yet to enter a plea for those charges.
Meanwhile, an entomologist was called to the crime scene last week to study the maggots found on the bodies discovered in Sowell's home.
Joe Keiper of the Cleveland Museum of Natural History told ABCNews.com that he was asked by the Cuyahoga County Coroner's Office to inspect the blow fly larvae feeding on the corpses found at Sowell's home in hopes of establishing a time frame for the deaths.
"Depending on the type and number of insects on a body, I might be able to get an estimate on the postmortem interval, or the time passed between death and body discovery," said Keiper, adding that he is one of only 20 U.S. forensic entomologists.
Keiper, who called Sowell's home "infested," said that it could take him weeks to determine when the victims died.
Funerals also took place this weekend for several of the victims of the alleged serial killer, while investigators continue to work to identify the remaining bodies and search for more in nearby homes.
FBI agents used thermal imaging and sfited through dirt on Sowell's property and the one next door in search of any other victims.
All but one of the 11 female victims found dead in and around Sowell's house have been identified.
Cleveland authorities released the identity of the 10th victim Wednesday night, which was complicated because only her skull was found -- in a bucket in Sowell's basement.
Leshanda Long, 25, had been missing since August 2008, authorities said, but had never been reported as a missing person.
Sowell, who was ordered last week by a Cleveland judge to be held without bond, was on suicide watch and was described by a prosecutor as an "incredibly dangerous threat to the public."
Suspect Could Face Death Penalty
If convicted, Sowell could face the death penalty.
Able to enter the home because of a search warrant, authorities first found two bodies, then later three, and, eventually, a total of 11. The bodies were found littered throughout the home, some in shallow graves in the backyard, others in crawl spaces. Authorities later went on to tear apart the home's walls in search of additional bodies.
Neighbors were furious that authorities, who had Sowell, a convicted rapist, on their list of sex offenders to monitor, did not uncover the bodies sooner, especially after warnings of the smell wafting from the home.
But officers were unable to enter the home initially because they did not have a search warrant, authorities said. Instead, they would knock on his door to make sure he was home. Sowell was last visited by authorities Sept. 22.
Sowell was released in 2005 after serving 15 years in prison for the choking and attempted rape of a 21-year-old woman in 1989.
Family members of the victims have also expressed their frustration with the Cleveland Police Department, some of whose officers were reluctant to take the missing persons reports seriously, because many of the women were known drug users.
Sandy Drain, whose niece was identified as one of the bodies found in Sowell's home, told The Associated Press that she believes police looked at her missing family member as, "Oh, just another drug addict gone."
But detectives said they are retracing Sowell's steps since his release from prison four years ago, following his trail back more than 30 years, from when he served in the Marines from 1978 to 1985, FBI spokesman Anthony Scott told The Associated Press.
Authorities are looking into unsolved crimes around the bases where Sowell was stationed: Parris Island, S.C.; Cherry Point, N.C.; Okinawa, Japan; and Camp Pendleton, Calif.
Police in Coronado, Calif., near Camp Pendleton, told the AP that a woman contacted them after seeing Sowell's mug shot on TV. She said she was sure he had raped her in 1979.
Sowell Investigation Continues
Officers were unable to confirm her story because records from 30 years ago have been thrown out, Coronado police commander Jesus Ochoa told the AP.
The city of East Cleveland is also taking a second look at three unsolved murders in 1988 and 1989 to determine whether Sowell might be a suspect.
The Associated Press contributed to this report.