An hour and a half helicopter ride south of New Orleans, and 190 miles off the Gulf of Mexico's coast, sits Chevron's Tahiti oil field. Floating in waters 4,000 feet deep is a 60-story-tall platform that one day will pump more than 125,000 barrels of oil a day.
Nearly a mile away floats the Cajun Express, a drilling rig that is establishing a well more than five miles deep to tap the vast oil field that Chevron believes contains more than 400 million barrels of oil.
Clay Jostes, a drilling engineer with Chevron, told ABC News that the rig "will produce anywhere between 25,000 and 30,000 barrels of oil a day."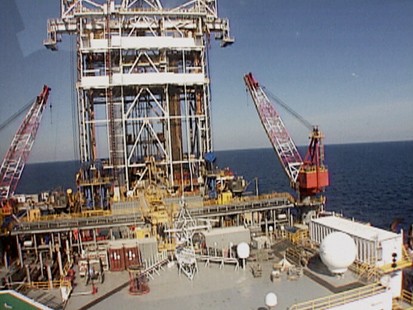 It is one of six wells that tap the Tahiti oil field.
The 125,000 barrels a day might seem minimal compared to the 20 million barrels of oil that are consumed daily in the United States. But with nearly 75 percent of the world's oil reserves controlled by foreign countries where U.S. companies are not allowed to operate or face too many restrictions, there is a real incentive for U.S. companies to explore drilling options at home where they can buy federal leases to drill.
But it's a real gamble.
"Right now, it's costing us approximately $1 million a day for us to operate the rig on this well," said John Sanclemente, drilling superintendent for Chevron's Tahiti Project.
Chevron expects to spend $4.7 billion before it produces a single barrel of oil, in 2009. The vast majority of its expenses are spent on the new equipment, which reaches unprecedented depths of 10,000 feet deep, unmanned.
The rig's technology relays images from underwater cameras thousands of feet below, keeping close watch on the opening at the ocean's floor, where their prized oil will emerge.
"It's a robot that dives sub-sea," Jostes said. "It does a visual inspection of our riser system, and it ensures there are no leaks, [and] we're not polluting anything in the environment."
The technology and quality of the images are first-rate. "It's just like you're watching on a TV in the house," Jostes said. "It's as clear as can be."
Oil companies have drilled in the Gulf region since World War II, but they have been limited in reach to a few hundred feet below the surface.
Jostes is confident that oil will emerge from these record depths.
"The oil will come up through that hole," Jostes said. "It will, we've proved it."
But, even if Chevron discovers oil, experts caution that it will not be enough to usher in an era of cheaper gas or energy independence in the United States.
"We have a tremendous amount of competition, but at the same time, we also have a high level of partnerships with the very same companies that we're competing with, because it takes tremendous amount of capital resource to be able to develop these things," Sanclemente said.
"As we continue to explore and find and develop these resources, and as more oil comes onstream, that will help lessen our dependency on foreign oil."
Oil companies hope for huge oil discoveries along with big profits, as American consumers wait and hope that the discoveries will lead to lower prices at the pump.