Before a barrel of oil can become a gallon of gas, or diesel, or jet fuel, it has to be refined. It is broken down and purified under intense heat and pressure and then mixed with additives to become consumable fuel.
"Most people don't even know about refiners," said Dr. Michelle Foss, head of the Center for Energy Economics at the University of Texas at Austin. "They think what they get at the pump is being manufactured in the ground."
Now Motiva -- a joint venture between Shell and Aramco, the Saudi Arabian oil company -- will spend $7 billion to double the size of the refinery in Port Arthur, Texas, making it the largest in the nation, capable of refining 600,000 barrels of crude oil a day.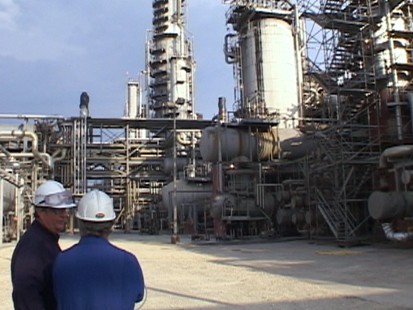 Refineries have decided to expand their production capabilities to hold a stake in the future of oil production. There are 149 refineries in the United States, with the last one built 32 years ago.
As gas prices rose last year, refineries couldn't produce enough gasoline to meet demand. The result was substantial profits. But in 2008, even after a summer of record gasoline prices, some of the nation's refiners have seen profits drop by as much 85 percent from a year ago.
As demand for refined products like gasoline has fallen while oil prices have soared above $100 a barrel, refineries have suffered. The cost of oil, the basic ingredient refineries need to make gasoline, has risen faster than gasoline prices.
Bill Welte, chief executive of the Motiva refinery, said that refineries are not responsible for soaring gas prices. For each $4 gallon of gasoline sold at the pump, refiners said that their cut is 35 cents, which is barely enough to cover costs. Crude oil accounts for nearly 75 percent of their costs, according to the Energy Information Administration.
"Three to four cents. That's our profit on a gallon of gas," Welte told ABC News. "Three to four cents."
Oil's New Frontier
The world's most popular kind of crude oil, what the industry calls "light sweet," is not only expensive but increasingly scarce.
"The light sweet crudes are not as prevalent as they once were," said Forrest Lauher, the project manager for the expansion at the Motiva refinery.
Refineries believe that the future of oil production rests on being able to refine cheaper oils, what they call "nasty" crudes, which are in greater supply. This has prompted Motiva and other refiners to invest billions in expansions in order to handle this oil along with unconventional oil sources, like oil sands from Canada.
Nasty crudes have "heavy, high-sulfur, lots of asphalt kind of material in the crude. Some of them are solids at room temperature," Lauher said, making them more difficult and costly to refine into useable gasoline.
The expansion at Port Arthur is a massive undertaking that will require 45,000 concrete piles, 27,000 tons of steel and 450 miles of pipe, which is enough to stretch from Boston to Washington D.C.
When the project is finished, it is expected to increase production by more than 10 million gallons of gasoline, diesel and jet fuel a day. But while 10 million gallons sounds substantial, it is not enough to satisfy the nation's appetite for gasoline.
Even with Americans driving less, the country imports 11 percent of the gas it consumes daily.
While refiners claim that they don't set the price of gasoline, they can't deny that chronic shortages of refining capacity have contributed to higher prices.
"Will this make a significant impact on the price of gasoline in the United States? No, it will help," Welte said. "It's not an answer; every little bit helps."
Refiners are moving full speed ahead; but even with 7,000 workers on the job, Welte said, a "bit of help" is at least two years away.