It was a harrowing experience, said Marcus Schrenker, the Indiana moneyman and pilot who allegedly attempted to fake his own death in January 2009. He put his corporate plane on a course toward the Gulf of Mexico and parachuted out over rural Alabama, trying to escape personal problems and prosecution for financial crimes.
"I blew the cockpit door at twenty-four thousand feet," he said. "It was like someone had popped my lungs. And it felt like my face was just going to explode, my ears, everything...And I knew that was it. It was the end. There's no turning back."
The bizarre and mysterious plunge of the then-38-year-old financier mirrored an even more dramatic descent in his personal life. Schrenker appeared to be a family man who was living the high life with his wife Michelle in the posh Indianapolis suburb of Geist.
"It was wonderful. We had a fantastic marriage, three beautiful children," he said. "Life was all that we ever thought it would be and all we ever dreamed it would be."
A financial advisor, Schrenker owned an investment firm called Icon Group. His family was the picture of wealth -- even doing an ad for a local Lexus dealer. They vacationed with his company's $2 million private plane -- piloted by a man who loved the thrill of being up in the air.
"There's a saying back in college that flying is the most fun you can have with your clothes on," he said. "Flying, to me, was a lifelong dream."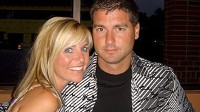 Click HERE to see video of Schrenker as a stunt pilot
But it wasn't all clear skies for Schrenker. While he was charismatic and confident, he was also someone who could turn on a dime and become the neighbor from hell.
"There was also the side you heard about, which was what I would call the angry-neighbor side," said neighbor Tom Britt, who writes the Geist community newsletter. "He didn't like your house because it was too similar in color to his, so he would come and pull up your stakes as you're trying to build."
"I think if you live next to him, you probably lived in fear, and you want to stay on his good side," Britt added.
Schrenker told "20/20" that his mood swings started to scare him.
"I didn't understand why this was happening," he said. "It would go from very calm to not so calm and very combative. And as I aged it got worse and worse."
Schrenker was diagnosed with bipolar disorder, but often didn't take his medications. His therapist told "20/20" that Schrenker's bipolar disorder would swing him through manic highs and deep depressions with talk of suicide. It all took a toll on his storybook marriage.
"[Michelle] really put up with a lot of me that I think was stressful on her," he said. "One minute I would be very calm and the next minute I would be very angry and out of control and not even make, be making sense with what I was saying."
But that's not all that Michelle was putting up with. Schrenker had an affair with a woman who worked at the airport, Kelly Baker. As their relationship escalated, Schrenker's marriage disintegrated, and he became even more volatile. Michelle filed for divorce on Dec. 30, 2008.
At the same time, and unknown to Schrenker, his investment firm was under investigation by the state of Indiana for allegations of bilking clients and fraud.
Authorities raided the Schrenkers' mansion the day after Michelle filed for divorce. Schrenker, who was in Florida with Baker at the time, said he was "completely blindsided."