Algeria News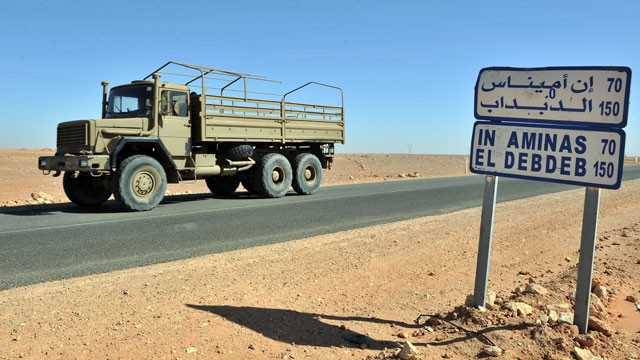 About Algeria
Algeria is the second largest country in Africa. Four-fifths of its territory is covered by the Sahara Desert. Its inhabitants are concentrated in oases surrounded by desert. The Algerian government is a parliamentary republic, and the official language is Arabic. Algeria is the sixth largest gas exporter and ranks 16th in oil reserves. Since 1991 Algerian politics have been dominated by violence between the military and Islamic militants. In January 2013, militants seized dozens of hostages from an Algerian oil field. Algerian forces launched a raid that led to the release of some hostages and the death of others.
Eyewitness Says He Will Consider Moving Back to Algeria After Paris Attacks
ABC News' Alex Marquardt interviews an eyewitness of the police raids.
Belgium vs. Algeria : World Cup Live Updates

Belgium takes on Algeria today to start play in Group H on Day 6 of the 2014 World Cup . Also today, hosts Brazil play Mexico, where both teams will try to get another three points to clinch a spot into the knockout round. Both Brazil and Mexico have three points. In the nightcap, South Korea and

Algeria Hostage Crisis: The Libya Connection

The terrorist leader who claimed to have mounted the deadly raid on an Algerian gas plant in the name of al Qaeda is the same one-eyed jihadist who once bragged his fighters "benefit" from the loose weapons streaming out of Libya, despite U.S. and international...

Exclusive: Wife of Algeria Crisis Survivor Speaks Out

Thank you, bill. Now, to the latest, harrowing details coming out about the hostage crisis in north africa. We have an exclusive interview with the wife of one american who narrowly escaped death, hiding from the terrorists for more than two days. Abc's brian ross has the story. And brian is with

Exclusive: Harrowing Tale of Algeria Hostage Crisis Survivor

The wife of one of the Americans who survived the hostage crisis at the BP facility in Algeria said that her husband hid from armed terrorists for more than two days, even as the gunmen paced feet away, before deciding to make a run for...

New Details From Inside Algerian Hostage Crisis

And now we turn to the new video out of algeria, hostages huddled together, held captive by extremists with links to al qaeda. Today, we learned that more americans than we previously knew have been killed. Abc's brian ross tracking it for us again tonight. Reporter: It was four days of terror.

Rogers: US Knew 'Something Big' Was Coming Before Algeria Crisis

The Chairman of the House Intelligence Committee said that before the deadly Algerian hostage crisis, the U.S. had several reports that "something big" was coming against a Western target -- but not the details the government needed to prevent it. "Just like the Benghazi event, we had lots of

Algerian Hostage Crisis: Fate of the Americans

Now, to the hostage crisis in north africa. New and chilling details emerging about that raid and standoff at a natural gas complex in algeria. Several americans did manage to escape. Abc's brian ross has the story of their terrifying ordeal. Reporter: During the four-day siege, authorities say

Algeria Hostage Crisis: Tape of Terrorists Emerges

We're going to turn overseas now to the aftermath of that terror attack in north africa. Today bomb squads making sure the facility is now safe. But they also made a grim discovery. Dozens more bodies. The death toll now at 81. As we hear from those who survived, word of a chilling message from the

Algerian Hostage Crisis, Survivors Share Stories

hearing more of the portrait of the terror inside from those who managed to flee. Those workers who had to walked passed the dead. Many have been flown to italy, at the island of sicily. Where abc's nick schifrin is tonight. Reporter: David, u.S. Officials tell us about a dozen survivors are

Algerian Hostages: Dead US Hostage Identified as Fred Buttaccio

The death toll at a Algerian gas plant where al Qaeda-linked terrorists took hostages continues to climb, with at least one American and 11 other hostages now reported to have been killed. The Algerian military has twice stormed the In Amenas natural gas facility but authorities say the situation

Algeria Hostage Situation: Personal Accounts from Escapees and Survivors

As the hostage situation at an Algerian gas plant nears the end of its third day, a number of dramatic accounts from survivors and escapees have emerged. An al Qaeda-linked group raided the BP joint venture facility on Wednesday, taking an undetermined number of hostages from more than half a dozen

Leon Panetta Condemns 'Terrorism' in Algeria : Exclusive

I want to start with Algeria and some of the statements you've made make it look like you are the US is weighing options on what to do. With that hostage situation. Well there's no question that. Win this kind of terrorist act takes place. And involves. Hostages who have some whom. Our American.

Panetta: As Many as 8 Americans Held by Al Qaeda in Algeria

Algerian troops have surrounded the natural gas compound in the Sahara desert where as many as 100 hostages, including up to eight Americans, are being held by terrorists who claim to be part of Al Qaeda and are led by a one-eyed smuggler known as Mr. Marlboro. Defense Secretary Leon Panetta told

At Least 3 Americans Held Hostage by Al Qaeda in Algeria

Two U.S. officials tell ABC News that Americans are among the hostages held following the attack on a BP joint venture natural gas field in Algeria. One of those, a senior intelligence official, says that currently it appears three U.S. citizens are being held. However, this official cautions that

Algeria Confirms Gadhafi Family's Entry, Sidesteps UN Sanction Question

Did Algeria violate UN sanctions by taking in Col. Moammar Gadhafi's family? Algeria sent a letter to the United Nations today seeking to explain why it allowed members of Gadhafi's family to enter the country yesterday despite an international travel ban imposed earlier this year....