Algeria News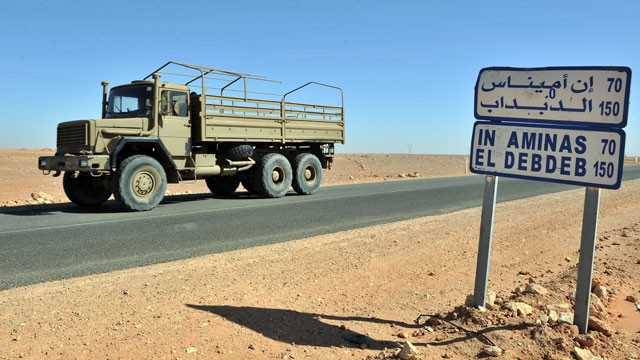 About Algeria
Algeria is the second largest country in Africa. Four-fifths of its territory is covered by the Sahara Desert. Its inhabitants are concentrated in oases surrounded by desert. The Algerian government is a parliamentary republic, and the official language is Arabic. Algeria is the sixth largest gas exporter and ranks 16th in oil reserves. Since 1991 Algerian politics have been dominated by violence between the military and Islamic militants. In January 2013, militants seized dozens of hostages from an Algerian oil field. Algerian forces launched a raid that led to the release of some hostages and the death of others.
Eyewitness Says He Will Consider Moving Back to Algeria After Paris Attacks
ABC News' Alex Marquardt interviews an eyewitness of the police raids.
Belgium vs. Algeria : World Cup Live Updates

Belgium takes on Algeria today to start play in Group H on Day 6 of the 2014 World Cup . Also today, hosts Brazil play Mexico, where both teams will try to get another three points to clinch a spot into the knockout round. Both Brazil and Mexico have three points. In the nightcap, South Korea and

Algeria Hostage Crisis: The Libya Connection

The terrorist leader who claimed to have mounted the deadly raid on an Algerian gas plant in the name of al Qaeda is the same one-eyed jihadist who once bragged his fighters "benefit" from the loose weapons streaming out of Libya, despite U.S. and international...

Exclusive: Wife of Algeria Crisis Survivor Speaks Out

Thank you, bill. Now, to the latest, harrowing details coming out about the hostage crisis in north africa. We have an exclusive interview with the wife of one american who narrowly escaped death, hiding from the terrorists for more than two days. Abc's brian ross has the story. And brian is with

Exclusive: Harrowing Tale of Algeria Hostage Crisis Survivor

The wife of one of the Americans who survived the hostage crisis at the BP facility in Algeria said that her husband hid from armed terrorists for more than two days, even as the gunmen paced feet away, before deciding to make a run for...