John Quiñones has been a colleague of mine at ABC for more than a quarter century and I've known over those years that his own story, in many ways, has been as good as the ones he has told.
So this one is about Quiñones himself, because he has finally written some of it in his first book, "Heroes Among Us." His former occupations include being a shoe-shine boy and migrant laborer. His current occupation is network television correspondent and anchor of the news magazine show "What Would You Do?"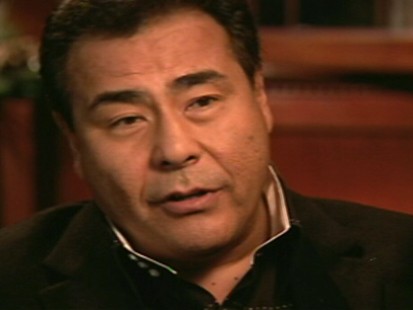 In between those jobs was a long struggle to realize his ambitions.
Born in 1952, Quiñones grew up with two sisters in the Mexican-American barrio on the west side of San Antonio, Texas.
A friend who still lives in the neighborhood, former police officer Don Cortez, remembered how he and Quiñones once shined shoes to help earn money for their families.
"We would hit Guadalupe Street, which was nothing but bars and cantinas," Cortez said.
"And we would charge 10 cents for a shoe," Quiñones said. "We'd go into the bars, because the drunk guys wouldn't realize how much they were tipping you."
Although his family had been in the U.S. for six generations, Quiñones spoke no English until he was six years old and began attending the school down the block from where he lived.
His father, Bruno, was a janitor who earned extra money doing odd jobs, including lawn care. His mother, Maria, cleaned houses. In the tiny Quiñones home, she kept an intricate shrine to the Virgin of Guadalupe, the patron saint of Mexico.
"Every time I'd go visit, she'd make us kneel down in front of her," Cortez said. "And she'd bless us, both of us. And she'd look at me and say, 'Take care of my son.'"
"She'd hold her hand over our heads," Quiñones said, "to make sure that we were safe and that we would come back."
Both Quiñones and Cortez remember feeling pressure from gangs in their neighborhood.
"It was very dangerous here at night," Quiñones said. "There were drive-bys. People would be watering their lawns and suddenly shots would ring out. There were lots of threats and you were ridiculed if you weren't cool and didn't hang out with them and smoke and drink and carry a knife. It was dangerous and intimidating."
Dreaming of a Better Life
Quiñones remembers climbing often to the roof of his home, which he used as a kind of retreat.
"I would go up there at night, look at the stars, and dream about … getting out of there, having a better life," he said. "When the city had the HemisFair of 1968 -- it was a world's fair here -- they built the Tower of the Americas. To me, it came to symbolize a world out there that was much bigger than the one I was in."
When he did go out into the larger world for the first time as he entered his teens, it was because his father was laid off from work. The family headed north to work as migrant laborers in Michigan and Ohio, picking cherries and tomatoes. Quiñones picked a hundred bushels of tomatoes a day at 35 cents a bushel.
"Kneeling down on the wet ground at five in the morning, my dad looked at me and said, 'Look, do you want to have to work like this for the rest of your life? Or do you want to go to college some day?' It was a no-brainer," Quiñones said.
Quiñones remembered that summer as the longest of his life. When he returned to middle school, he began learning through performing, motivated by the implications of his father's question despite his shyness. He played Romeo in a high school production of "Romeo and Juliet."
"I was really shy. And I was very ashamed of my accent. I couldn't say shirt or shoes, because there's no 'sh' sound in Spanish," he said. "It's all a hard 'ch.' So I would say 'chine my choes,' or 'this is my chirt.' People made fun of that, and I had to work really hard."
Quiñones received remedial school courses through a 1960's War-on-Poverty program called Upward Bound and won a scholarship to St. Mary's College in San Antonio. While Quiñones was working as a delivery man for a San Antonio drugstore, his boss referred him to a local radio station, KKYX, where he was given an internship. There, he practiced nightly, reading news stories.
"I would go into the studio when everyone else was gone … and I was able to read into a microphone, and record it, and play it back to criticize myself," Quiñones said. "The only other person at the station was the janitor, Pablo. He would come in, and I'd say, 'Pablo, what do you think? How does it sound?'"
Pablo always gave him encouragement.
Becoming a Role Model
Quiñones worked his way through local news jobs in Texas and got a fellowship at Columbia University's Graduate School of Journalism, where he earned a Master's degree before finally landing a major job at Chicago's WBBM-TV.
Among his assignments, he returned to South Texas to tell the story of illegal immigrants who risked their lives to work in the United States. Quiñones swam across the Rio Grande himself while hidden cameras rolled; then he took work as a laborer.
"My producer at the time said, 'John, you are the first Mexican to swim across the Rio Grande and then go to his suite at the Hyatt Regency Hotel,'" he said.
He won an Emmy for the report.
In 1982, Quiñones was hired by ABC to cover the violent and dangerous conflicts in Central America. He was fluent in Spanish and had learned to speak impeccable English -- qualifications which defined his beat and also put him in harm's way because of the turmoil he covered.
"My sisters tell me that [my mom] would go up to the TV screen, and she would bless the screen when I made an appearance … to make sure that I was safe," Quiñones said.
Back home in San Antonio, other people were noticing, as well -- especially Latino parents who could show their children a role model who looked like them on national television. One of those children was Ricardo Chavira, now an actor on the series "Desperate Housewives," who has since become a friend of Quiñones.
"My father made a big issue of it," Chavira said. "He would say, 'That guy there, he's Mexican. That is a great face of our people. A great representative of our people.'"
"Because I didn't look like the typical American correspondent, maybe people opened up to me more," Quiñones said.
He still quotes the advice he received from the late Peter Jennings, who was ABC's anchorman when Quiñones became a correspondent.
"Peter told me, 'Don't worry about talking to the movers and shakers. Talk to the moved and the shaken.'"
"What makes John very special to our community … is the fact that he draws on his own experience and his road has not been easy," said Janet Murguia, the President and CEO of the National Council of La Raza, a Latino advocacy group. "It's a value that adds a very positive dimension to the stories that he tells, and one that allows his stories to resonate."
'The Kind of Leader I Want to Be'
Quiñones has climbed into sewers in Colombia for a story that resulted in a rescue program for street children. He reported on Haitian children who were forced to work under torturous conditions in the sugar cane fields. And he reported on the terrible atrocities committed during fighting involving the diamond fields of Sierra Leone.
When he returns to San Antonio, it is difficult for him to go anywhere without being stopped, hugged or photographed. At a popular restaurant called Mi Tierra, his image is on a wall of honor -- a mural featuring Mexican heroes such as Emiliano Zapata and Benito Juarez, as well as contemporary Latino leaders.
"John has accepted the responsibility of his community," Chavira said. "That is huge for this community, because a lot of these kids need that."
Quiñones has three children, Julian, 23; Nicco, 17; and Andrea, 14. Nicco already has shown interest in following the path his father helped pioneer by producing and narrating a documentary on the needs of a Guatemalan orphanage that is also helping preserve Mayan culture.
"I just hope that someday it will not be unusual to have a John Quiñones who happens to be Latino on network television," Quiñones said. "It was John Quincy Adams who said, 'If you can inspire someone to dream more, to learn more, to do more, and to become more, then you are a leader.' And if I'm going to be held up as an example to anyone, that's the kind of leader I want to be."