YouTube personality Steve Hammes leased a Hyundai Kona Electric sport utility vehicle for his 17-year-old daughter Maddie for three reasons: it was affordable, practical and allowed Maddie to put her cash toward college, not fuel. Now, the upstate New York resident has a dilemma many EV owners can relate to: finding available charging stations far away from home.
"We're going through the planning process of how easily Maddie can get from Albany to Gettysburg [College] and where she can charge the car," Hammes told ABC News. "It makes me a little nervous. We want fast chargers that take 30 to 40 minutes -- it would not make sense to sit at a Level 2 charger for hours. There isn't a good software tool that helps EV owners plan their trips."
Last week the Biden administration said Tesla would open its Supercharger network to non-Tesla owners by the end of 2024. The plan includes 3,500 Tesla fast chargers and 4,000 of its slower, Level 2 chargers -- a small number in Tesla's sprawling network. Setting up an account on Tesla's app is also required for access.
John Voelcker, an industry expert on EVs and the former editor of Green Car Reports, said this arrangement will allow Tesla to learn a lot about U.S. drivers -- "how you charge, where you drive and what car you have." He does not expect Tesla to commit to additional charging stations.
"Tesla does not want its highly reliable and tightly integrated charging network to be clogged with people whose cars can't charge as fast as Teslas," he told ABC News.
President Joe Biden prioritized emissions-free vehicles in the 2021 infrastructure law, vowing to increase the number of green vehicles on America's highways and local roads. The president's goals include installing 500,000 new chargers across the U.S. and dramatically boosting EV sales by 2030.
Voelcker said he's seen little improvement in the nation's charging infrastructure in the last four years and frequently hears complaints of dead chargers and sticky cables.
"The incentive right now is to get stations in the ground," he said. "It's not making sure they actually work."
Tony Quiroga, editor-in-chief of Car and Driver, has been forced to wander the aisles of a Walmart in Burbank, California, while the EV he's testing that day sits and charges. He's become a familiar face at a Mexican restaurant in Mohave, California, where a Tesla charger is located. A coffee shop recently opened nearby that caters specifically to EV drivers.
"I imagine an ecosystem will be built around charging stations eventually," he told ABC News. "Longer trips bring up flaws with EVs. People are leery of taking them on long trips -- that's why older EVs don't have 40,000 miles on them."
Sandwich chain Subway announced Wednesday it was partnering with GenZ EV Solutions to build "Oasis Parks" at select dining locations. EV customers can expect charging canopies with multiple ports, picnic tables, Wi-Fi, restrooms, green space and playgrounds to make the charging experience more "seamless," Subway said.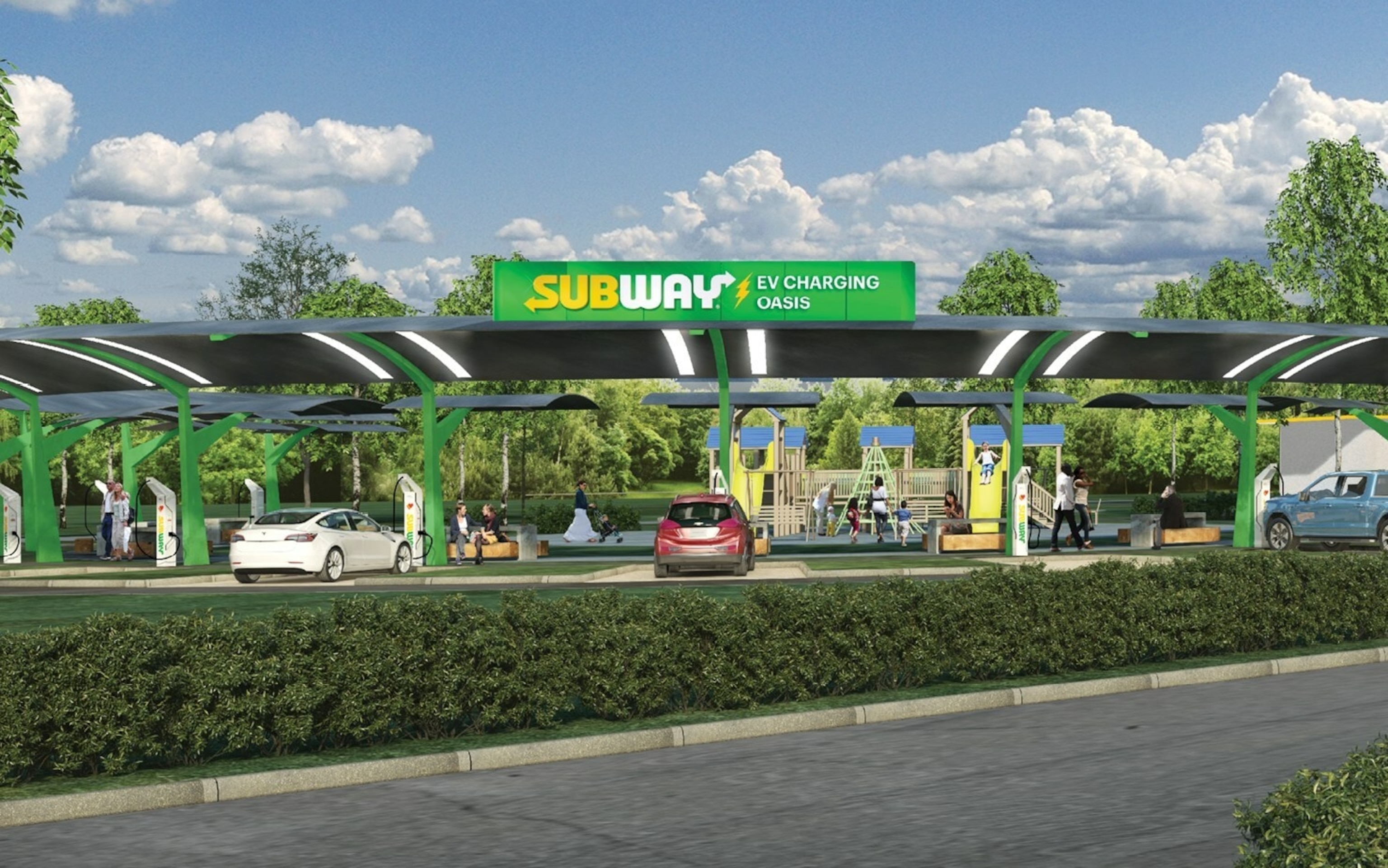 Last March Swedish automaker Volvo and Starbucks said they were teaming up to install as many as 60 DC fast chargers at 15 Starbucks stores along a 1,350-mile route that spans from Seattle to Denver.
Quiroga's sister, who lives in Northern California, takes her internal combustion car -- not her Tesla Model S -- when she needs to drive across the state. Even Quiroga's team of reporters has to carefully plan and calculate how far EV charging stations are when they conduct comparison tests among manufacturers.
"These comparisons tests are a logistical nightmare. We plan meals around recharging the vehicles," he said. "We need to have the battery at 100% or close to it to test a vehicle's performance. We have to time everything -- it requires more work."
In December, Quiroga was in Florida driving BMW's luxury i7 all-electric sedan. He watched as its range dropped from 240 miles to 220 as soon as he turned on the heat.
"You use the luxuries ... and the range plummets," he said.
Sharon Bragg of Clifton Park, New York, has to charge her Ford Mustang Mach-E GT more frequently in the winter months. The GT's EPA rating is 270 miles on a full charge. Bragg said it's closer to 200 in the colder weather. Last December a Level 2 charging plug got stuck in her Mach-E and would not budge. After multiple failed attempts by bystanders, she called an electrician, who blew hot air on the plug for 20 minutes to release it.
"The whole process took two hours," she told ABC News. "I was in the parking lot from 5 p.m. to 7 p.m. It was a cold day."
Bragg said her parents, who also bought a Mach-E, have complained of broken public chargers and endless lines. Sometimes they drive for miles before they can find a public charger that's working properly, she said. Bragg, a former minivan owner, is still enamored with her electric SUV despite the winter challenges.
"I love the tech and the giant screen [inside] won me over," she said. "The only time I go to a gas station now is to buy coffee."
Quiroga of Car and Driver said the "teething pains" EV owners previously experienced have greatly improved.
"Where we are now versus 10 years ago -- it's radically different," he said. "Range has tripled, even quintupled. Look at the Lucid Air -- it gets over 500 miles of range in a single charge."
Voelcker pointed out that the bulk of charging for EV owners takes place at home, not on the road. The majority of owners use public chargers two or three times a year, he said.
"The more you live with an EV, you don't have to take every last opportunity to charge it," he said. "It's rare that you cover 250 miles in a day."
Florida resident Jared Rosenholtz, editor at large at CarBuzz, has downloaded at least eight apps on his phone from companies like EVgo, Electrify America, ChargePoint and Shell Recharge so he can "juice up" the EVs he's tasked with reviewing. The apps clutter his phone -- and even worse -- require an outstanding balance to use.
"It's like having an E-ZPass account," Rosenholtz, an apartment dweller, told ABC News. "If your account balance gets low, the app pulls from your credit card on file and charges another $10."
He added, "I probably have $8 to $10 in each of these apps, just sitting there."
Parking spots at EV chargers are sometimes occupied by gas-powered vehicles, Rosenholtz said. Or a charging cord is too short and won't connect to the vehicle. Then there are times when the charger is dead ... or the wait time is more than an hour. The bad experiences are frustrating, he said. The one upside? Meeting fellow EV drivers.
"I can meet a lot of cool people at these stations," he said. "I always ask them how their EV experience has been. One Polestar owner helped me with a payment issue I had."
Hammes said EV owners have also come up to him at public charging stations, knocking on the Kona's window to say hello.
"It's a social experience ... EV owners love to talk about their cars and talk to other EV owners," he noted. "It's a new tech and everyone is learning at the same pace and sharing their experiences."
Hammes, a first-time EV owner, said his experience overall with the Kona Electric has been positive. He installed a 240-volt Level 2 charger in his garage last December and has only praise for the Hyundai Home system. His one gripe? The sales associates at his local Hyundai dealership were unknowledgeable and poorly trained about the intricacies of EV ownership, he explained.
"The dealership experience is so far behind. I get solicitations for oil changes. The staff is so disconnected from the product they're selling," he said.
Hammes said he will likely choose another EV when his lease is up next spring -- only this time he's adding more range.
"For me personally the new threshold would be 300 [miles]. That number makes me feel more comfortable," he said. "That's what I am aiming for in our next EV."