Car repair prices are rising much faster than overall inflation. Here's why.
"It's a perfect storm," an auto repair shop owner said.
When Pat Clynes pushed down the gas pedal on his Ford Explorer during a drive in Houston, Texas, in July 2022, an otherwise routine day became the start of what he later described as a nightmare.
The car failed to accelerate like it usually did, triggering immediate concern that something was wrong, Clynes said.
Since he thought the car was under warranty, Clynes brought it to a Ford dealership, where an employee later told Clynes it would cost nearly $1,400 just to identify the problem.
Weeks later, the dealership identified the problem as engine failure and said it would cost another $10,000 to fix, due partly to pandemic-induced supply chain snags that made car parts more expensive, he said.
Making matters worse, the company ultimately voided his warranty, determining the cause was maintenance-related, he said.
After balking at the repair prices, Clynes instead sold the car back to Ford last October for $8,000, less than a quarter of what he paid when he bought it used three years earlier.
"It was crazy," Clynes said. "It just wore me down."
Clynes is hardly the only car owner encountering high auto repair prices. Motor vehicle repair prices have jumped a staggering 23% over the last year, an inflation rate nearly four times higher than overall price increases, government data showed.
The price hikes stem from a shortage of workers and car parts that has sent costs soaring for auto shops, industry experts said. On top of that, the rise of high-tech cars, equipped with features like rearview cameras and traffic sensors, has added cost to even some routine repairs, they added.
"It's a perfect storm because everything is coming together at once," Tara Topel, the owner of Topel's Service Center, a car repair shop in Lake Mills, Wisconsin, told ABC News. "The pandemic exacerbated what was already an issue."
The high prices that weigh on the economy trace back to pandemic-induced supply bottlenecks that made it harder to access a slew of goods, including essentials like gas and food.
The pandemic also caused a shortage of workers, as mass layoffs at the outset of the pandemic diminished the workforce and coronavirus fears slowed the return of some workers. In turn, companies raised wages to attract workers, passing along some of those costs to customers and pushing prices higher.
These supply shocks pummeled the auto repair industry immediately, but the worst effects took time to emerge as repair shops slowly exhausted inventory on hand, said Brian Moody, executive editor at Autotrader.
"Manufacturing stopped or slowed down because of COVID restrictions or people didn't come to work or they couldn't find the right people," Moody told ABC News. "In 2022, we [saw] the delayed reaction where there isn't the same supply of stuff that there was."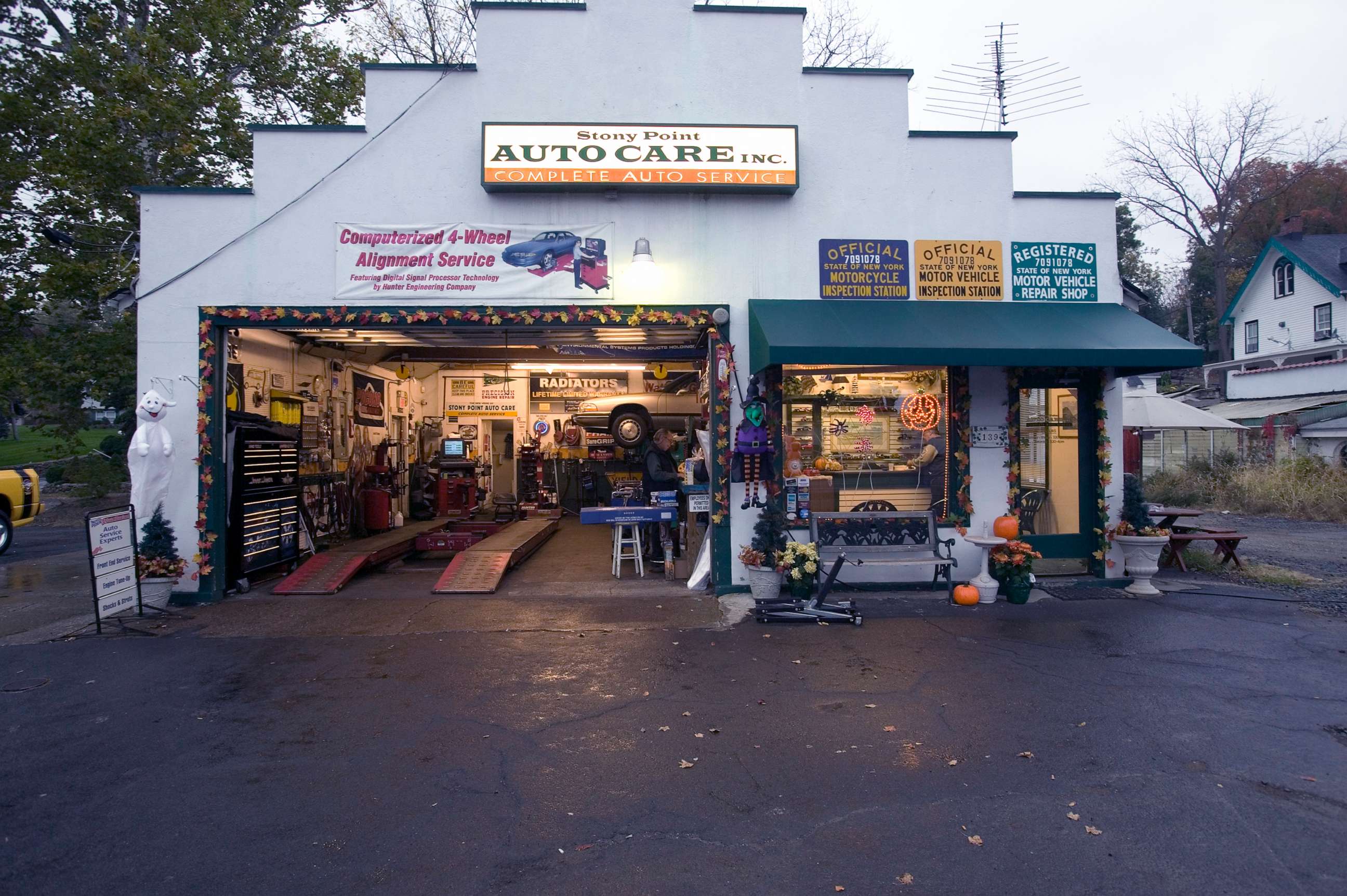 Meanwhile, a shortage of car repair technicians has deepened. The industry will stand 642,000 workers short of capacity by 2024, a TechForce report showed.
"There's a scarcity of technicians," David Whiston, an auto industry analyst at Morningstar, told ABC News. "This was a problem before the pandemic and it just gets worse."
In turn, the U.S. hosts fewer car repair shops. In 2016, there were 225 cars and trucks on the road for every active service bay; five years later, there were 246 cars and trucks per service bay, according to a study from industry outlet Aftermarket Matters.
The lack of supply has coincided with another trend driving up repair prices: high-tech cars.
Cars contain more sophisticated materials and features, such as cameras and sensors, said Moody, of Autotrader.
"Let's say someone has a 2020 model car and they back into a pole – something pretty simple," Moody said. "You have to replace the bumper."
"In that bumper can be sensors that house blind-spot monitoring or rear-park alert," he added. "All of those live in the bumper."
Topel, the repair shop owner, said the company's prices have gone up as much as 20% over the last year.
To attract workers amid the shortage, the company has raised hourly pay by $5 per hour over the past two years, which amounts to a 20% increase in the base pay for entry-level technicians, she said.
Meanwhile, the repair shop faces added costs as it purchases big-ticket items that allow it to fix high-tech cars, she said. The company recently spent $38,000 for a machine that allows for the calibration of advanced driver-assistance systems, a set of technologies that help drivers navigate.
"More and more new technology comes into our shop," she said. "It becomes a bigger deal by the month."
As repair prices rise, Topel notices customers opting for basic repairs rather than more comprehensive ones, she said, noting that customers and shops alike are trying to weather elevated costs.
"All of these I call opportunities, but they really are challenges for the industry in how we solve for them and how people will make it through," she said.