U.S. stocks rose sharply on Monday after news broke of a major development in producing a COVID-19 vaccine.
The Dow Jones Industrial Average skyrocketed more than 830 points, or approximately 3%, by the time markets closed Monday. The index shed some earlier gains by the afternoon but briefly hit an intraday record high.
The S&P 500, meanwhile, spiked by more than 1% by Monday afternoon, shedding earlier gains. The tech-heavy Nasdaq, meanwhile, closed down 1.5% on Monday, largely driven by some steep losses in pandemic winners -- Netflix shed some 8.6%, Zoom lost 17.4% and Peleton slid 20.3%.
Pharmaceutical giant Pfizer and partner Biotech said in a statement Monday morning that their vaccine was "found to be more than 90% effective in preventing COVID-19" according to an early analysis that included 94 confirmed cases of COVID-19 in trial participants, which seemed to spark the morning market rally.
Chris Zaccarelli, chief investment officer for Independent Advisor Alliance, called that this news a "game-changer" in a commentary Monday morning.
"To the extent that consumer spending and economic activity have been suppressed by concerns of the increasing Covid cases, anything that can reverse that trend will be welcomed by the markets," Zaccarelli added.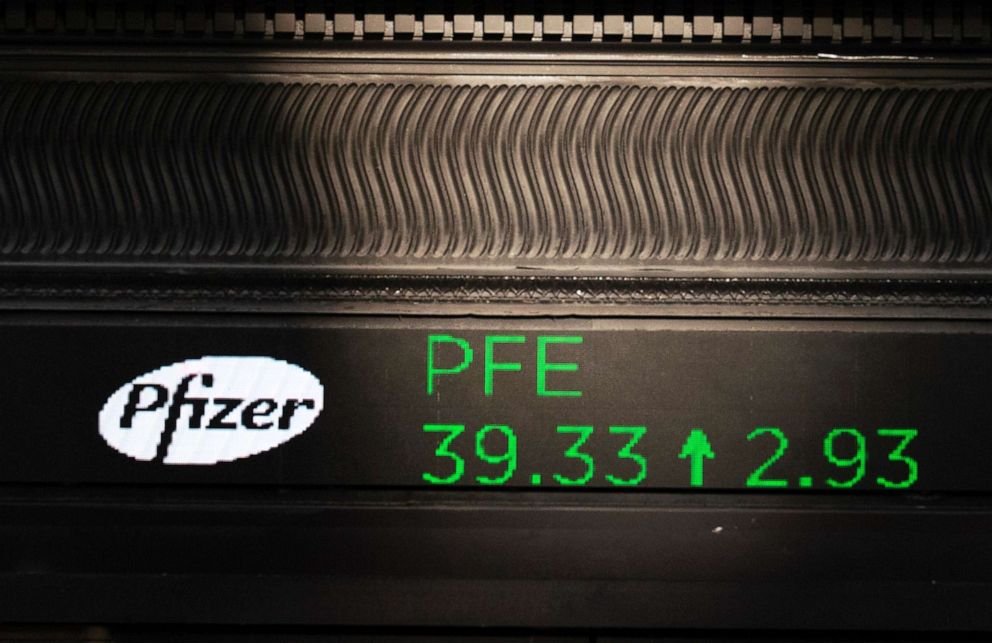 Economists and analysts have said for months that a full economic recovery from the COVID-19 crisis remains contingent on a vaccine or effective treatment for the virus.
Pfizer shares gained 7.7% after the news. The travel sector also saw large gains -- shares for cruise operator Carnival were up some 39%, while American Airlines shares rose 15% and Delta Air Lines shares climbed 17%. Disney stock climbed nearly 12%.
News that Former Vice President Joe Biden is the apparent winner of the U.S. presidency also quelled uncertainty for some investors that had loomed large for months. Wall Street also appeared to welcome the likelihood of a split government in the wake of the election, meaning extreme policy changes that could roil markets are less likely.
This report was featured in the Tuesday, Nov. 10, 2020, episode of "Start Here," ABC News' daily news podcast.
"Start Here" offers a straightforward look at the day's top stories in 20 minutes. Listen for free every weekday on Apple Podcasts, Google Podcasts, Spotify, the ABC News app or wherever you get your podcasts.