What to know about the potential UPS Teamsters strike
The union contract is set to expire on July 31.
Negotiations broke down this week between UPS and its Teamster-represented workers, weeks before their contract is set to expire.
As a potential strike looms, UPS workers across the country have been holding "practice pickets," holding signs that say, "Just practicing for a just contract."
Here's what you need to know about the labor situation and the impact of a potential strike.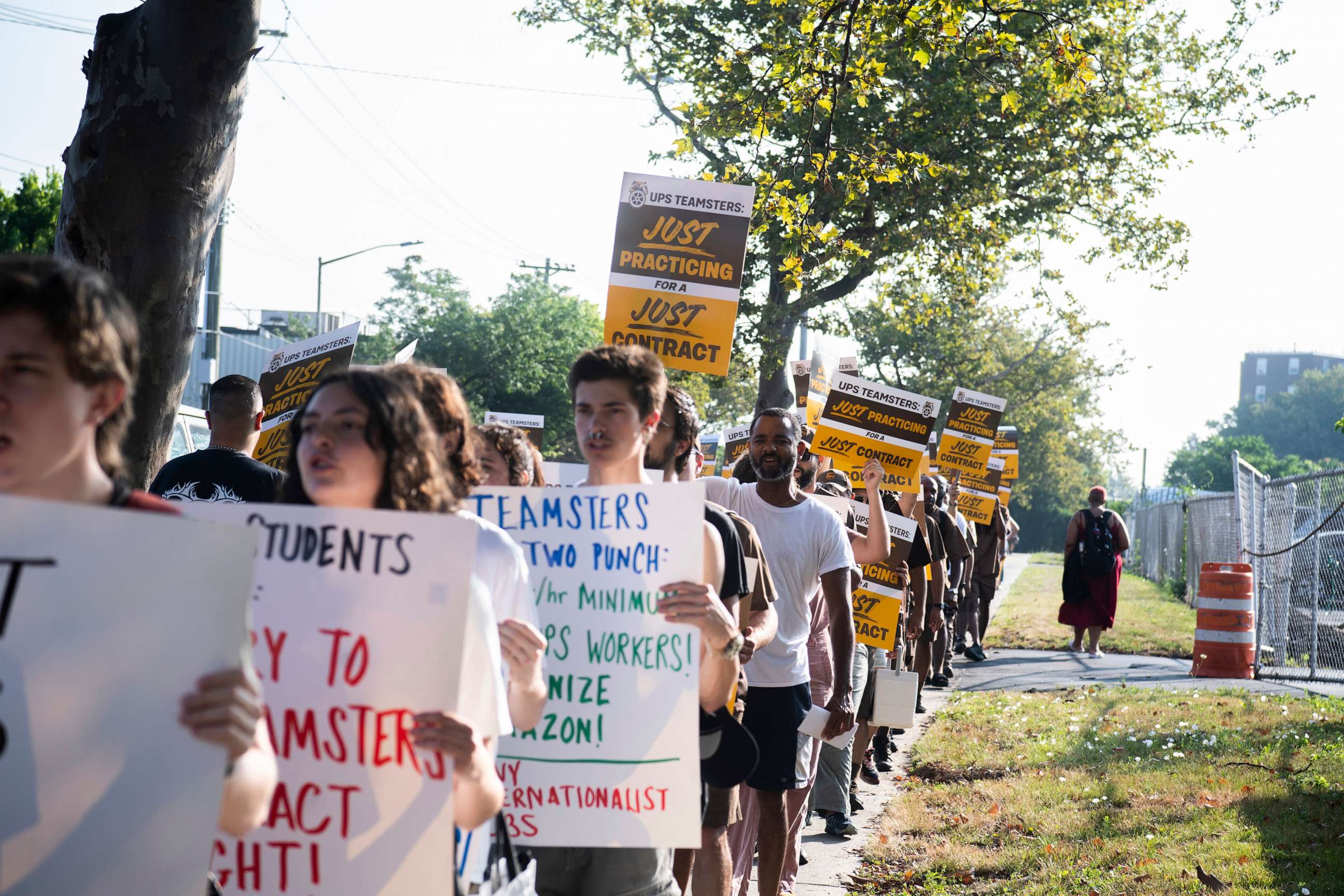 Stalemate in negotiations
The UPS Teamsters contract covers more than 340,000 full- and part-time workers for the shipping giant and is set to expire on July 31, according to the union.
Following the latest round of negotiations on Wednesday, each side accused the other of walking away from the table.
"Following marathon negotiations, UPS refused to give the Teamsters a last, best, and final offer, telling the union the company had nothing more to give," the Teamsters said in a statement.
The union claimed that UPS "walked away from the bargaining table after presenting an unacceptable offer," which the UPS Teamsters National Negotiating Committee "unanimously rejected."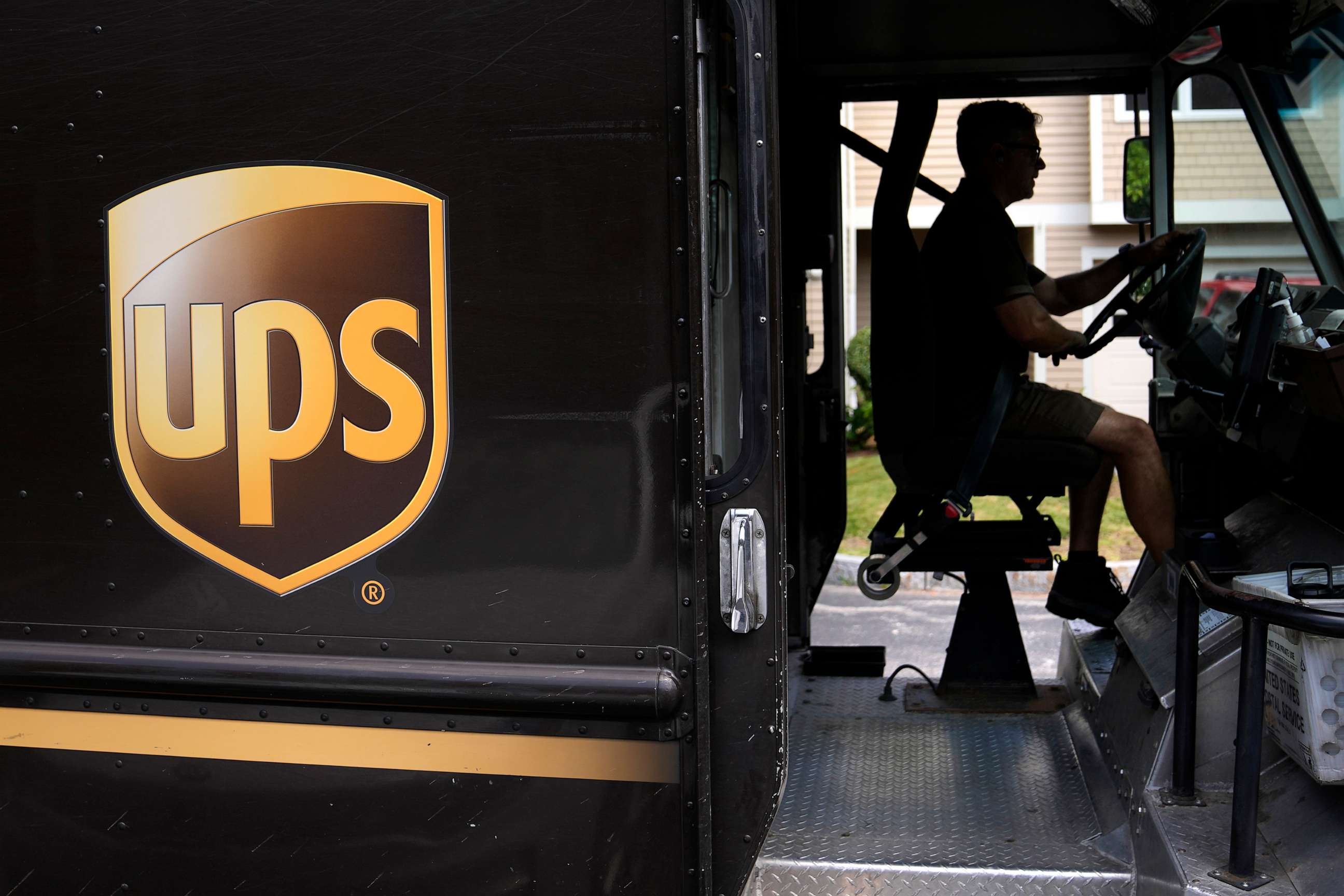 UPS, meanwhile, claimed that the Teamsters "have stopped negotiating despite historic proposals that build on our industry-leading pay."
"We have nearly a month left to negotiate. We have not walked away, and the union has a responsibility to remain at the table," UPS said in a statement while calling on the Teamsters to "return to the table to finalize this deal."
No additional negotiations are scheduled, according to the Teamsters.
Last month, rank-and-file UPS Teamsters authorized a strike and the union has said UPS members will not work beyond the expiration of the current contract.
Any tentative agreement would need to be endorsed by the Teamsters' national committee before being voted on by the membership by the end of the current agreement, the union said.
What the Teamsters are demanding
The Teamsters have said they want an agreement that "guarantees better pay for all workers, eliminates a two-tier wage system, increases full-time jobs, resolves safety and health concerns, and provides stronger protections against managerial harassment."
The two sides have made some progress since negotiations began earlier this year, including reaching an agreement on heat safety that UPS said would equip all newly purchased U.S. small package delivery vehicles with air conditioning starting Jan. 1, 2024.
The sides also agreed to end a two-tier wage system for drivers, establish Martin Luther King Jr. Day as a full holiday for the first time and end forced overtime on drivers' days off, according to the union.
The Teamsters are still pushing to raise wages for part-time workers at the company, with union leaders pointing to UPS' rise in profits during the pandemic. According to global shipping and logistics firm Pitney Bowes, UPS saw a 5.5% increase in revenue year-over-year in 2022 and generated the highest revenue among other carriers.
"We're trying to get a deal. We're very close," Teamsters' General President Sean O'Brien told "Good Morning America" on Friday. "We're trying to make certain that they understand how important this fight is for our 340,000 members that delivered goods and service through the toughest times we've seen."
According to UPS, delivery drivers on average earn $95,000 per year in wages and part-time workers earn an average of $20 per hour and receive the same health and pension benefits as full-time employees.
O'Brien argued that that salary is for drivers working 60 to 65 hours per week, and that part-time wages are "selective."
"It's an extremely tough job. And when you talk about the part-timers, their part-time wage rate right now is about $16 per hour," O'Brien said. "We want to establish a livable starting wage for part-timers, but also make sure we reward those part-timers who work through the pandemic."
Economic concerns
UPS is among the largest shipping companies in the U.S. According to Pitney Bowes, UPS shipped 5.2 billion U.S. parcels in 2022, representing nearly a quarter of all parcels shipped in the country.
Should the UPS Teamsters go on strike, there's "no doubt" the economy would be impacted, from businesses to individual households, Thomas Goldsby, a professor in logistics at the University of Tennessee-Knoxville's Haslam College of Business, told ABC News.
"You just don't take a player the size of UPS out of the market or largely out of the market without people having to take notice," Goldsby said.
The last time UPS Teamsters went on strike was in 1997. The 15-day strike "largely crippled" the company and "created myriad inconveniences, large and small, for companies and consumers across the nation," the New York Times reported at the time.
In the decades since then, the volume of parcels shipped has significantly grown due to e-commerce, while other players, such as Amazon, have also entered the industry.
A potential strike could present a "golden opportunity" for competitors, including regional carriers, Goldsby noted. Companies have also worked to diversify their portfolio of shipping options during what has been a volatile period over the past three years, making them more prepared for a strike, though smaller merchants could be more limited in their options if other shippers are full, he said.
Another area that could potentially be impacted is the business of returns, Goldsby said.
"About 20% of the stuff that goes out through e-commerce comes back," he said. "UPS handles a lot of returns for companies, and so it's not just the forward deployment of that inventory going out to market."
The negotiations could also have implications in the labor industry, in particular the Teamsters' efforts to unionize Amazon drivers, according to Broughton Capital managing partner Donald Broughton.
"The bigger of a win [O'Brien] has against UPS, then the bigger his credibility is to go around to Amazon workers and say, 'Hey look, I could really help you guys out,'" Broughton said on CNBC's "Closing Bell Overtime" this week. "It's not just UPS management bargaining with the Teamsters; there's a lot more at play."
Broughton said UPS' "best offer" likely won't come until it's down to the wire.
"Both the UPS management and the Teamsters know that you probably don't get the best deal until the 11th hour," he said.
UPS on Friday again called on the Teamsters to return to the table with three weeks to go until the contract expires.
"Refusing to negotiate, especially when the finish line is in sight, creates significant unease among employees and customers and threatens to disrupt the U.S. economy," UPS said in a statement.
Goldsby said if the Teamsters were to strike, he does not think it would be sustained for long. Though he said he remains optimistic that a strike can be averted, particularly after the supply chain pains in recent years.
"No one really has the appetite for a strike that could be really detrimental to business and our economy and society," he said. "Whether you're on the labor or the management side, I just don't think that anyone's wanted to accept the black eye that would come with it."
ABC News' Jessica Hornig contributed to this report.