Lady Gaga's highly anticipated music video "Telephone" has helped cement her place in pop history -- having been viewed online a record 15 million times in less than five days.
The video marks the second collaboration between Gaga and Beyonce -- they previously worked on the video for Beyonce's song "Videophone." It is also the second time Gaga has worked with director Jonas Akerlund, who previously did Gaga's video "Paparazzi."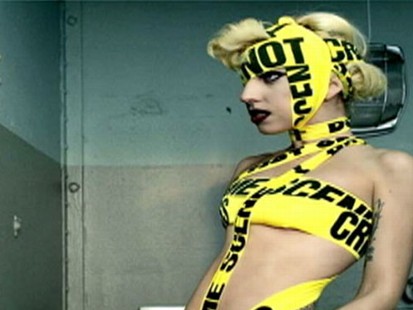 The nine-minute "Telephone" opens at a prison, where Gaga is brought and thrown in a cell. She does not sing until three minutes into the video when she is paged to answer a phone call.
"Hello, hello, baby; you called/ I can't hear a thing/ I have got no service in the club you say, say...." she sings.
"Just a second; it's my favorite song they're gonna play and I cannot text you with a drink in my hand, eh?/ You shoulda made some plans with me; you knew that I was free/ And now you won't stop calling me/ I'm kinda busy."
The video has caused a flood of online speculation on the Internet as to what exactly all the fast-moving, seemingly disconnected images really mean. What does the prison imagery have to do with some of the lyrics? Why does Gaga poison the food at a diner while she sings?
"What I really wanted to do with this video is take a decidedly pop song, which on the surface has a quite shallow meaning, and turn it into something deeper," Gaga told E! News. "The idea that America is full of young people that are inundated with information and technology and turn it into something that was more of a commentary on the kind of country that we are."
Whether or not the video achieves Gaga's goals, we asked "Telephone" director Jonas Akerlund and Gaga blogger and doctoral student Meghan Vicks -- whose blog about "Telephone" was tweeted by Lady Gaga herself -- to decode the singer-songwriter's many visual metaphors.