Bob Weinstein's lawyer says he couldn't be more different from brother Harvey Weinstein
Bob Weinstein continues to seek distance between himself and his older brother.
October 18, 2017, 2:59 PM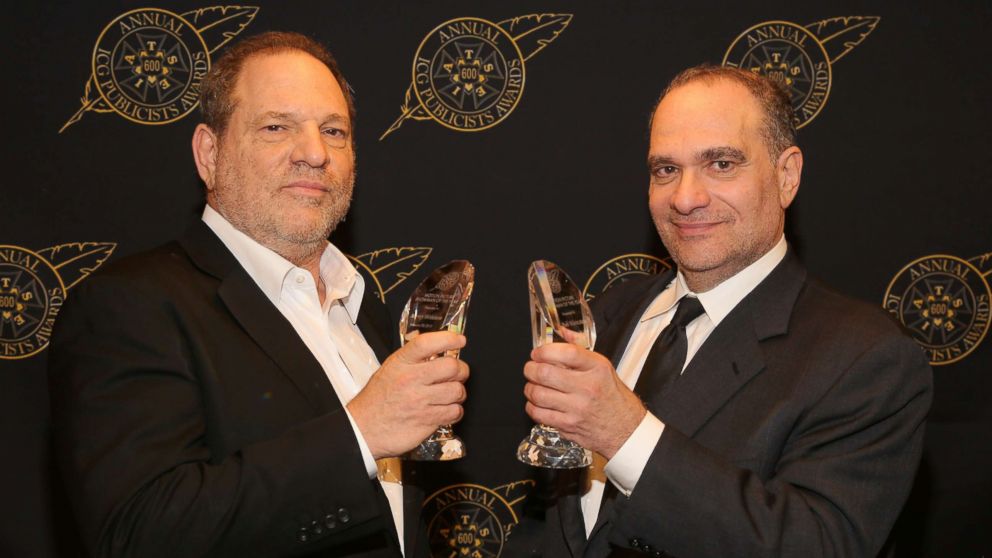 — -- Harvey Weinstein's brother, Bob Weinstein, is once again seeking to distance himself from his disgraced older brother while facing his own accusation of sexual harassment.
On Tuesday, Amanda Segel, a female executive producer of "The Mist," a TV series produced by the Weinstein Co., said that Bob Weinstein, 62, repeatedly made unwanted romantic overtures toward her, including asking her out to dinner.
This morning on ABC News' "Good Morning America," Bob Weinstein's lawyer, Bert Fields, disputed that claim. "It is absolutely not true," he said. "What she is claiming is bogus."
Fields said that after Bob Weinstein and Segel had dinner together, they concluded they would stay friends, and even though they continued to have dinner occasionally, they maintained a professional relationship. "There was nothing that came anywhere near sexual harassment," he said.
"That's not Bob Weinstein. It's Harvey Weinstein, but it sure as hell isn't Bob Weinstein," Fields said. "I've known him for many years."
Fields suggested that Segel is making her claim because of the publicity surrounding Harvey Weinstein.
"It's all because of what Harvey's done," Fields went on to say, "and this lady is going to come out and get a little bit of this publicity and it's awful. He didn't do a thing."
An attorney for Segel told ABC News: "Amanda Segel was the victim of sexual harassment by Bob Weinstein. As she eloquently put it, 'the word 'no' should be enough' for any woman. Unfortunately, it was not in her case. Ms. Segel should be applauded for coming forward with her truthful allegations. The efforts to deny the harassment are shameful."
As numerous women, including actresses Ashley Judd, Gwyneth Paltrow and Angelina Jolie, have come forward to accuse Harvey Weinstein, 64, of sexual misconduct, Bob Weinstein has sought to distance himself from his older brother with whom he co-founded the Weinstein Co.
In response to the allegations, a spokesperson for Harvey Weinstein said, "Any allegations of nonconsensual sex are unequivocally denied by Mr. Weinstein."
Bob Weinstein and the remaining board members fired the disgraced movie executive, who also resigned from the board on Tuesday.
Bob Weinstein has also publicly decried his brother's actions and said he was unaware of the severity of the allegations.
On "GMA," his lawyer said the two couldn't be more different.
"If you knew these two guys, they're hardly friends," Fields said. "They've barely spoken in a long, long time. They don't get along."
He added that Harvey Weinstein once punched Bob Weinstein.
Yet, the brothers continued to work together.
"They have a working relationship that's worked out quite well," he said. "Bob does one kind of picture, Harvey does another. But they are hardly buddies."
On Tuesday, Alexi Melvin, who was once an aspiring actress, also made an accusation against Bob Weinstein. She said he tried to "lure" her to a meeting with his older brother.
"My encounter with Bob Weinstein happened at an industry party when I was at a very young and vulnerable age -- an aspiring actress with social anxiety and a lack of self-confidence. I was put in a position that made me feel uncomfortable and trapped in many ways, and I felt that his conversation with me was leading in a dangerous direction," she said in a statement to ABC News. "I was lucky that my mother was not far away and stepped in before my starry-eyed teenaged self had the chance to be negatively influenced."
Fields strongly refuted Melvin's claim.
"It is utter hogwash," he said. "And for people to be passing this stuff on because Harvey's involved in this terrible scandal, which he is, Bob is not. Bob is completely clean. Bob has never done anything like this. Bob has never lured anyone to Harvey's bedroom."
Fields added, "Now he didn't know everything Harvey was doing, but he certainly wasn't leading this lady into some honey trap with Harvey. That's absolute bogus nonsense."