As fans eagerly await Brie Larson's highly anticipated debut as the first ever solo female Marvel superhero, the "Captain Marvel" star and her castmates reflected on the groundbreaking movie.
The latest film in the Marvel Cinematic Universe boasts all the action-packed fight scenes fans know and love.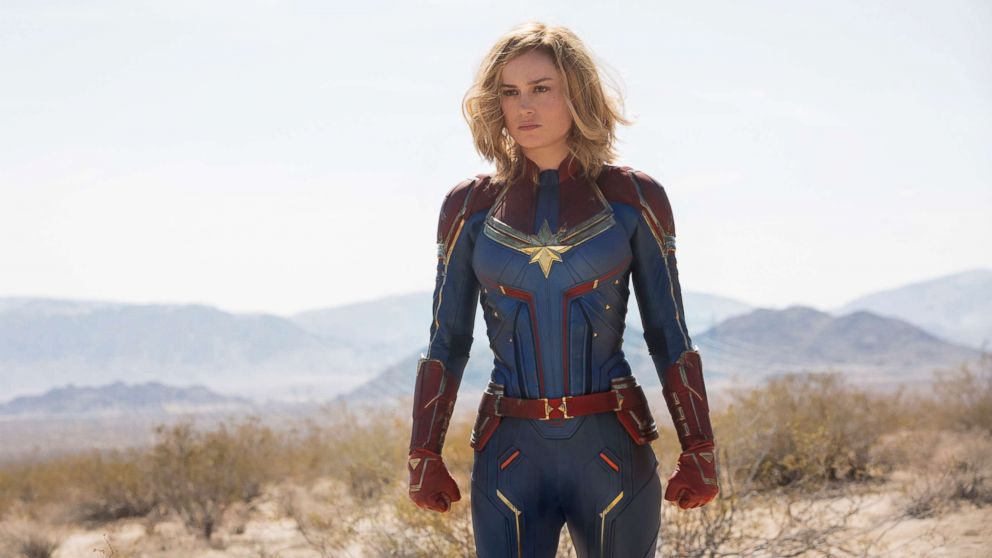 And for Larson, who stars as Carol Danvers - aka Captain Marvel - it was a training experience of a lifetime.
"I trained for it like it was a triathlon, and it truly felt like an actor's triathlon," Larson told ABC News' Chris Connelly. The actress posted a now viral video of her more rigorous workouts on Instagram, including pushing her trainers Jeep.
Larson said it's "a crazy feeling" to go from such a high for just a minute "and then you fall asleep."
The 21st film in the Marvel Cinematic Universe is set in 1995 and follows the journey of Danvers as she becomes one of the universe's most powerful heroes. When a galactic war between two alien races reaches Earth, Danvers finds herself and a small cadre of allies at the center of the maelstrom.
The highly anticipated sci-fi film is one of Marvel Studios' most buzzed-about movies, with Larson's ground-breaking role as the female protagonist.
"We're subverting the genre in a lot of ways and breaking new ground and we're doing it in a way that feels really natural," she said. "It isn't trying to stick our tongues out. It's just this is who she is and this is the story that we're telling."
Co-director Anna Boden said Larson "really owns" her character's power.
"It's really about her as she -- discovers her humanity and learns more about herself. That's when she becomes her most powerful," Boden explained. "And Brie owns it. She really does."
"It's mythology, it's story and it's the human experience on this large scale," Larson said of the film. "On top of that, they said they wanted to make the biggest feminist movie of all time."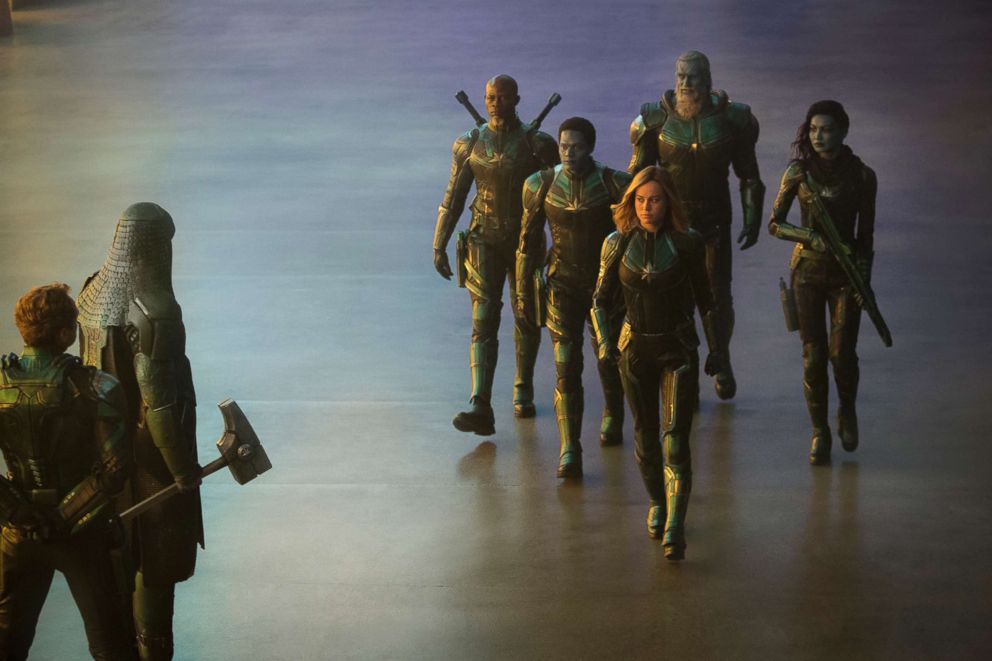 Larson appears as a warrior on a distant planet and reconnects to her fighter-pilot self on Earth in the mid 1990's, alongside her treasured friend Maria Rambeau.
"I'm proud that if you wanna try to pinpoint -- like what the big love is, that the big love is her best friend" Larson said. "The lost love is her best friend, the love that is found again is her best friend."
Danvers' best friend Rambeau is played by Lashana Lynch, who called the role "really special."
"Another type of superhero is being a single mother. And I think to have the two in a Marvel movie, it feels like a really special moment in cinema," Lynch explained.
Lynch said the performance felt like "a drama that just happened to be in a superhero movie." She added that it was "real natural, beautiful quality acting in this big universe."
The interplanetary twists and turns follow Captain Marvel's journey and origin story alongside a familiar, albeit younger, face -- Nick Fury.
The last time audiences saw Fury, played by Samuel L. Jackson, was at the end of "Avengers: Infinity War" when the one-eyed superhero-wrangling character made a final call before he turned to dust as a result of Thanos' great "snap."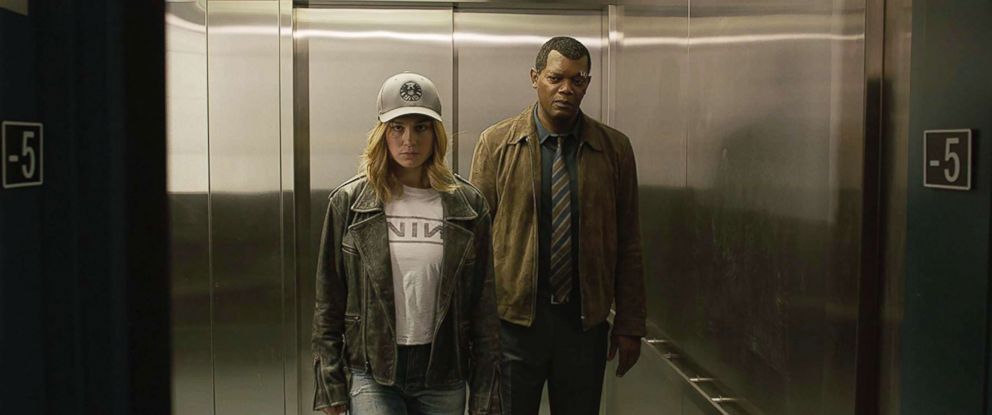 "I'm excited to remind people of is that, yes, it's like a Captain Marvel origin story -- But it's also a Nick Fury origin story," Larson said. "I'm excited that I get to be a part of that beginning."
Jackson said, for him, the newest movie in the MCU brought a level of "heart" that he has never felt.
"I've been a part of the MCU through -- this is almost, like, my 11th film," Jackson said. "And this one felt so different from all the others. I never sat through one of these films and felt emotionally, you know, connected in this way. I mean, there was heart in this film that hadn't been in a film before."
The Oscar-winning actress said when she was first tapped to play a superhero who bears the company's famed name, "Marvel was very patient with me."
"They understand what taking something like this on means," she said. "My anonymity [has] always been super important to me, not just because I'm a super introvert -- that's how I'm able to disappear into other characters."
Marvel Studios president and producer Kevin Feige revealed Larson as the new leading lady back in 2016 at Comic Con in San Diego.
"I flew to San Diego not bein' able to tell anybody," she recalled. At the time she said she was worried about "accidentally" letting something slip. "You just have to just go -- 'No, that's not part of me. That's not happening.'"
"The other Marvel cast members didn't know. And I remember, like, people coming up to me bein' like, 'So what movie are you here with?' I'm like, 'Oh, I'm with you guys now,'" she said laughing about the tightly wrapped secret.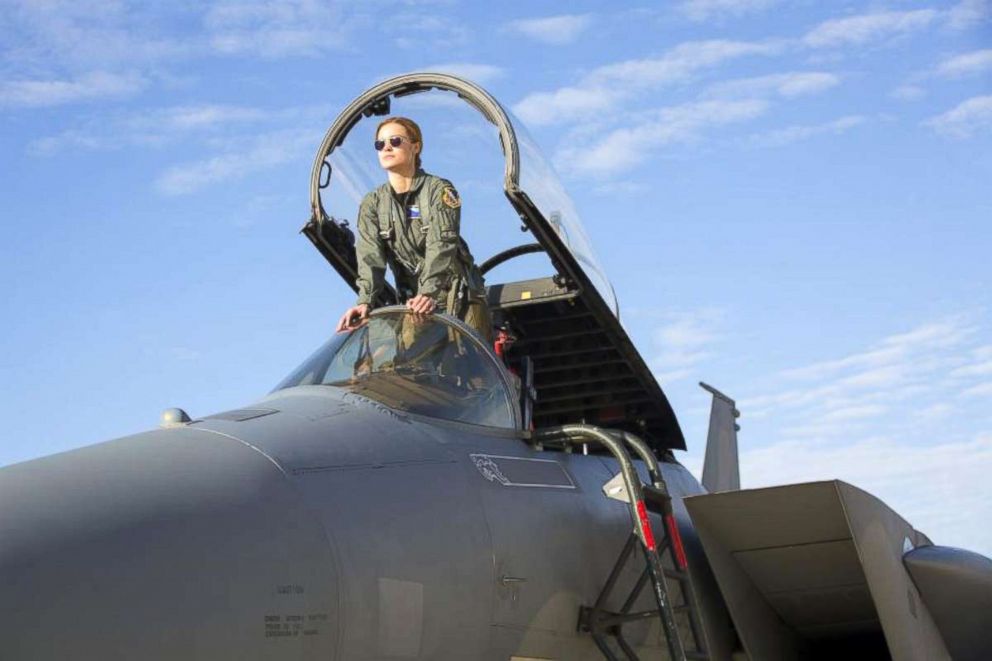 Larson leaned heavily into the months of training to adopt the mindset of the pushing-the-edge pilot, who first appeared in the Marvel comics in March 1968.
"It's not unique necessarily to Carol [Danvers]," Larson said of her heroine's attitude. "It's the spirit of the Air Force, that sort of humble but also totally self-assured, at times kinda cocky, an amazing sense of humor, very dry."
She continued, "Because you never know -- once you go up in that plane if you're gonna come back down again."
Her character's voyage of self-discovery includes guidance from a few new faces in the MCU such as Jude Law and Gemma Chan.
Law said his character Yon-Rogg "hit her so hard" during their regular fight scenes.
"I was so shocked at how hard it looks like I hit her," Law said. "She, of course -- has something up her sleeve, literally."
Ben Mendelsohn also stars in the movie, but may look less familiar with his extra-terrestrial make-up as Talos.
Larson connected on-screen with her co-stars to bring Danvers' lost soul to life.
"You had a life that you loved, and you have a life that you love now, but you don't understand how you got to it," Jackson said to Larson. "But when you realize the life that you did have is, like, 'That was a great life.'"
The star of the film said her character's journey through regret and reflection is what she thought made her so powerful.
"Well, that's part of what I think makes Carol a really powerful and human superhero, is that -- she was awesome before she got superpowers," Larson said.
Boden added that Danvers' power is derived from her acceptance of her own humanity.
"She discovers her humanity and learns to accept herself. That's when she becomes her most powerful," Boden said. "Part of that is rejecting the voices that have told you, 'You're not good enough.'"
Part of the Larson's power as Danvers translates off-screen with the real-world impact and representation the role has brought to young fans, especially young girls.
"For it to finally come out and to get these little glimmers of seeing young girls excited about it, it's everything to me," Larson said. "I didn't make this movie for myself, I made it for them."
Larson recently shared a snap with a young female fan on the red carpet at the "Captain Marvel" European Gala in London Wednesday.
She captioned the special moment on her social account, "I did it for you, superstar."
"Captain Marvel" hits theaters on March 8.
Disney is the parent company of Marvel and ABC News.