It was a night of a thousand tissues on Monday's "Dancing With the Stars."
Interested in
DWTS?
Add DWTS as an interest to stay up to date on the latest DWTS news, video, and analysis from ABC News.
In week 4's emotional show, stars paid tribute to a pivotal time in their lives and shared stories about the moments that helped define who they are today.
Frankie Muniz was the first up. The former "Malcolm in the Middle" star talked about having nine concussions and "a fair amount of mini-strokes" that have affected his memory. He said, "My most memorable year is 2017. I'm happy with my decisions. Even if I don't remember it all, I'm happy." His quickstep with Witney Carson impressed the judges, who gave him a score of 24 out of 30.
Terrell Owens talked about being raised by his grandmother and how hard it was to lose her in 2012, saying, "The person I am today is because of her." After his Viennese waltz, Bruno Tonioli said, "You've got me, Terrell. I'm telling you, this was your most accomplished performance to date." The other judges were equally impressed and awarded him 24 points.
Nikki Bella talked about 2016, the year she found out her neck was almost broken. She recovered and came back to become a WWE superstar. Her fiance, John Cena, said, "I can't say enough about her strength. She's bold, she's brave, one of the strongest people I know. Man, that's my girl." The judges awarded her a 24 for her contemporary dance.
Nick Lachey talked about 2011, the year he got engaged to his now-wife and fellow competitor, Vanessa Lachey. The judges scored him a 22 for his contemporary dance, with Tonioli and Len Goodman noting that his balance needs work.
Lindsey Stirling opened up about her father and his inspiration and dedication to her. In 2016 he was diagnosed with cancer, and Stirling spoke warmly about being grateful for the time she had with him rather than being angry about losing him. Even though Goodman would have preferred a little more waltz, he loved it, and the judges gave her and her partner, Mark Ballas, a score of 26.
Five-time NBA champion Derek Fisher discussed his daughter's cancer and how in 2007, he feared he would lose her. He walked away from the last three years of his $20 million contract to be with her. Her treatment worked, and his daughter recovered. He said, "She is a miracle. That experience helped to shape my understanding of what real sacrifice means. What unconditional love means." His jazz dance to Curtis Mayfield's "Move On Up" earned him a score of 23.
But at the end of the night, he and his pro partner, Sharna Burgess, were eliminated from the ballroom. He admitted on "GMA" Tuesday morning that seeing his daughter cry in the audience was very tough.
"As a father, you never want to do anything, even if it's dancing, that makes your child cry for any reason, so that was tough to see," he said. "But I think later in life it'll be a moment that we can both look back on and know that it was very special and about her."
"In a large way, last night was one of the big chances for her at this age to see her story and understand it in a different way. I think she was happy, ultimately, but it's always tough to see your child cry," he added.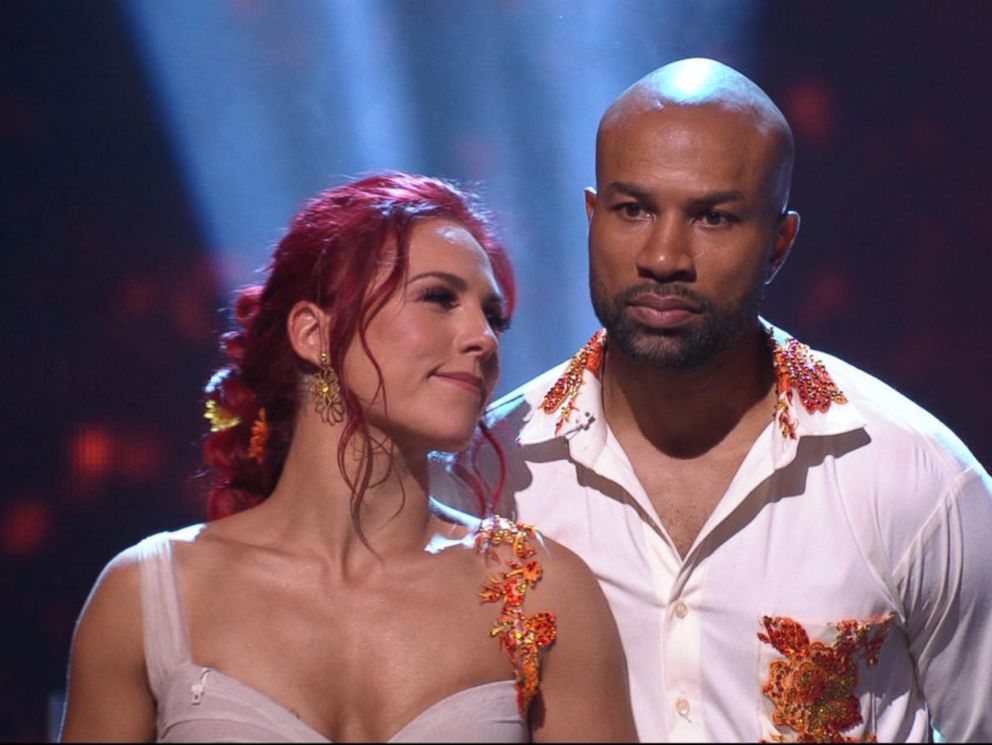 Jordan Fisher talked about being adopted by his maternal grandparents in 2005, after his teenage mother was unable to care for him. "Being adopted, it literally saved my life," he said. "It could have been really tough for me, and it wasn't. And I was so loved. I'm just so grateful for them." His powerful contemporary brought out the first 10s of the season, from Carrie Ann Inaba and Tonioli, for the night's high score, 29.
Sasha Pieterse's most memorable year, 2016, was a turning point in her life. It was her last season on "Pretty Little Liars," and she was struggling with her health. She said, "I was gaining all this weight, and I was losing out on jobs. It took such a knock at my confidence because it kind of threatened my future." Her foxtrot with partner Gleb Savchenko earned her a 24 from the judges.
Vanessa Lachey talked about this year being the year that her family was complete, after the nerve-racking premature birth of her son. Her rumba with Maks Chmerkovskiy earned her a 24.
Drew Scott talked about how his life changed in 2007, when he went from being a failed actor with a property business to become, with his twin brother, Jonathan Scott, the stars of "Property Brothers." Jonathan Scott joined Drew Scott and his pro partner, Emma Slater, for a jive to Queen's "Don't Stop Me Now," and Drew earned 24.
Paralympian Victoria Arlen talked about being diagnosed with rare neurological conditions at age 11, which gave her seizures and put her on death's doorstep. In 2010 she began to regain use of her hands but was still in a wheelchair. She said she wanted to be the first person in a wheelchair on "Dancing With the Stars," and with hard work and rehabilitation, she learned to walk again. Her foxtrot with Val Chmerkovskiy featured an empty wheelchair, around which they danced. Her moving performance earned her 9s from each of the judges, for a score of 27.
In jeopardy at the end of the end of the night were Nick Lachey and Peta Murgatroyd in addition to Fisher and Burgess, with Fisher eliminated.
"Dancing With the Stars" returns Monday night at 8 p.m. on ABC. Next week will feature a Disney theme.
Here are last night's scores:
Jordan Fisher and Lindsay Arnold, contemporary, 29 out of 30
Victoria Arlen and Val Chmerkovskiy, foxtrot, 27
Lindsey Stirling and Mark Ballas, Viennese waltz, 26
Nikki Bella and Artem Chigvintsev, contemporary, 24
Vanessa Lachey and Maks Chmerkovskiy, rumba, 24
Frankie Muniz and Witney Carson, quickstep, 24
Terrell Owens and Cheryl Burke, Viennese waltz, 24
Sasha Pieterse and Gleb Savchenko, foxtrot, 24
Drew Scott and Emma Slater, jive, 24
Derek Fisher and Sharna Burgess, jazz, 23
Nick Lachey and Peta Murgatroyd, contemporary, 22