— -- For the first time, film director Christopher Nolan has stepped away from sci-fi and superheroes and into history.
Nolan's newest big-screen feature, "Dunkirk," is set for wide release in theaters today.
The film depicts a decisive event early in World War II before America entered the war. The German military surrounded English and allied troops at the north of France, but a massive evacuation -- with crucial help from English civilians and their private boats -- rescued most of the anti-Nazi forces.
In a recent appearance on ABC's "Popcorn With Peter Travers," Nolan talked about why he decided to take on a real-life story.
"What happened was, Emma Thomas, my wife and producer, and myself, we helped a friend sail his small sailboat about 20 years ago across the channel to Dunkirk. And we sort of did it more or less on a whim," Nolan said.
"And it turned out to be ridiculously challenging. It was an appalling experience that took way longer than it should have. We were out there for about 19 hours making a crossing in very, very rough seas. The channel was extremely rough," the director said.
"It actually felt at times life-threatening," Nolan said. "I was not particularly an experienced sailor on water. It felt very dangerous. And that was without people dropping bombs on us. And so I came away from that experience with a very different respect for the people who actually did [the Dunkirk evacuation.] It's unthinkably brave. They got on their boats and they headed into a war zone across that water. That was really the beginning of the notion that if I ever had the chance, to maybe one day try and express that in film."
Download the all new "Popcorn With Peter Travers" podcasts on Apple Podcasts, Spotify, Google Play Music and Stitcher.
Nolan is best known for creating some of the most memorable recent sci-fi and superhero films including the Dark Knight Trilogy, "Interception" and "Interstellar." He told Travers he had to take a completely different creative approach with "Dunkirk."
"Of course, for this film, I've suddenly turned around and realized actually it's the first time I've really dealt with something real, certainly the first time I've dealt with something based on real history." Nolan, 46, said. "And that changes your creative process, but in an exciting way. I'm used to having to create a whole fictional world and then figure out the point of view through it. And with Dunkirk it already exists, the world of it already exists." Nolan said.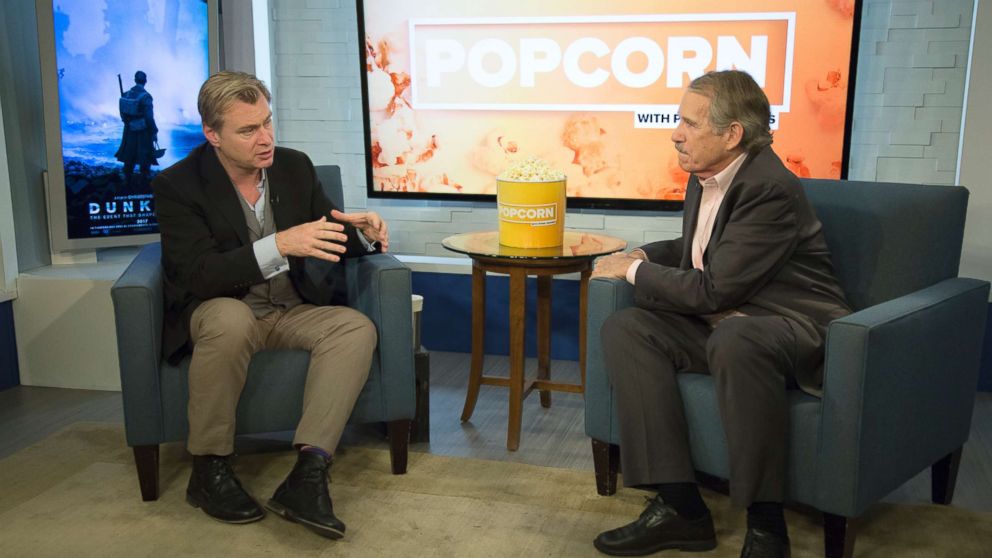 He added, "It just needs researching and discovering and most important for me, it's in a lot of firsthand accounts that have been collected by people who were there. And I actually had the privilege of sitting down with some of the veterans who are still remaining who were there. So in that way, I built up my understanding of the world the movie was taking on, and then was free to sort of create my fictional characters and figure out my path through those events."
Nolan also wrote the script for the film. And moviegoers may note that there isn't much dialogue.
"Its show not tell. I'm a great fan of the silence," Nolan said, "In combination with that, I decided that the way I wanted to tell this film, the tension I wanted from this story was that of suspense because "Dunkirk" is a great ticking-clock story. That's what distinguishes it from being about a battle," he said.
"Dunkirk" is in theaters everywhere today.
Be sure to watch the full interview with Peter Travers and Christopher Nolan in the video above.