Inside the Martha Stewart, Gwyneth Paltrow Feud
Recently, Stewart's magazine published a pie story called, "Conscious Coupling."
October 14, 2014, 12:24 PM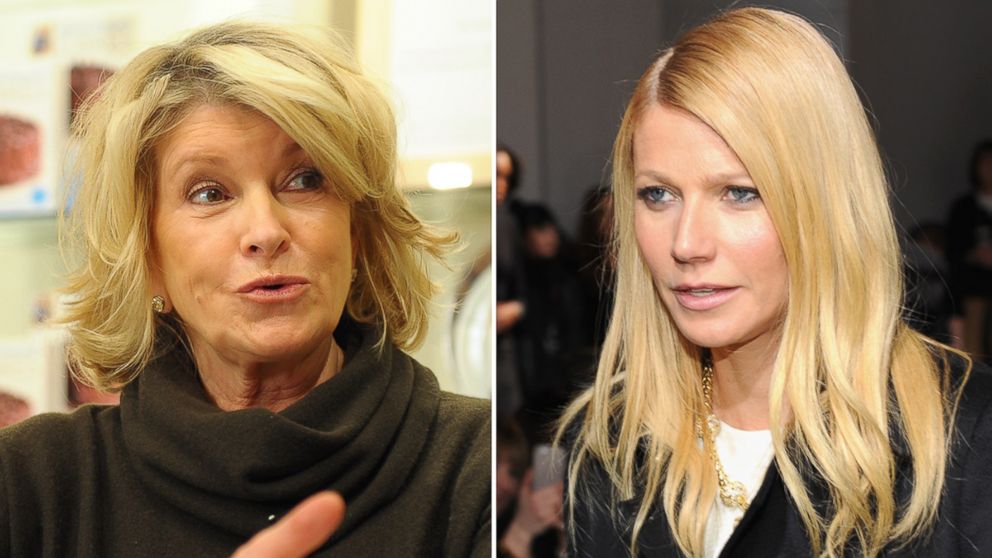 -- intro: Score one for Martha!
In the ongoing feud between Martha Stewart and Gwyneth Paltrow, it appears Stewart is up with a not-so-subtle dig at Paltrow's infamous "conscious uncoupling" comment.
The actress used the phrase in March 2014 to announce her separation from husband Chris Martin. Now, Stewart, 73, has turned to the phrase in the November issue of her magazine, Martha Stewart Living.
In an article headlined "Conscious Coupling," Stewart writes about flavor pairings that work well in pies, but she could just as well be talking about something else. Just check out the story's introduction:
"Every Thanksgiving table should be blessed with the presence of a long-married pair who bring out the best in each other, are completely enamored despite their differences, and leave every other guest thinking, I'll have what they're having. Our holiday pies honor such so there's a pleasant mix of textures and flavors in every bite. No matter how you slice partnerships, each spotlighting the perfect marriage of crust and filling these six irresistible desserts, there is a whole lot to love."
In case you haven't been following the feud between these two mega stars, we break it down for you:
quicklist: title: Stewart's First Salvotext: Their beef started back in the fall of 2013 when Bloomberg TV asked the domestic doyenne what she thought of Paltrow's entry into the lifestyle arena with her Goop brand. Stewart's response was somewhat passive aggressive:
"I haven't eaten at Gwyneth's house, and I've never seen how she lives," she told Bloomberg. "But if she is authentic, all the better. I mean, I certainly hope she is. She really wants to be part of the lifestyle business. ... Gwyneth, for example, has a book on the bestseller list. She must be doing something right. She's a charming, pretty person who has a feeling for lifestyle. She wants to be a lifestyle arbiter. Fine. Good. I think I started this whole category of lifestyle."
quicklist:title: Stewart Turns Up the Heattext: Stewart stoked the fire in an interview with Porter magazine last month, when she said, "[Paltrow] just needs to be quiet. She's a movie star. If she were confident in her acting, she wouldn't be trying to be Martha Stewart."
quicklist:title: Paltrow Finally Respondstext: The 42-year-old actress had remained mum until last week, when she acknowledged at Fortune magazine's Most Powerful Women Summit that she was aware of Stewart's criticism.
"No one has ever said anything bad about me before, so I'm shocked and devastated," Paltrow joked, according to E! News. "I'll try to recover." She added, "If I'm really honest, I'm so psyched that she sees us as competition. I really am."
quicklist:title: Paltrow Hires Stewart's Ex-CEOtext: Also last week, Paltrow announced the new CEO of her lifestyle brand, Lisa Gersh. The rub: Gersh previously worked as president and CEO at Martha Stewart Living. "She's the perfect person to build on the momentum we have already created at Goop," Paltrow raved in a statement to Us Weekly. Gersh gushed in turn, "As a fan since its launch, I've admired the inimitable voice and style Gwyneth has infused into Goop, and the business she's built."