April 16, 2014 — -- "The View" co-host Jenny McCarthy is engaged to Donnie Wahlberg!
The 41-year-old announced the news on the show this morning, jumping up and down in joy before a TV audience.
She recounted how the "Blue Bloods" star involved her 11-year-old son Evan in the very adorable proposal.
Read: Jenny McCarthy Joins 'The View' as New Co-Host
"This weekend I was sitting with Donnie ... and he went into the other room and out came Evan with a card that said 'Will' and he handed it to me," she said. "Then Evan ran away and Evan came in with a card that said 'You.' ... I just started crying and then Evan came back into the room with the word 'Marry' -- but spelled wrong."
McCarthy quickly figured out what was going on.
"The last time, Donnie came out with Evan and Donnie's shirt said 'Me' ... and he got down on his knee," she added.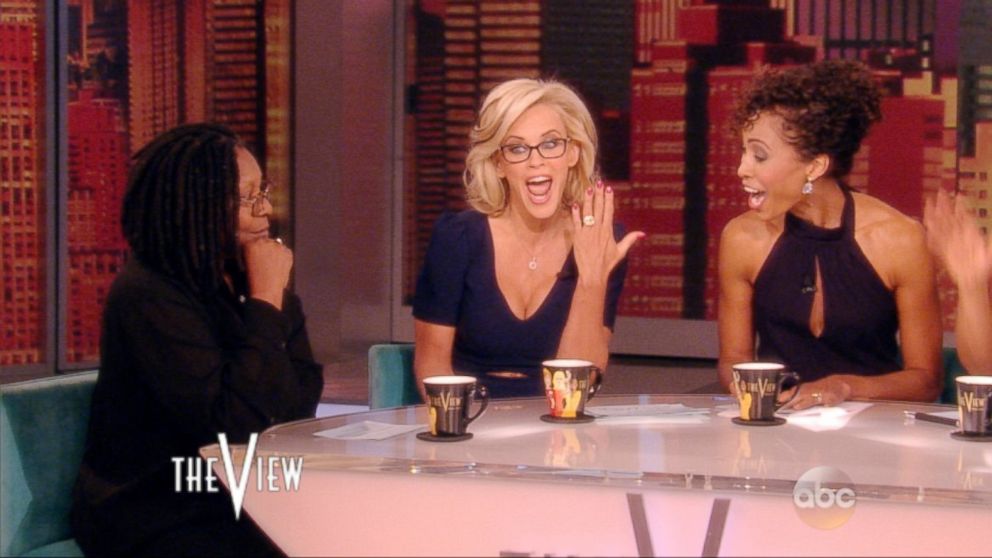 McCarthy said she didn't even have to think about an answer.
"Of course, I said 'Yes,'" she said. "In that moment Evan yelled, 'I have another dad!' and it made all of us cry."
McCarthy added that she feels "like the luckiest girl in the world. "He's so wonderful," she said.
Related: Jenny McCarthy Says Donnie Wahlberg Amazing With Her Son
The two have been dating since last summer and are thinking of getting married in August or stretching the engagement out until next year.
Last year, McCarthy told ABC how good Wahlberg was with her son.
"They caught frogs together," McCarthy said of the bonding experience. "Evan was like, 'See you later mom. We're gonna catch frogs,' and that was that."
McCarthy has a creek in her backyard, where she said her son's favorite thing to do was to catch frogs. That means she often has some unwanted house guests.
"They're in my shoes, they're in my closet," she said.
The former "Singled Out" host said that in addition to his being great with Evan, Wahlberg can't stop telling his talented new girlfriend how proud he is of her.
"He says it every day, 'I'm so proud of you, it's so amazing,'" she said.
This will be the second marriage for both. Wahlberg was married to Kim Fey until 2008 and McCarthy was also married to director John Asher, whom she divorced in 2005.