Kevin and Michael Bacon open up backstage about life in their band
The brothers reveal their embarrassing moments and dressing room must-haves.
August 24, 2017, 12:29 PM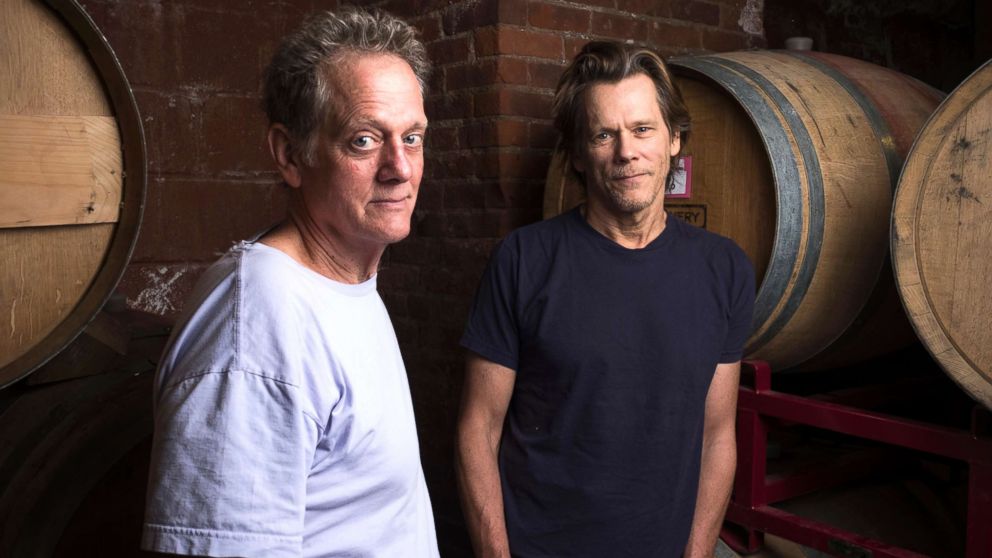 — -- How do you know when you've made it?
Is it by becoming an Emmy-winning composer? Or maybe by getting your own star on the Hollywood Walk of Fame?
Or perhaps, it's when one of your fans comes to your band's show and asks you to sign her leg.
"This woman had to have her leg removed. She was kind of a fan. We knew her. And she brought her leg backstage for us to sign," Michael Bacon, composer, and member of the Bacon Brothers, told ABC News backstage before a sold-out show.
"Not the one that was removed," Bacon's younger brother and fellow band member, Kevin Bacon, clarified. "The prosthetic leg."
Between the two of them, Michael, 67, and Kevin, 59, have contributed decades of work to the entertainment industry. Michael won an Emmy with his original score for the TV show, "The Kennedys," and you may recognize Kevin for his famous roles in "Footloose" and in his latest TV show, "I Love Dick."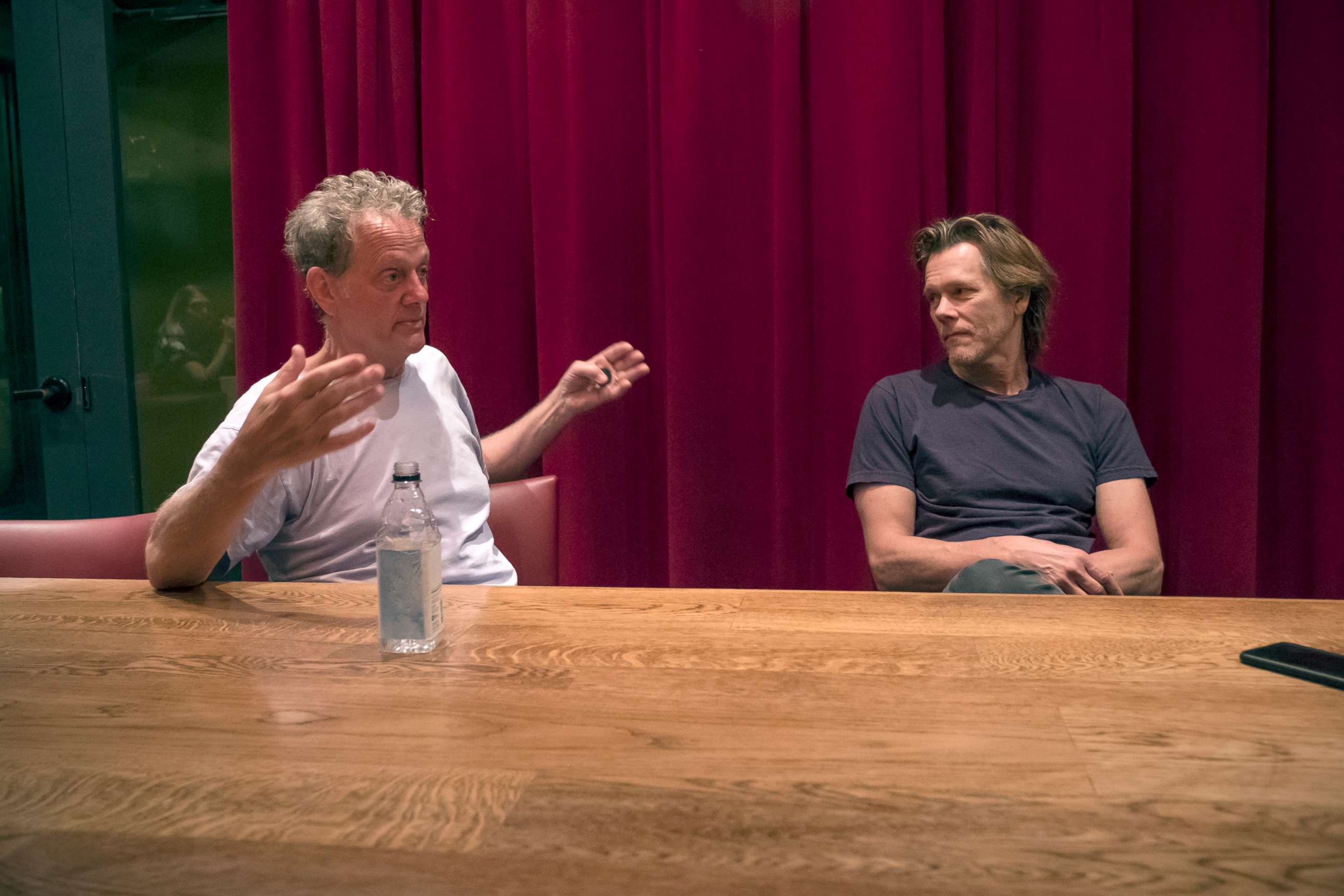 For 23 of those years, they've also been making music together in a band named the Bacon Brothers.
"We always played music together growing up in Philadelphia," Michael said. "And a friend of Kevin's, who was managing a club in Philadelphia, said, 'Why don't you put a band together and come down and play?' So we kind of looked at each other and said, 'Well, let's try one gig. What's the worst that could happen?' And it went pretty well, and then we booked another gig and another gig and it just sort of rolled off from that."
Michael learned how to play guitar from his sister and later taught Kevin how to play. Michael has formal music training, while Kevin learned on his own. When Kevin wrote the lyrics to his first song, Michael helped him put it to music.
"A lot of people think that 'cause Kevin's a famous actor, 'How could he possibly be good at music?' Well, you know, in the 23 years we've had the band, his skills have gone up to a professional level," said Michael.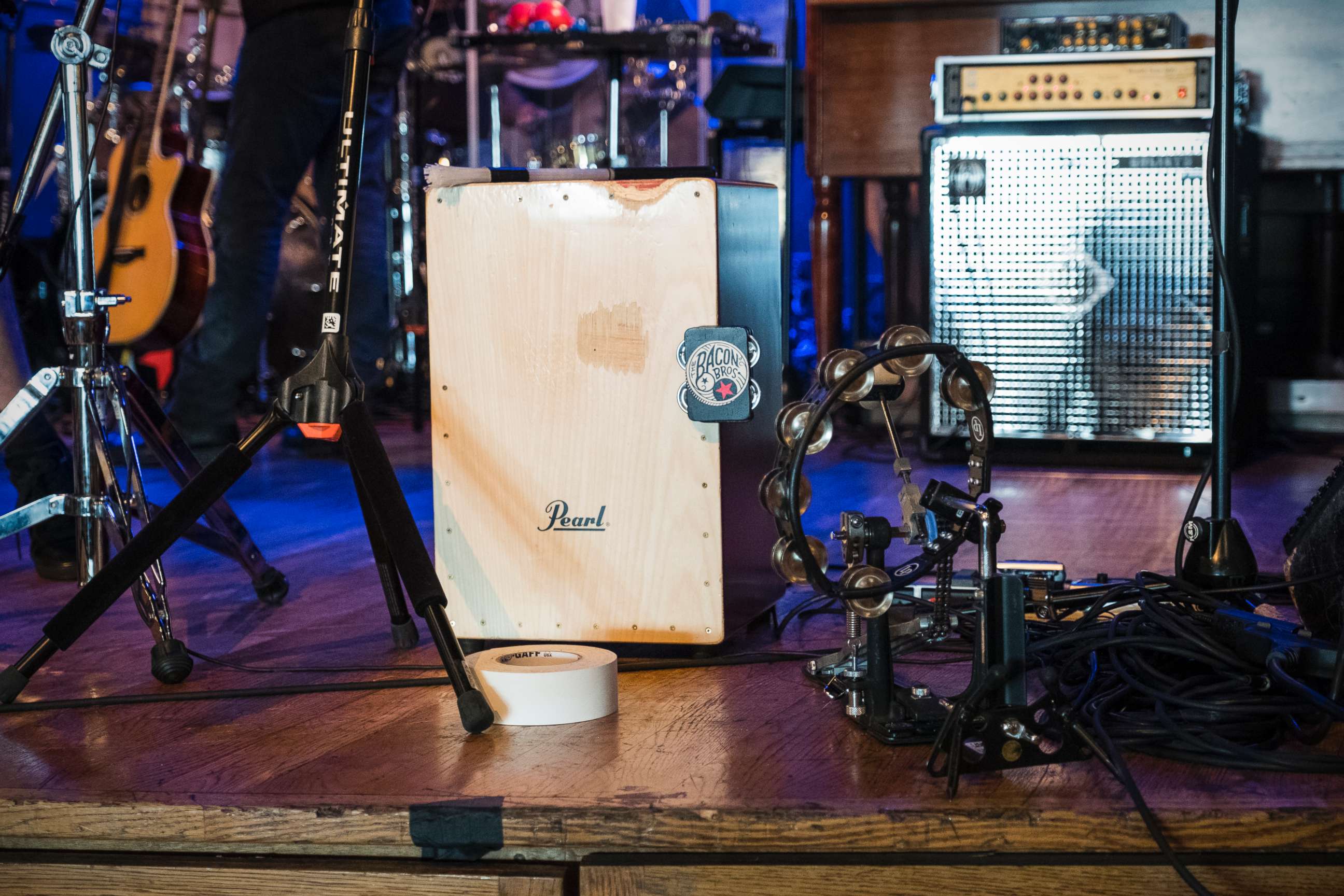 And there's no rivalries between the brothers, who have a nine-year age difference. Kevin concedes that his brother is the better singer and guitar player.
"That's not saying anything," Michael joked.
"We respect each other as people and as musicians. And we just keep, you know, rolling along," said Kevin. "And that's not to say that we don't agree on everything either from a, you know, business standpoint, or a musical standpoint. But you know, we tend to work it out."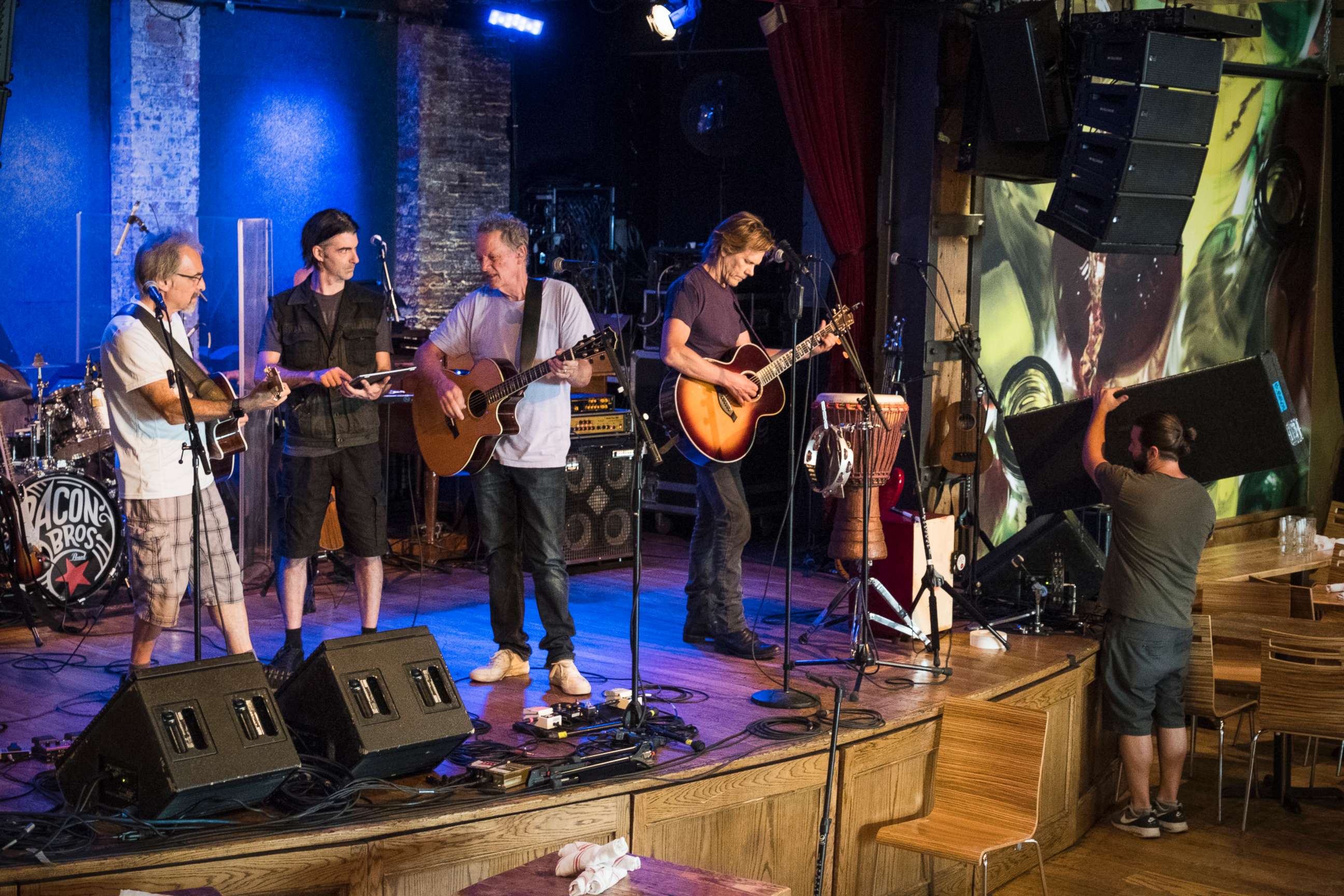 The one thing they've never done is write a song for the other brother to sing.
"If I write it, I sing the lead vocals. If he writes it, he sings the lead vocals," said Kevin.
"Once the songwriting goes from writing a song [to] playing it for our respective wives [to] playing it for each other -- these things get more and more daunting as it goes on. And getting it approved by the band," said Michael. "And then we play it for an audience and see whether people respond or not. That's kind of the most important part."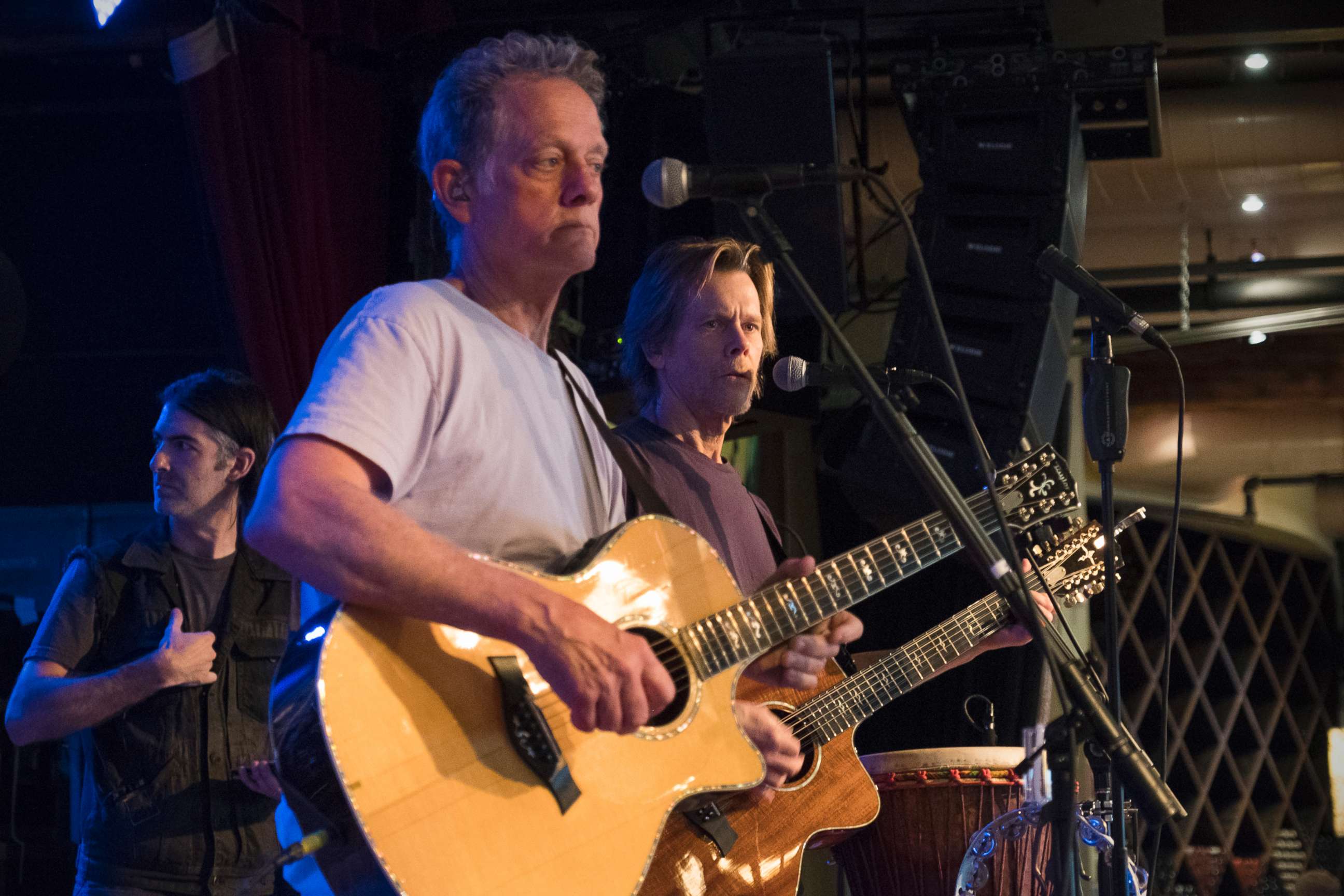 Both brothers say it's a challenge balancing their work in film and television with their band, but they definitely consider the Bacon Brothers a job.
"I don't do a thing where [it's] 'Ok, six months music, six months acting or a year of music, a year of acting,' you know?" Kevin said. "I sort of take it as it comes. So fitting it all in can be the biggest challenge I think."
"I've kind of got four jobs," Michael added.
"More than me," Kevin said, laughing.
Michael continued, "I think a lot of it has to do with the support we have. So we have the band, we have a great crew. If we were doing everything ourselves, just forget it."
ABC News went backstage with the Bacon Brothers before their sold-out show at City Winery in New York to hear about their most embarrassing moments on stage, what they need to have in their dressing rooms, and other fun facts.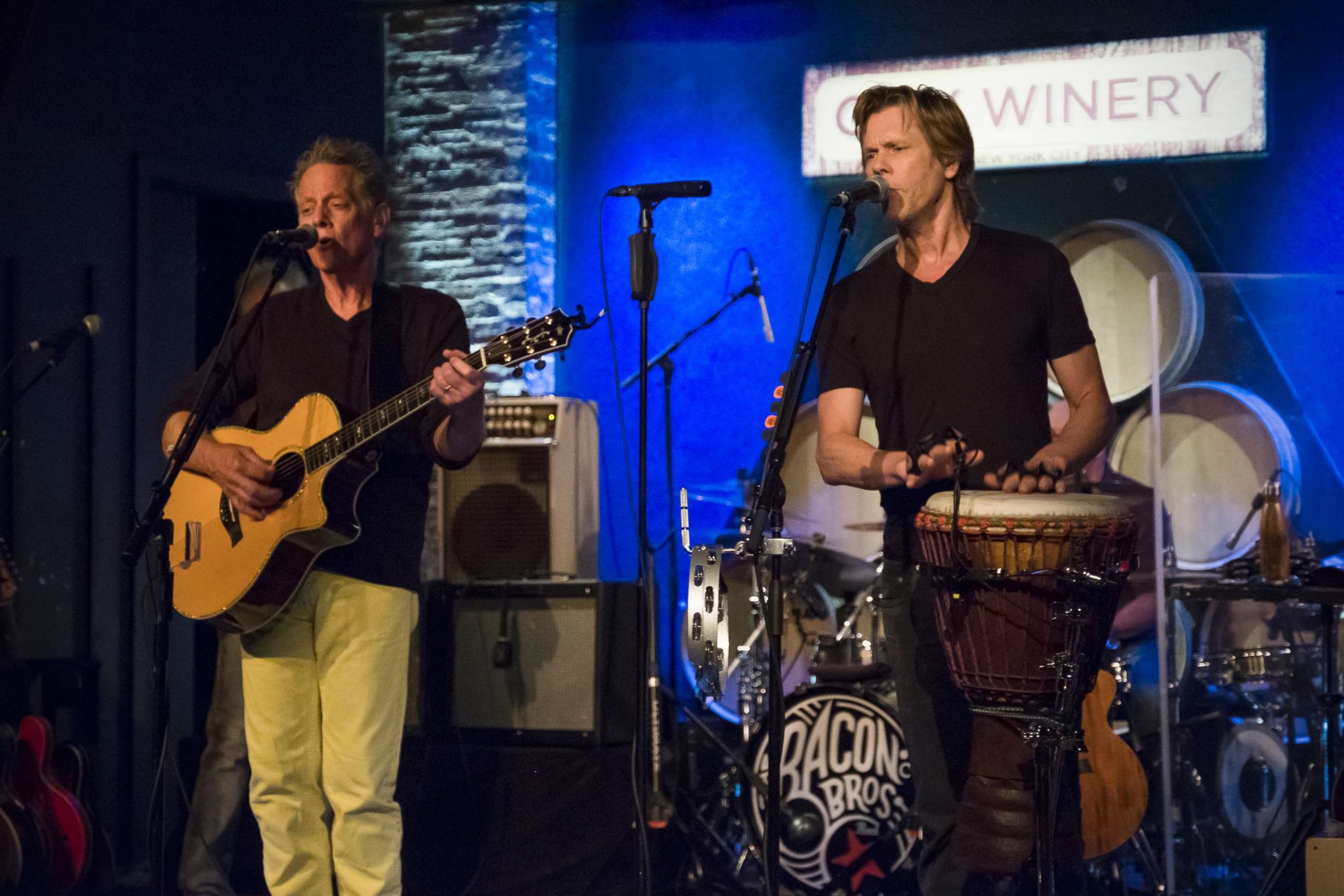 What is your dream collaboration?
Kevin Bacon: "You know, not too long ago, I was asked to be in a video with Chance [the Rapper]. And then it never happened. I was, like, so disappointed because I don't know what happened to the whole thing. Yeah, it was going to be really fun. … I'm calling him out, yeah. What happened to that?"
Is there anything you like to keep on stage during performances for good luck?
KB: "No, but I always have guitar picks in this particular pocket [points at the little pocket inside his right jean pocket] right here because -- even just in life -- I have them here. I just always like to have them, and our housekeeper's always giving them back to me because she does the laundry and they all come out. So [it's] knowing those are there, even though we have someone who is clearly going to put guitar picks on stage for us. We got a really funny roadie tech who sometimes just leaves funny things around the stage just for his own amusement: little figures or, like, a duck's foot or just strange things like that. We don't actually put them there, but they're kind of fun to have around."
What's an embarrassing moment you have had on stage?
Michael Bacon: "One time I went on stage, [and] I forgot something, which were in-ear monitors. And I had to go to the stage manager and he's got to bring them out, and they're really hard to put in. And it was very embarrassing."
KB: "I think one of my most embarrassing moments was [when] we were playing in L.A. at a legendary club called the Troubadour. We're playing this song, and sort of, you know, kind of like rocking out, you know, just feeling good. And we finish the song, and there's this woman in front, she's like, 'Kevin! Kevin!'""So I was kind of like ignoring her, and she was like, 'No, no, no.' And finally I go, 'What?' And she goes, 'Uhm, you're bleeding!' 'Cause I'd smashed my head on the microphone. Yeah, I was trying to be super cool, and that's someone's way of saying, 'You're not as cool as you think.'"
Do you have any pre-show rituals?
MB: "We spend a lot of time with a lot of sorts of warm ups and exercises. So most of the time before we go on, you're going to hear some ugly sounds."
KB: "An hour before we go on, there seems to be this kind of -- it's almost like you have to look around and make sure everybody's there because actually, we have gone on without guys. We've gone on with guys in the bathroom, and then you kind of go, 'We should've connected.'"
Do you ever like to hang out with the audience?
KB: "No, no, no, not before or after. Not me. Michael will."
MB: "Sometimes."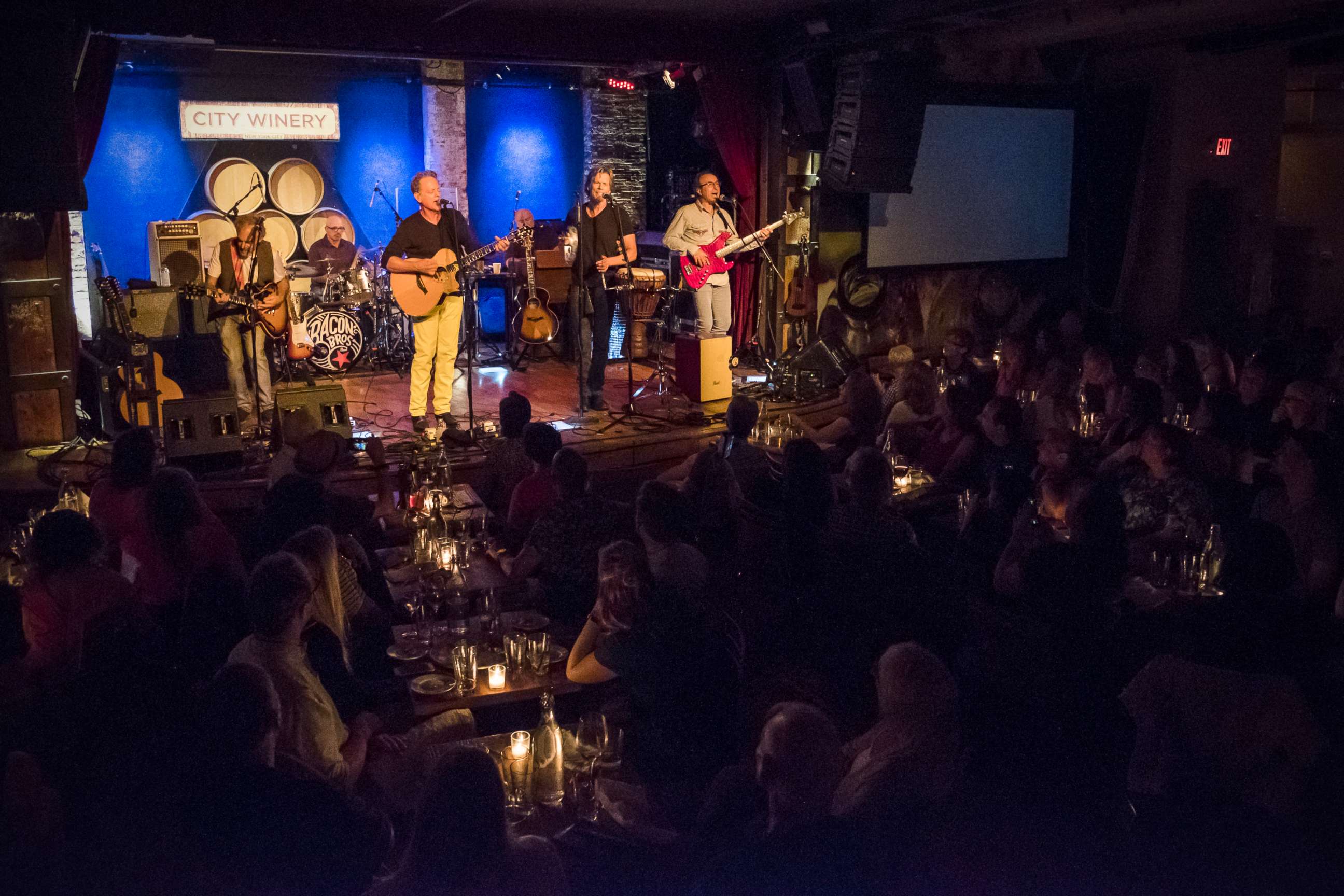 What's your favorite song to perform live?
MB: "I think my favorite songs are the three-part harmonies, four-part harmonies. I love singing harmonies ... And then we have another song of mine called, 'Whole Lot of Shade.'"
KB: "We got a brand new song of mine that's fun to do too called, 'Road We Know.' When they're brand new, sometimes, we tend to have a lot more fun with them because they're new."
Where is your favorite city to play?
KB: "We've never played a bad gig in New Jersey. Anywhere in New Jersey."
MB: "It's really true. In 23 years, we never have. We've played there more than any other place."
What's the weirdest thing on your tour rider?
KB: "I'd say the weirdest thing on the rider would be, gosh, I don't know, almonds."
MB: "We're very boring. Our rider's not that weird."
What do you always need in your dressing room?
KB: "We always need a nice selection of alcohol. We always have Emergen-C and some snacks and some flap meat and some tea, coffee, decaf. For years, we would always have this terrible wine that we hated, and people would go all over trying to find this wine. One day I said to Mike, 'How did this end up on the rider? I can't stand this wine.' And he said, 'I can't stand this wine either.' And it turned out, when we first started, we opened a few times for a band and somebody asked us -- maybe the first time we got a manager or something -- 'What do you want on your rider?' And we took the other band's rider and just gave it to them. So this was a wine that they were clearly fans of. And somehow for years, it was in the dressing room."
Catch the Bacon Brothers on tour this summer at one of their upcoming shows:
Aug. 25, 2017: The Flying Monkey Performance Center, Plymouth, New Hampshire
Aug. 26, 2017: The Cabot, Beverly, Massachusetts
Aug. 27, 2017: Ridgefield Playhouse, Ridgefield, Connecticut
Editor's note: This interview has been edited for length and clarity.
ABC News' Alex Scott contributed to this report.