— -- Every day, Brian Imanuel, aka Rich Chigga, learns something new about life in America.
"S--- is just so convenient here," the 18-year-old native of Jakarta, Indonesia told ABC News.
For example, he just learned about the existence of the the topical pain reliever Orajel, all because he mentioned to his tour bus driver that his teeth were hurting.
"Everything's so accessible. Like, I found out about Apple Pay," Imanuel said. "That s---'s tight."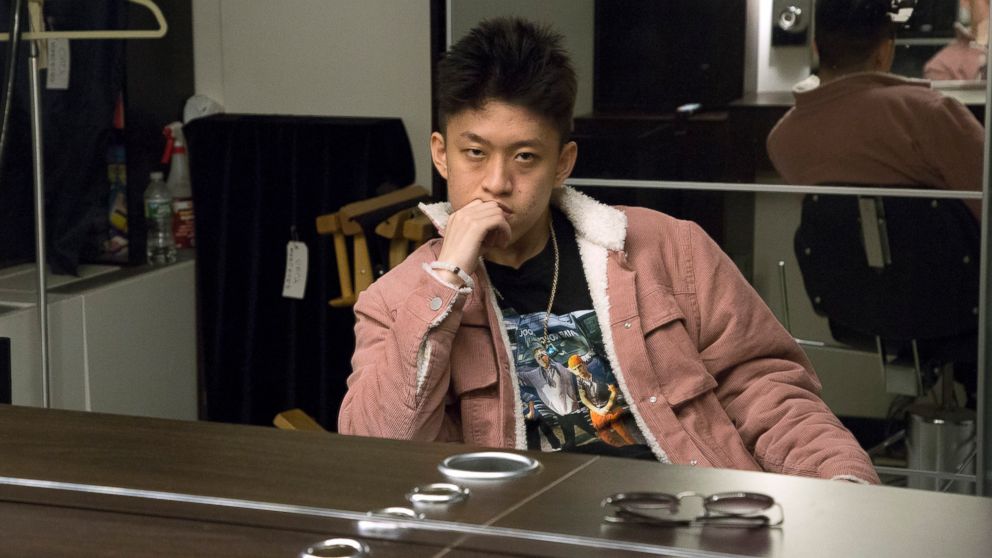 But coming to the U.S. for the first time this past May wasn't that big of culture shock to Imanuel, mainly because he's been dreaming of coming to the states for as long as he's known how to speak English.
"I've always felt like I could express myself better in English just because the way the grammar works," he said.
He made that dream a reality when he was discovered and signed as the rapper Rich Chigga, after the self-directed and self-edited music video for his song "Dat $tick" went viral in 2016. He headlined his first North American tour earlier this year, with his first performance in the U.S. at the 2017 Rolling Loud hip-hop festival in California.
And if internet influence -- likes, follows and comments -- are today's currency, then Rich Chigga is, in fact, rich. The rapper has 961,000 Twitter followers, 239,000 SoundCloud followers, 730,000 YouTube subscribers and 1.2 million Instagram followers.
Imanuel's career has been on a sort of meteoric rise. After his current U.S. tour, he'll embark on a tour in Asia this December with some of his fellow artists from the management company 88rising. Next year, he'll head out on his first European tour.
Just last week, he played a sold-out show at New York City's Irving Plaza, which was attended by actor Ansel Elgort and a crowd of screaming fans, many of whom were wearing pink polo shirts and fanny packs in homage to the outfit he made famous in "Dat $tick." It was one of two shows he performed at the venue that night.
"I feel amazing," Imanuel said. "That was an amazing show."
And the 18-year-old has accomplished all of this without even releasing an album yet. (It's coming soon, he promises.)
Growing up in Jakarta, Indonesia
Imanuel's journey to viral stardom and achieving the modern American dream began in his parents' Jakarta apartment. Imanuel, who was born in 1999, said his mother, who owns a café, and his father, a lawyer, who also helped run the café, home schooled him and his siblings after he completed elementary school.
By the age of 10 or 11, a bored and lonely Imanuel said that's when he found a haven on the internet, where he logged on to watch random videos on YouTube.
There were tutorial videos to help him improve his Rubik's cube solving time, unboxing videos and people talking straight to the camera, until one day he realized he was learning the English language.
"One day, I was just thinking about something, and then -- you know when you think and you have that inner voice in your head?" Imanuel recalled. "I realized it was in English."
Imanuel's first language is Indonesian, which he remains fluent in, but he still practices his American English.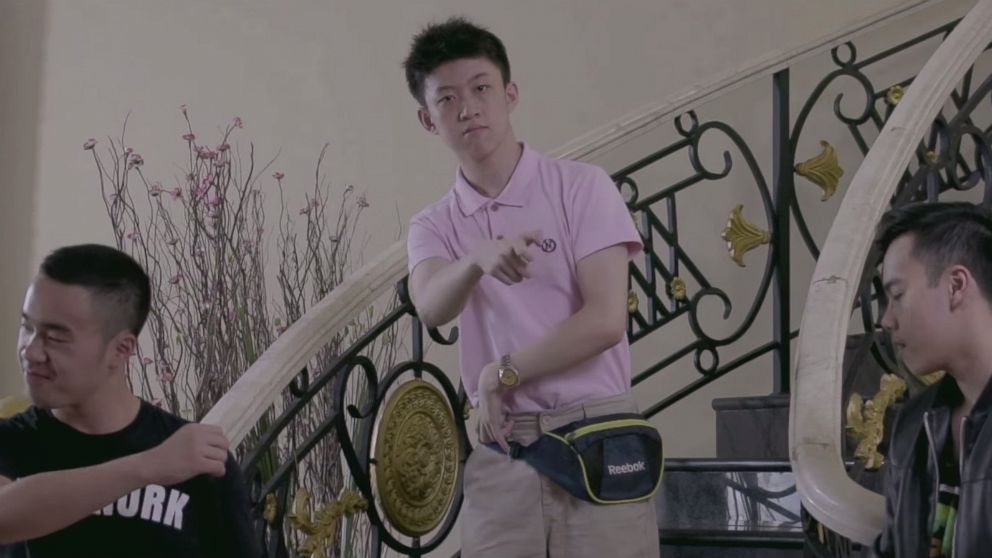 "Every time I get the chance I just talk to myself basically in English just to practice my pronunciation," he said.
His first brush with internet success was at the age of 12, Imanuel said, when he started posting memes and photoshopped photos on Twitter under the name "Heely Riddler." At that time, Imanuel continued to learn English and befriended Americans he met on Twitter, which his parents were unaware of.
"I would just be at home like a lot most of the time and then I would just be super deep into the internet world," Imanuel said. "And at one point I had more friends on the internet than I had in real life."
Going viral
Through Twitter, Imanuel said he honed his skills in marketing and essentially learned what it took for a post to become popular.
"You kind of figure out how people react to things and, like, if I post this, you know people are going to react that way," he explained.
But while his posts were viral, most people on Twitter didn't know what he looked like, so he eventually changed his username to Brian Imanuel and began making videos on YouTube and Vine. Before music, his passion was cinematography, he said, "because I wanted to be in front of the camera."
Though his funny videos of microwaving bread and pretending to be addicted to drugs garnered hundreds of thousands of views, nothing performed as well as when he became Rich Chigga.
Imanuel grew up preferring Paramore to hip hop, but listening to a mixtape by Donald Glover, aka Childish Gambino, changed that. He started recording raps over beats he found on YouTube, and eventually started a SoundCloud account under the name Rich Chigga, a suggestion from one of his American friends on the Internet.
His biggest hit was the song "Dat $tick," which he posted a music video for on Feb. 22, 2016. He and his friends shot the video in one day, and Imanuel edited it the day after. The next day, he posted it.
"When I made the video, I knew that it was going to be like the biggest video I had at that time, but that would be like 100,000 views max," Imanuel said. "I thought it was going to be, like, a one-time thing. And then one day all of a sudden like five different media outlets picked it up and I was like, 'Damn. What's going on?'"
The success was further bolstered by a video of famous rappers like Ghostface Killah, Cam'ron and Desiigner reacting to "Dat $tick," which was posted by 88rising later that year.
"That was the craziest thing 'cause I was in Indonesia still at the time," Imanuel said. "My manager sent it to me, and I was like, 'What the f---?' Because I listen to everybody in that video."
The rappers in the video expressed their surprise, with Ghostface Killah proclaiming, "That's dope!" and asking if he could get in on the remix. Media outlets, like the music news website Pigeons & Planes, featured the video and others soon took notice.
"I think my immediate reaction was that it was all kind of a joke. You know, it's this little Indonesian kid whose name is Rich Chigga, and he says the N-word in that song, and he's taking on all these rap stereotypes. I was pretty turned off at first. I thought it was just another internet joke that would blow over rather quickly," Alex Gardner, managing editor of Pigeons & Planes, told ABC News.
But as Imanuel released more music and videos, Gardner, like others in the industry, began to see Imanuel as a true creative force.
"He's just a nice kid who is still kind of growing and discovering his own creativity," said Gardner.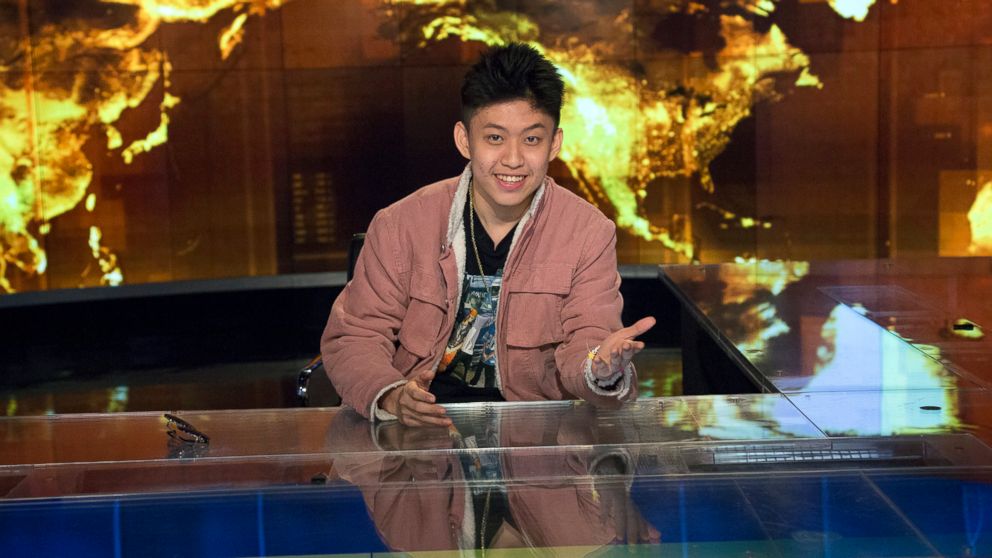 Coming to America
Since then, Imanuel went on to remix "Dat $tick" with Ghostface Killah and work on music with DJ and producer Diplo. He even had a studio session with Pharrell, where he got to show off his self-taught producing and writing skills. Imanuel first met the star producer on Pharrell's OTHERtone podcast earlier this year.
"I think the world was just like, 'What? Who is that with the fanny pack going so hard?'" Pharrell recalled on the podcast of the first time he saw "Dat $tick."
But he's still waiting for his chance to meet his idol Glover: "I've had dreams of meeting him. I hope he knows I exist."
Before he got signed to a record deal, Imanuel almost gave up on his dream of coming to America.
"I was like, 'You know, I guess I'm not going to America. I guess I'm just going to stay here and make friends in Indonesia,'" he said.
After he was invited to perform in North America, his parents supported his career, and Imanuel said completing his schooling is out of the picture. He currently lives in Los Angeles, where he's working on his album, but visits home in Indonesia every month to see family and friends.
Imanuel said his parents don't quite understand his music and haven't been to a show yet -- "I feel like the environment is just a little too crazy for them" -- but they're some of his biggest fans.
"My dad has this Instagram account where he just looks up my name every day, like #RichChigga. My mom too," he said. "We have this family group chat. My dad would just send me pictures that I'm tagged in."
While the hip hop world has come to embrace him in the states, Indonesia is just finally learning who he is, Imanuel said.
"They have no idea that I'm from there," he said with a laugh.
He's also very conscious of the fact that many of his fans are Asian or Asian-American.
"They come to me, and they're like, 'Dude, you have no idea. You make it seem like it's possible,'" he said.
It reminds him of a time when he both admired and was motivated by the Indonesian actor Joe Taslim, who starred in international films both in Indonesia and the U.S.
"Just seeing an Indonesian actor in a Hollywood movie and seeing him getting interviewed on the red carpet. It's just not something that you even think about. I mean, it's not possible," he said. "Just knowing that I do that for people is like the craziest thing ever."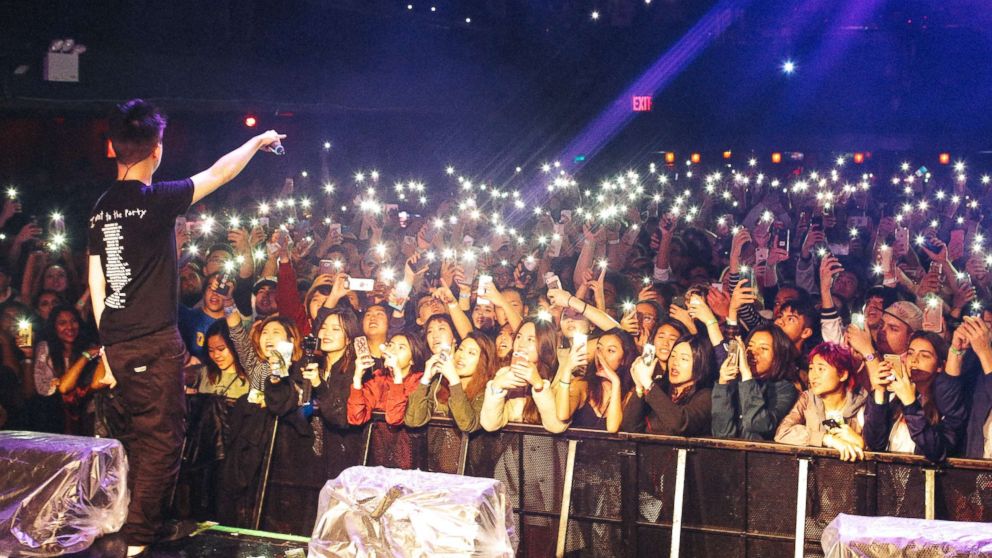 The fame also comes with some interesting fans. One fan got a tattoo of his face on their leg, and another actually broke into his house in Indonesia while he was home alone with his grandmother.
Imanuel said the man convinced his grandmother to let him in, took a selfie in his bathroom mirror and showed him how he found his address from a tweet he wrote when he was younger.
"The dude was like, 'Can I get a picture?' And I'm like, 'Yeah, I guess,'" he recalled of the shocking situation. "He brought me f------ three boxes of noodles, like I was supposed to eat it."
When asked about his plan for longevity, Imanuel seems aware that the success he's gotten through viral fame can also be fleeting. Imanuel hopes to keep making music and said he'd love to get in front of the camera one day as an actor.
He's cited rapper and producer Tyler the Creator as one of his influences, especially for his ability to combine comedy and music.
"The way Rich [Chigga] is moving, the influence is super clear," said Gardner. "It's easy to forget now that, when Tyler [the Creator] came out, he was widely criticized for his image, some of the shocking things he said in the beginning as a young kid exploring his creativity. So just give artists time to evolve and explore, and you will get good things."
Keeping grounded despite his international recognition and heeding his father's advice of staying humble is a priority for Imanuel, who just released his newest song "Crisis." He says he's saving his earnings -- though he did splurge on an iPhone 8 -- and he tries to stay away from drinking and drugs.
"You know, being in L.A., being around all these people that just does coke all the time -- I'm just like in my Airbnb, just chilling, just on my laptop," he said.
He added, "Things can go away just like that. You got to be always respectful and nice and positive."
Editor's note: These interviews have been edited for length and clarity.